Clare Bugden is a South African expat living in Dubai. She works in the travel industry and moved to the emirate to pursue a new job. Clare enjoys the quality of life in Dubai and the fact that the emirate is so central makes it a great place to be for exploring the world.
To find out more about Dubai take a look at our Expat Arrivals 
Dubai guide
 or more
expat experiences in Dubai
.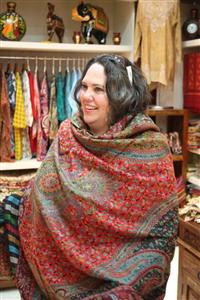 About you

Q: Where are you originally from? 
A: South Africa

Q: Where are you living now? 
A:  Dubai, UAE
 
Q: How long have you lived here? 
A:  Nearly two years – 22 months
 
Q: Did you move with spouse/children? 
A:  No, as a single woman
 
Q: Why did you move; what do you do? 
A:  I moved for work. I work in the travel industry
 
About Dubai

Q: What do you enjoy most about Dubai, how's the quality of life? 
A: Dubai is smack bang in the middle of the world. So for travelling purposes it is the best place to live.
Quality of life is very good. There is no tax so what your salary is what you get in your pocket at the end of the month.
 
Q: Any negatives? What do you miss most about home? 
A: Very hot in the summer months, up to 55C. I really miss the greenery and fresh fruit and veg.
 
Q: Is Dubai safe? Are there any areas expats should avoid?
A: The city is very safe. There are a few incidents with taxi drivers but being a savvy South African we have learnt to pick up on uncomfortable situations. There are so many support people you could immediately contact and they would be there to help you.

Give all expats a fair chance; they are all here away from their families and friends.
Q: How would you rate the public transport in Dubai? What are the different options? Do you need to own a car? 
A: I do not have my own car, as I live in the building next to my work. The metro is 200m away. Taxis are cheap and efficient. The public transport is fantastic. I have even taken a bus to Abu Dhabi and Fujairah
 
You would only need a car if your work is a far distance from home.
 
Q: How would you rate the healthcare in Dubai?
A:  Very good. There are several hospitals and healthcare facilities around. The Arabic nation in general is very health conscious.
 
About living in Dubai

Q: Which are the best places/suburbs to live in Dubai as an expat?
A: I live on Sheikh Zahed road, near shops, hotels and restaurants.
 
However, most expats live in the Meadows and Springs, which are clusters of villas with a village type community living.

Q: How do you rate the standard of housing in Dubai?
A: Fairly reasonable. The only downfall is that most properties need you to pay the full years rent. So this puts you out a bit. A one bedroom apartment will start from AED 55,000 per year. Two bedroom AED 75,000 and a three bedroom AED 90,000. These are average prices for average apartments. Of course if you would like something more elaborate on the Palm etc. you will pay up to quadruple.
 
Q: What's the cost of living compared to home? What is cheap or expensive in particular?
A: Most fresh food needs to be imported as nothing much grows in the desert. So the fruit and vegetables are terribly expensive. A head of cauliflower I picked up the other day was AED 25 (and it was a small to average size) and a punnet of cherries are AED 35. Alcohol is all taxed so can be costly. Especially if you are drinking at the hotels.
 
Q: What are the locals like; do you mix mainly with other expats?
A: Dubai is very transient. So no sooner have you made a friend and they will be packing up and leaving. People are generally very clicky, so you would need to join groups or activities to get to know people. As a South African, I found it difficult at first as we Saffers are really friendly. Most people were offended, so soon you stop saying hello to everybody.
 
Q: Was it easy meeting people and making friends in Dubai?
A: I found it and still find it extremely difficult.
 
About working in Dubai

Q: Did you have a problem getting a work visa/permit for Dubai?
A:  My company sponsored me and it was a very easy process, after doing a medical.

Q: What's the economic climate like in Dubai; is there plenty of work?
A: Yes, things are looking up in Dubai, so plenty of work available

Q: How does the work culture differ from home?
A:  I work for an expat company, run by a British lady. So my experience is mainly one of respect and maturity.

Q: Did a relocation company help you with your move? 
A:  No
 
And finally…

Q: Is there any other advice you like to offer new expat arrivals?
A: My advice is to learn about the local Emirati culture, respect that and the laws of the land and you will make money and have a brilliant time in the UAE.

~ Interviewed August 2012