Safety in Ghana
---
Expats need not be overly-concerned with security and safety in Ghana. Violent crime rates are quite low, and petty crime can often be avoided simply by being aware of yourself and your surroundings.

Ghana is one of the safest country's in Africa. So as long as expats familiarise themselves with the issues and take the necessary safety precautions, they should be fine and have an enjoyable experience in Ghana.

Crime in Ghana
That said, due to the influx of more people into the cities with no chance of gainful employment, instances of pick-pocketing, residential burglary and vehicle burglary are on the rise.
The police and judicial system are both ill-equipped and too corrupt to cope with these crimes. Due to their relative visibility and presumed wealth, expats will find themselves targeted more often than locals. It's important to be aware, especially in crowded marketplaces.
Although Ghana's history of equal rights may not be on par with that of a developed country, there is no special concern for women's safety. Modest dress is advisable yet definitely not adhered to, especially in cities; and harassment is not common. Even local women would rather leave the traditional garb at home in lieu of jeans and a t-shirt.
Although some expats live in guarded compounds called 'gated communities', it is perfectly safe to live in stand-alone houses in most areas. Many expats hire either independent gate guards or security companies that either post a full-time guard, or set up an alarm system in their house, or both. This is mostly for precautionary reasons, as break-ins are quite rare.
Ghanaians are renowned for being quite friendly and helpful toward expats; however, it is best to keep overly-friendly strangers at arm's length, as petty crime and scams are becoming more common.
Driving safety in Ghana
One of the most imminent dangers in Ghana is the poor standard of driving. The country is well-known for having one of the highest road death tolls in the world, and it is no secret that driving in Ghana can be a hair-raising experience.
Driving licences can be bought, and as a result unlicenced drivers charging down the road with little regard for the law is not uncommon. The taxi and bus drivers are quite reckless, ignoring many of the basic road rules.
Many expats hire a full-time driver, though it is a matter of personal preference. Others prefer to use their own skills in navigating the roads. The only safety issue to consider if driving yourself is the 'mob mentality' that can arise quickly after an accident if a crowd forms. In these cases, an expat can be quite vulnerable if driving alone without the knowledge of local language. A driver can take charge in these situations, and a swift exit is usually the best bet.
Driving at night is not recommended, nor is driving on trips between cities on main 'highways'. Expats should be aware of dangerous overtaking by other motorists at all times.

Police are known to be quite corrupt and rarely enforce traffic laws, and traffic lights are out more than they are working. Expats should be sure to exercise extreme caution while commuting, practice defensive driving at all times, and should strongly consider buying (or negotiating as part of their contract package), a large SUV (like a Nissan Patrol or Toyota Land Cruiser) with a high standard of safety.
As child safety seats are not commonly used by locals, it is a good idea to bring your own if you have young children.
Emergency services in Ghana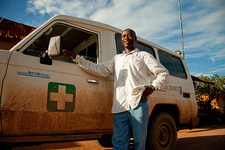 Generally you cannot rely on police, fire and ambulance services in Ghana. All of these services are highly underfunded and under-resourced.
The fire service often has no water in its vehicles and there are only a few operating ambulances in the cities. In rural areas, the situation is worse.
West Africa Rescue Association (WARA) is a private company now operating in Ghana that provides emergency services and works with BUPA and other international travel insurance agencies in the cases where medical evacuation from Ghana is required.

They charge a nominal fee for membership and provide a host of services from helicopter rescue and ambulance services to their own clinic in Accra. They have a staff of fully European-trained paramedics.