Safety in India
---
Safety in India varies from region to region as the country is so vast, with diverse ethnic and social groupings. India has experienced ongoing issues related to sectarian violence and terrorism. Although foreigners are not always directly affected in the violence, there have been occasions where terrorist attacks have targeted areas known to be frequented by Westerners.

Petty crime is also something which expats should be aware of, while road safety, sanitation and food safety are other concerns for expats in India.
Crime in India
Petty crime in India is rampant, but foreigners will rarely be exposed to robbery or violent crime. Expats in India do stick out in a crowd, thus they are often the victims of pickpocketing, overcharging or small scams. There have also been reports of foreigners being robbed or assaulted while riding in taxis or rickshaws; it's best to avoid a taxi that is already carrying passengers.
Expats should dress and act modestly to avoid attracting any unwanted attention. Women, in particular, should be cautious about travelling alone; there are instances of foreign women being verbally and physically (sexually) harassed in India. Such incidents are often referred to as "Eve-teasing". Women should also avoid walking in isolated areas alone or using public transport at night without being accompanied by a trusted companion.
Beggars are common on the streets of Indian towns and cities. If confronted by begging children, it's best to give them food rather than money as any money will likely be handed over to an adult and the child will not even benefit from it. Be careful when giving anything to beggars as once you hand something to one person, it's not uncommon to get mobbed by more beggars hoping to get something from you as well.
Terrorism in India

The threat of terrorism in India remains a concern, especially in the major cities of Delhi, Mumbai and Kolkata. In the past, terrorists have targeted areas popular with foreigners, especially Westerners, such as tourist spots, hotels and markets. Following the terrorist attacks in Mumbai in 2008, security was stepped up in major cities, especially at government buildings, hotels, sports venues, transport hubs and places of worship.
The Indian government often issues alert warnings about possible terrorist attacks. National days of significance in India, such as Republic Day on 26 January and Independence Day on 15 August, often see increased security throughout the country due to potential terrorist threats against these events. Expats should keep abreast of developments in their area, and should exercise caution in the lead up to these days, and especially in areas identified as possible targets.
Certain parts of India are often scarred with sectarian violence. These skirmishes are not directed at foreigners and by following government travel warnings, expats will easily avoid any problems.
Most notably, the ongoing dispute between India and Pakistan over the northern state of Jammu and Kashmir has been a source of armed clashes and violent demonstrations for a number of years; numerous governments warn their citizens against travel to the region.
The rural areas of some of India's east central and southern states have also experienced ongoing problems due to the presence of Maoist extremist groups, known as Naxalites. These groups have a long history of conflict with the state and have carried out frequent attacks against local police, paramilitary forces and government officials, as well as transport and infrastructure in the area. They are particularly active in rural parts of Chhattisgarh and Jharkhand and in border regions of Andhra Pradesh, Maharashtra, Madhya Pradesh, Uttar Pradesh, Bihar, West Bengal and Orissa.
Protests in India

Protests related to political and socio-economic issues are common in India and often affect service delivery and transport, particularly road and rail transport. Violence at such gatherings is not uncommon. Indian security forces are quite used to dealing with these situations and are swift to react; curfews and travel restrictions may be implemented in affected areas.
The proposed creation of a separate state of Telangana has been a source of much protest in Andhra Pradesh's state capital of Hyderabad in recent years; pro-Telangana supporters have been responsible for the shut-down of government services, businesses and schools on numerous occasions. The conflict over Jammu and Kashmir has also been a source of violent unrest in recent times.
Transport safety in India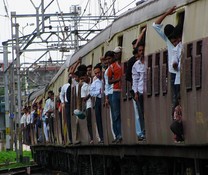 Road safety in India is a major concern for the safety of expats in India. Fearless taxi and motorcycle drivers account for many accidents. Bus and train accidents are also common. Pickpockets also target passengers on buses and trains and expats should keep a close eye on their belongings when using public transport. Railway lines in India have also been subject to vandalism and attacks by Maoist groups, particularly in rural areas of Bihar, Chhattisgarh, Jharkhand, Orissa and West Bengal.
Food safety in India

Sanitisation and disease are also concerns for expats in India. Food from roadside vendors should be avoided and expats should try to avoid drinking the tap water, which is generally contaminated. There have been reports of foreigners having their drinks spiked and subsequently being robbed or assaulted, especially in the tourist hub of Goa. As a precaution, it's best to only accept a drink from a trusted individual.