Moving to Doha
---
► Buy the Qatar Guide for PDF.
---
| | |
| --- | --- |
| | Download the Expat Arrivals Doha Schools Guide for detailed reviews of international schools in Doha, including independent suggestions from parents, teachers and school inspectors. |
---
Qatar makes up in diversity what it may lack in size, and expats moving to Doha, the peninsula's capital city, will find an emerging metropolis filled with people from every corner of the world, and the food, language and clothing they bring with them.
The multiethnic makeup of the 1.5 million residents is reflected in both the social and professional spheres, and more than anything else, expats should be prepared to make allowances for people's different ways of doing things.
One of the first thing expats may notice in Doha may be the towering cranes rising in the background of most neighbourhoods, a clear sign of the city's race toward expansion and growth.
In that vein, the ratio of Qataris to internationals is incredibly skewed, with expats commanding an overwhelming majority. This often means that while it is relatively easy to make friends at work or in the compound, the local community often stays away from the revolving door that's come to be identified with the transient foreign population. Though, those who stay longer than the three year average will find the Qatari nationals hospitable and companionable, and more open to cultivating friendships.
Expats living in Doha generally reside in
housing
provided by their employers, either in high-rise apartment buildings in the West Bay area or in family-sized villas in walled neighbourhoods called compounds.
The standard of living among professionals, both national and expat, is high, but that also means that the
cost of living
in Doha is fairly high. Be sure to negotiate an adequate salary package to cover all components of life in the emirate.
Most major brand name clothing retailers, motor retailers, and other retailers from Western malls are represented in Qatar, along with a plethora of locally made luxury goods.
From tennis to the cinema, the recreation and entertainment options available in most other metropolitan cities are present, though some expats may feel slightly limited by the number of outlets offering specific services.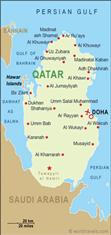 Men and women of all nationalities drive in Qatar, though the aggressive nature of so many SUV drivers can often be unsettling for newcomers. The wide use of roundabouts, or circular traffic pattern, without lights or other regulatory features can also be intimidating to those who may not have had such experiences. The best way to gather a sense of confidence, and to start out driving in Doha is on a Friday morning, the day of prayer, when the roads are empty.
Expats should also note that people tend to give directions via landmarks and not street signs, though as the country continues to expand, this may change.
One of the largest challenges expats living in Doha will face is adapting to the extreme heat. Temperatures are high (rising above 40 degrees Celsius between June and August) in the summer months, and it is no coincidence that most annual vacations are between 30 to 45 days long and scheduled for this time period. A key to summer survival is to plan getaways whenever possible.
Do note that air conditioning is available in most offices, restaurants, and other facilities, and expats will quickly realise that it's often necessary to bring a shawl or coat along, even amidst the sweltering
weather
.
That said, from October to May the climate is moderate, and is perfect for dining al fresco or playing several rounds of golf. In the winter, people are often surprised by the low temperatures, but the lack of central heating. This absence means that space heaters are in high demand.