---
As with many things in the country, the process of getting a work permit for Russia is awash in bureaucracy and red tape. Furthermore, national quotas restricting the number of foreign nationals granted the right to work in Russia are strictly adhered to, and change yearly depending on the Russian economic climate and the policies of the time. Within the umbrella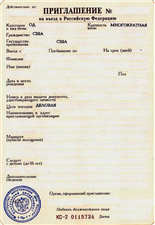 quota, there are quotas for specific regions of Russia, for specific occupations and professions, and for specific nationalities.
Expats working for private individuals – including au pairs, domestic staff and EFL teachers, and those with specialised, high-demand skills – will find it much easier when processing their paper work. Expats earning in excess of 2 million RUB per annum are usually considered exempt from quotas, as they qualify as Highly Skilled Specialists, and can be granted a three-year work visa.
Employers, both Russian and foreign, who wish to hire expats must apply for their own employment permit before they can legally employ non-locals.
Work permits are issued for one year periods, and can be extended from within the country.
In order to legally work for a company in Russia, expats must obtain both an entry work visa (received after the employing company is granted an accreditation card) and a work permit. If both procedures are undertaken simultaneously, the entire process can take roughly three months. Luckily, much of the burden of organising this documentation falls on the shoulders of the employing company.
The steps to obtaining a work permit for Russia are outlined below:
►Step 1 - Employer obtains employment permit
In Russia, employers have to prove through a complicated bureaucratic process that they have a need, and thus have the right, to hire foreign workers. This involves filing a formal "Declaration of Need", and then filing an application to the Foreign Migration Services (FMS). If approved, authorisation is granted in the form of an employment permit, which outlines how many expats of a certain nationality the company can hire and for what positions.
►Step 2 - Find a job
Expats must find an employer with an authorised employment permit to sponsor their work permit. However, in some regions, companies can apply for an employment permit at the same time that they apply for their expat assignee's work permit.

In some cases, steps 1 and 2 are reversed; an expat will find a job and thus inspire an employer to apply for an employment permit.
►Step 3 - Employer applies for expat's work permit
Once contracts have been negotiated and signed, the employing company will file an application for a work permit on behalf of the expat. Many of the larger foreign companies are familiar with this process, and will inform the potential employee of the necessary documents required. If relocating to Russia as a professional who requires licensing, expats will need to provide translated and notarised copies of their diploma, among other things.
►Step 4 - Apply for entry "inosotrudnik" visa
Upon application and approval of an accreditation card, the employing company will receive a formal visa invitation letter. They will pass this letter onto their expat employee who will use this document to apply for an entry "inosotrudnik" visa at their home country Russian consulate or embassy.
►Step 5 - Take medical test and collect work permit
Once the entry visa is approved and issued, expats can travel to Russia in accordance with the date listed on their visa. Upon arrival, they will need to undergo a medical examination, and then their employer will present them with their work permit, a small plastic card, and will advise them of additional registration formalities to be completed.
Medical examination

In order to be granted the work permit, it's necessary first to pass a medical test in a registered Russian state clinic (international test results are no longer accepted). Expats should bring a fluent Russian speaker with them to the clinic, as it's likely that state healthcare professionals will not speak English. The combined testing and processing time is usually one week.

*Work permit requirements can change at short notice and expats should contact their nearest Russian embassy or consulate for the latest details.