---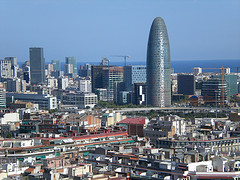 It may be surprising to find that the act of doing in business in Spain is a work in progress. The country has somewhat of a tumultuous past, and only in the post-Franco era have state-run businesses associated with bureaucratic inefficiency given way to more modern enterprises and normalised European business ideals.
Expats moving to Spain will find that the working world is still – much like Spanish culture as a whole – entrenched in tradition. It follows that it may take time and patience to establish a firm foothold in the Spanish business environment.
While the country has one of the largest economies in the world, in the wake of the global financial crisis, its population has grappled with high unemployment rates and, until recently, recession.
Although the situation is slowly improving, it will take some time before the economy rebounds to pre-recession levels.
This has real effects on both local and expat business people, which can be seen in Spain's ranking at 33rd out of 189 countries in the World Bank's Ease of Doing Business Survey, falling behind many of its European neighbours.
Business culture in Spain
Spain only started scaling down its nationalised economy in 1975 and, as a consequence, much of the country's business culture is rooted in an older time.
Hierarchy
Hierarchy is paramount. Spanish managers are autocrats of sort, having the authority to make important decisions without consulting their employees or receiving input from their colleagues.
Those in mid- and lower-level positions should show the utmost respect for their seniors, and count on remaining quite separate from their superiors.
Expats coming from countries where personal initiative is expected and rewarded shouldn't put an end to this behaviour but should nonetheless be wary of undermining authority.
Furthermore, control is a central part of the Spanish business ethos. Locals prefer to avoid uncertainty, even at the cost of longer periods of deliberation and less frequent decision-making.
Keep in mind, however, that Spain's business culture is slowly evolving. Those of a younger generation may uphold slightly different ideals and subscribe to more egalitarian practices.
Business dress and making an impression
Expats living in Spain should also note that a strong emphasis is placed on personal pride, social status and character attributes. In many cases these factors carry as much weight as an individual's technical excellence and professional experience. A successful businessman will not only be well-dressed, dignified and honourable, but also be good company and entertaining.
Meetings
Face-to-face meetings in Spain form the foundation of business relationships. As such, expats should anticipate engaging on this level with their clients, rather than in writing or by telephone. Keep these interactions personal, but formal.
Attitudes to foreigners
With increased unemployment and competition for jobs and business, there has been a certain amount of resentment towards employed foreigners from certain sections of Spanish society.
That said, the majority of people in Spain are not xenophobic and are courteous in their interactions with foreigners.
Expats are far more likely to get a positive reception if they make an effort to speak at least some Spanish, and display an openness to the Spanish way of doing things.
Doing business in Spain: Fact facts
Business language: Spanish, while some large corporates and multinationals may do business in both English and Spanish. Do not expect English to be spoken as the de facto language of the working world.
Hours of business: Highly-variable. Generally offices open at 9am and close mid-evening, with two hours set aside for lunch in the early afternoon.
Business dress: Formal, conservative and of high-quality. Dark or linen suits with white shirts and silk ties for men, and modest dresses and tailored suits (including pant suits) for ladies. Brand names and designer labels are noted approvingly.
Greeting: While besitos, giving each other a kiss on each cheek, is a common way of greeting in Spain, it may be best for expats to allow their Spanish counterparts to initiate this in the business setting, since some people may prefer to shake hands. It is important to note that, should an expat be greeting anybody in the traditional Spanish way, the cheeks of the other person are usually not directly kissed. Rather, people tend to touch cheeks and make a kissing sound. It is generally accepted that besitos take place on the right cheek first, and then the left.
Gifts: Not expected, but appropriate at the conclusion of successful negotiations and at Christmas time. The recipient of a gift generally opens it in front of the giver. Gifts should be of high quality.
Gender equality: Fully equal, with no form of gender discrimination. Spain is traditionally, however, a male-dominated society and only recently have women started to assume mid- to senior-level management positions in anything but family businesses.
Dos and don'ts of business in Spain
Do have business cards printed, with one side in English and one side in Spanish. Present cards Spanish side up, along with a handshake, eye contact and a warm greeting.
Don't fall for the mañana (tomorrow) stereotype. While Southern Spain may canter at a calmer pace, in Northern Spain deadlines are adhered to and punctuality is expected.
Don't expect to start negotiating at the beginning of a meeting. The Spanish like to establish a formal, but personal environment before engaging in business transactions. Similarly, when dining with associates, only speak business if invited to do so or if it has been established that the purpose of the meal is to discuss work.
Do try and schedule appointments for mid-morning, as business hours vary in Spain and this is the time slot when people are most likely to be available
Don't be surprised if you find your personal space compromised. Spaniards like to stand close, and moving away can be taken as offensive.