Education and Schools in Spain
---
A primary concern for expat families relocating with kids is finding a good school in Spain. Options for public (state), private and semi-private (
colegios concertados
) schools exist, and these institutions can be Catholic or secular, mixed or male/female only.
Parents will need to carefully evaluate a number of factors before making their choice, consider your child's age, your anticipated length of stay in Spain, your budget, the primary teaching language you'd prefer and the curriculum that would best suit your child's needs.
Each situation is different and worth careful consideration, but generally those expats only planning to stay for a short time or those who have high school (secondary) aged children will send their kids to international schools in Spain.
Education is compulsory in Spain for children between the ages of 6 and 16, and the school year typically extends from mid-September to the end of June.
Public (state) schools in Spain
The standard of the state Spanish system is supposed to be as high as that of the private system, and what's more, it's free for children to attend public schools in Spain, though parents normally need to pay for books and for the fees incurred by extra-curricular activities. It is free for expats to send their children to state schools in Spain, as long as you've registed for your
Empadronamiento
at your local town hall
Documents required to enrol in a state school in Spain
Birth Certificate
Parent's Marriage Certificate (or document stating they are both legal guardians of child)
Passport or ID card
Papers issued by the Town Hall Education Department confirming a place at the school (to get these papers, you need to take the Certificate from the Padron office (Electoral Roll) that states you do indeed live in the correct catchment area.
SIP number of child (issued in person by the Social Security office)
Medical Certificate including immunisation record (issued by Spanish paediatrician at the Centro Medico)
Children generally attend the state school in closest proximity to their house, until secondary school, when the principle of catchment zones takes effect. In Spain, there's a noteworthy absence of a national rating system that's used to evaluate individual schools, and as a result, word-of-mouth tends to be the best way to determine if an institution is of a high standard of a low standard.
The primary teaching language of state schools in Spain is Spanish, or is the co-official language of the region (i.e. Catalan in Barcelona). Do not assume that teachers in the state system will speak English, as many will not, and those that do will have varying levels of proficiency.
Expats report that public school teachers can be more severe, and are likely to give less individual attention to each child. Furthermore, the community of pupils and their parents is not as sophisticated or involved as within the private schools.
State-schools in Spain tend to be best for those expats with very young children, who can easily overcome the language barrier and other challenges, and for those expats who plan to live in Spain long-term.
Semi-private schools in Spain
Semi-private schools are former private schools subsidised by the government. Fees are low, and in some cases, non-existent.
These schools are a good option for those parents who'd prefer smaller class sizes for their children, but the standard of each is dependent on the neighbourhood in which it appears. The rule of thumb seems to be if the school is located in a prosperous area than it is likely to have a more or less sophisticated community. Some of these types of schools admit children from as early as one year old.
Again, the primary teaching language in these schools will be Spanish or the regional co-official language, and the curriculum will be the Spanish state curriculum.
Private schools in Spain
Private schools in Spain are numerous, uphold various curricula and always have annual tuition fees. As in other destinations, these schools are assumed to have smaller class sizes, higher-quality facilities and a greater array of extra-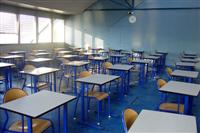 curricular activities.
Unless the private school is a bilingual school or an international school, the primary teaching language will be Spanish or the co-official language of the region.
Demand can be high for the more prestigious private schools in Spain, and in order to enrol your child in one of these schools expats will have to move fast and negotiate well.
Education costs vary immensely, and it's best to consult with the school directly regarding tuition and curriculum.
International schools in Spain
International schools in Spain are private schools that teach an international curriculum, this may be an International Baccalaureate curriculum or the curriculum of another nation (American, British, Swedish, etc.).
Expats, especially those in Spain for a short-term, usually favour these schools because they allow their children to continue learning the curriculum from their home country in the language that they are familiar with.
Most urban centres in Spain have a healthy assortment of international schools, an overwhelming amount which seem to be British. Keep in mind that these institutions can often be on the outskirts of a city, making for long commutes for the little ones.
Additionally, these schools normally have high tuition costs, and expats should make sure their wage can cover the high annual fees before they agree to move to Spain with their families.
Admission procedures vary from one school to the next, thus it is best to correspond with each school individually. In general though, it's recommended expats bring their child's previous school year report card and their immunisation records.