Shipping and Removals in Switzerland
---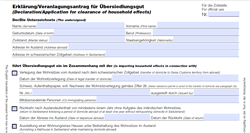 Expats can choose to ship via air or by sea: each method has its respective pros and cons. Shipping by air is faster, yet more expensive; while shipping by sea is more time-consuming, but more cost-effective.
Expats can import their household goods duty-free to Switzerland as long as they have used and owned the appointed goods for at least six months, and as long as they complete a "Declaration/Application for clearance of household effects" form. This must be submitted to the removals company along with the following documents:
Itemised inventory of effects
A copy of the expats valid passport
Swiss residence permit (if the expat is not a Swiss national or an EU/EFTA citizen)
Rental agreement or lease or property title of house or apartment
Official foreign registration certificate for the means of transportation
Customs officials may require other documents, like an employment contract and a confirmation from the commune of residence, so it's best to supply as much information as possible. Be sure to keep copies of all documents submitted, as they may be necessary when exporting goods back home.
A good removals company will be invaluable in expediting this process, and ensuring there are no delays in processing one's goods through customs.
Shipping pets to Switzerland
Expats are free to import nearly any kind of pet to Switzerland, even crayfish appear on the government-approved list. Furthermore, non-European expats can bring up to five of their furry (or scaly) friends with them to their new home in the alpine nation; and those migrating from within the EU can bring an unlimited number of pets.
Special rules exist for those importing dogs, cats or ferrets to Switzerland.
Identify pets. A microchip identification must be present on your pet; tattoo identifications will only be accepted if it can be proven the tattoo was done prior to July 3, 2011. Expats importing dogs to Switzerland must take them to a veterinarian and register them in the ANIS database within 10 days of arrivals.
Get all pets a Pet ID and a veterinary certificate from a licensed veterinarian in your home country.
Have pets vaccinated against rabies at least 21 days prior to departure.
Animal health permits are required for expats importing dogs, cats or ferrets via a Swiss airport. This form is available from the Federal Vet Office and must be submitted to the FVO three weeks before import.