---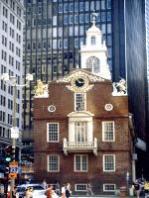 Boston has a diverse economy and this, accompanied by a highly educated population, has attracted many top companies to the city. Despite the increasingly competative job market in USA cities, the demand for highly educated workers in Boston has seen a resurgence.

Boston is a centre of education in the USA and its universities and colleges are large contributors to the economy of the city. These educational facilities have also put the city at the forefront of technology development, attracting a major players in the technology industry to the city.
Top employers in Boston include the biotechnology industry, higher education, healthcare (including research), and the finance and technology industries. Tourism and hospitality are also significant sectors, while law enforcement and federal agencies are also large employers in the city.
Expats with relevant experience and qualifications in these fields will likely find opportunities, although they should expect competition to be fierce.
Boston is focused on highly skilled knowledge-based jobs. Yet many young professionals can't afford the high cost of living. Salaries should be expected to be higher than the national average but often won't fully compensate for the city's added expenses.