---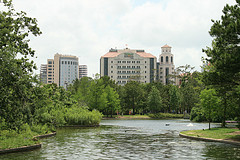 The system of healthcare in Houston is usually associated with the Texas Medical Center (TMC). This world-renowned facility is the largest of its kind, made up of 49 institutions that include hospitals, medical schools, nursing colleges and research facilities.
Foreigners and citizens from across the USA travel to Houston to receive treatment, which in turn entices some of the foremost medical professionals in America.
Among these formidable institutions is the University of Texas M.D. Anderson Cancer Center, one of the country's top cancer hospitals. The Texas Children's Hospital is the largest paediatric hospital in the USA. And the Texas Heart Institute at St Luke's Episcopal Hospital is a top-performing heart surgery facility.
Expats moving to Houston will have access to the TMC's high-ranking medical services but they'll also have the benefit of living in a city where the standard of healthcare is high in general.
Urgent care centres, walk-in clinics, assisted living facilities for the elderly, comprehensive women's care hospitals, and even a healthcare programme that caters to homeless people are all part of Houston's push to provide residents with the best healthcare possible.
Finding a doctor in Houston
Although Houston claims the most impressive healthcare structures in the Southwestern USA, finding a doctor that aligns with every patient's preferences can still be challening.
The Harris County Medical Society Physician Referral Service is one traditional resource that can help new arrivals find a doctor in their local area, but expats should still engage with the local community and use word of mouth to find a reputable practitioner. Colleagues, web forums and employers are all good sources for recommendations.
Pharmacies in Houston
Pharmacies are widely available in Houston, and are usually found within drug stores like CVS, Walgreens and Randalls. Many medicines can be obtained over the counter, but prescription medication can only be obtained with a physician's approval. Most pharmacies stay open as late as 1am.
Health insurance in Houston
Health insurance is a must-have in Houston. There is no universal coverage in America, and as a result, those without insurance who need treatment often have to pay exorbitant fees out of their own pockets.
Furthermore, with no system of compulsory coverage, the onus falls on individuals to negotiate with their employers for health insurance or to organise it independently.
Most employers in Houston do provide healthcare in association with employment packages, and it's commonplace for dependants and spouses to be covered by these packages as well.
But most employer-sponsored coverage is limited to a certain type of plan, so expats with complicated medical issues may still need to organise health insurance independently.
Plans through independent carriers tend to be more expensive, but they also allow freedom to shop around for the specific type of coverage that's needed. Expats purchasing health insurance through one of these private carriers should ensure they hold a valid Texas insurance licence before signing up.
Hospitals in Houston
Houston is a big city and expats should find out about the most suitable hospital close to their home. Below is a list of some of the most prominent hospitals in Houston:
St Joseph Medical Centre
1401 St Joseph Parway
+1 713 757 1000
www.sjmctx.com
Texas Medical Center
2450 Holcombe Boulverad 1
+1 713 791 6451
www.texasmedicalcenter.org
The Woman's Hospital of Texas
7600 Fannin Street
+1 713790 1234
www.womanshospital.com
St Luke's Episcopal Health System
6720 Bertner Avenue
+1 713 785 8537
www.stlukestexas.com
Memorial Hermann Southwest Hospital
7600 Beechnut Street
+713 456 5000
www.memorialhermann.org
West Houston Medical Center
12141 Richmond Avenue
+1 281 558 3444
www.westhoustonmedical.com