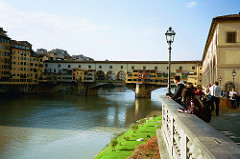 Revered as one of the most beautiful cities in the world, many expats move to Florence to discover and experience the home of many great men and women who changed history. As the birthplace of the Renaissance, millions of visitors from around the globe arrive each year to explore its churches, museums and piazzas.
These newcomers, along with many others, will surely find that networking is the best way to secure a job in the city. Expats should also note that its best to meet people face-to-face, since Florentines tend to hire based on personal impression.
Aside from those coming to work or to experience a new life in Florence, thousands of students, both young and old, arrive each year to participate in study abroad programs, as well as short-term courses that explore Italian language, art, history, and fashion.
Expats should understand that with many foreigners passing through, the locals can sometimes appear unfriendly. To survive the city and to cultivate acceptance, it is necessary to develop a 'go with the flow' attitude. Persistence, patience, spontaneity, and sincerity are key traits to truly thrive in Florence.
If expats can frame Florence in the light of these personality traits, they'll certainly enjoy the magic of this wonderful city and the many layers of its past and present while at the same participating in its future.