Cost of Living in Abu Dhabi
---
negotiating their contracts
.
Salaries in Abu Dhabi have come down from former dizzy heights, and many of the allowances included in expat packages of the past are no longer normal protocol. That said, with the right kind of research, expats can accurately estimate their costs and take the appropriate steps to wrangle for a better wage and the lifestyle they may have imagined.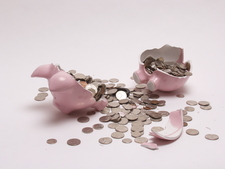 As is the case anywhere, an individual's cost of living in Abu Dhabi is highly variable; the opportunity to live a life of opulence exists, as does the chance to get by cheaply and conveniently.
One unfortunate reality of the emirate is that nationality plays a primary role in asserting what kind of salary one is able to earn. Bear in mind that Emiratis will always exist at the top of the pyramid and, at no fault of their own, South Asians will make up the lowest tier. Western expats fall somewhere in the middle.
Accommodation, automobiles and schooling (for those with children) comprise the bulk of expenses, while food, clothing and entertainment are generally affordable.
Cost of accommodation in Abu Dhabi
No matter one's social status, the costs associated with
accommodation in Abu Dhabi
are outrageous. Expats should anticipate their largest expense to be housing; rent can take up nearly 50 percent of a monthly salary.
On-island accommodation is generally more costly than off-island accommodation, as is the case with furnished and unfurnished housing, respectively.
Don't forget to broach the subject of a shipping allowance or, for those planning to buy most of their household goods upon arrival, a start-up stipend.
Utilities are reasonably priced in Abu Dhabi, as they are subsidised by the government. However, utilities nonetheless form part of an expat's account, so be prepared to pay, especially if planning to keep a garden and an air-conditioned villa.
Flat-sharing is a good solution to exorbitant rental rates, but do be careful of renting a room in a villa that has been divided; this is illegal in Abu Dhabi.
Transport costs in Abu Dhabi
Alongside accommodation, the cost of renting or buying an automobile will likely be another major expense for expats in Abu Dhabi.
Public transport is available and economical; however,
most who have relocated to Abu Dhabi prefer to use a car to get around the emirate.
An option that can save a good deal of money is to ship one's car to Abu Dhabi. Costs vary depending on the location of an expat's home country, and import duties must be paid; but on the whole, if planning to stay in Abu Dhabi for a year, the total cost of both import and export may be significantly less than leasing or buying a car in the emirate.
One unforeseen cost that is impossible to anticipate, but readily avoidable, is the outrageous cost of parking and speeding tickets in Abu Dhabi. In an effort to curb illegal behaviour the authorities have attached hefty fines to these violations.
Cost of schooling in Abu Dhabi
Expat parents with children must certainly work hefty tuition fees into their annual budget. The little ones won't be able to attend the free public school system, and private
international schools
in Abu Dhabi charge a fortune for an education that, some Westerners feel, is hardly worth the extravagant price tag.
Tuition ranges considerably, with additional charges such as school uniforms, annual bus fare, text books and a non-refundable enrolment fee, adding to the costs.
Assignees should try to negotiate an allowance into their salary package. Although education stipends are less common, they do still exist.
Cost of health insurance in Abu Dhabi
In Abu Dhabi, employers are legally required to provide expats with health insurance. So luckily, this is one cost assignees won't need to concern themselves with. That said, some employers use local health insurance, which is not recommended for those at-risk individuals who have significant health issues.
Older expats, or those in poor health, may need to maintain health insurance in their home country and make sure their employer finances emergency evacuation insurance. Otherwise, local health care is up to standard for minor issues.
Cost of food and clothing in Abu Dhabi
Food and clothing costs have the potential to monopolise great portions of an expat's salary, or to cost next to nothing. There is an
impressive assortment of cuisine and shopping options in Abu Dhabi, and expats must merely decide how much they'd like to spend to look stylish and to feel full.
Local food stuffs will always be more reasonably priced than imported goods, and ethnic-style (Indian, Arabic, Chinese and African) restaurants much cheaper than hotel eateries and bars. Organic food and Western brands can summon a significant grocery bill, so don't be afraid to try the Emirati equivalents to cut costs.
Furthermore, alcohol is expensive, so try and buy duty-free products in the airport.
Clothing from the Carrefour and the downtown shops is incredibly affordable, while the big names and popular labels found in Abu Dhabi's malls will be expensive. Books and electronics also tend to be more more costly than expats may be used to, and as a result, many purchase these goods during the odd trip home.
Tax equilisation in Abu Dhabi
For those expats lucky enough to be lured abroad by lucrative expat packages with multiple allowances included, it's vital that their work contract includes a tax equalisation stipulation. Essentially, taxes will be deducted for all these generous additions, and expats should ensure their company covers this income tax or pays an extra amount to make sure their employee comes out even.
Cost of living in Abu Dhabi chart (2014)
Monthly Accommodation (In a good expat area)

Furnished two-bedroom villa

AED 8,000 – AED 10,000
Unfurnished two-bedroom villa
AED 5,000 – AED 8,000
Furnished two-bedroom apartment
AED 7,000 – AED 9,500
Unfurnished two-bedroom apartment
AED 4,500 – AED 8,000

Shopping

Dozen eggs
8 AED
Milk (1 litre)
5 AED
Rice (1kg)
6 AED
Loaf of white bread
4 AED
Pack of chicken breasts (1kg)
25 AED
Pack of cigarettes (Marlboro)
9 AED

Eating out

Take-away meal (e.g. McDonalds)
25 AED
Three-course meal at a mid-range restaurant
170 AED
Cappuccino
18 AED
Bottle of beer
30 AED
Coca Cola (500ml)
5 AED

Utilities/Household (monthly)

Mobile call rate (per minute – mobile to mobile)
1.76 AED
Internet (Uncapped ADSL or Cable – average per month)
300 AED
Electricity (average per month for standard household)
500 AED
Hourly rate for domestic cleaner
45 AED

Transportation

Taxi rate/km
1.68 AED
City centre bus fare
2 AED
Petrol (per litre)
1.80 AED