Kids in Abu Dhabi
---
Expats moving with kids to Abu Dhabi will find themselves one of the many foreign families that have come to settle in this former desert outpost.
Whereas Dubai has the reputation of being a tourist magnet, teeming with single young wannabes who love shopping and clubbing, Abu Dhabi is where those youngsters are likely to move to when they finally settle down.
Schooling for kids in Abu Dhabi
Securing a spot for your little one in the school of your choice will likely be one of your most difficult tasks as a parent living in Abu Dhabi, especially if your children are aged between three and six. Shortages are chronic, even though many new schools opened their doors in 2011.
Expats should be aware that every year, school admissions (sign-up) days take place some time in the first week of February. So if you're arriving in Abu Dhabi before then, find out the dates and if you're really determined to get your dearest into one of the 'best' schools, you'll need a sleeping bag! It's not abnormal for the queues to start even the day before.
The starting school age for kids in Abu Dhabi is three going on four, but most schools also accept applications for the following school year; when kids are four going on five.
Alternatively, several nurseries (i.e. Jigsaw Nursery and Bright Beginnings) accept children of younger ages for two to five days a week. Bright Beginnings will even take infants from four weeks old.
If you do decide to keep your little ones at home with you, be aware that most of the playgroups are more suited to younger toddlers. There are other parents in the same boat though, and plenty of other activities you can enjoy together.
Entertainment for kids in Abu Dhabi
First off, expat parents are strongly encouraged to find the nearest English bookshop and purchase a copy of "The Entertainer", a book of discount vouchers that makes dining and days out with the kiddies that much cheaper.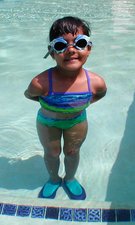 Friday brunch is the most popular pastime among expat families, and a number of five-star hotels serve up sumptuous fare while providing on-site entertainment for the little ones. The Millennium Hotel and Park Rotana are two such hotels, alternatively, the Intercontinental allows access to their private beach after your meal, and the Yas Crown Plaza their pool.
There are parks aplenty in Abu Dhabi, although they aren't evenly spread out; Khalidiya has three parks, but Al Wahda doesn't have any. Expats should familiarise themselves with park hours and park rules; one of the Khalidiya Parks and Al Mushrif Park are for women and children only, and some parks do not officially open until late afternoon.
Evening picnics are great way to enjoy the outdoors sans sunburn and a good opportunity to meet the locals who favour these areas during dusk.
Ball games, BBQs, and horse and carriage rides can be enjoyed in Khalidiya park, and Sheikh Khalifa park boasts an open air cinema, funfair rides in the spring as well as a train, aquarium, heritage ride and museum all year round.
In the summer, the extreme heat limits entertainment options to indoor play areas in shopping malls, St Andrews Playgroup and TV. Most expats go home for the whole of July and August, and it is advised you follow suit.
Parent networks in Abu Dhabi
The main lifeline for parents in the emirate is Abu Dhabi Mums, a parent's network that offers information on playgroups,
membership discounts, and opportunities to partake in pool swim meets, join in horseback riding and to borrow toys and books from library collections. They also organise nights out at local bars on ladies nights, where the bubbly is free! What more could one ask for?
Newbies are advised to come along to one of their monthly socials, held the second Tuesday of every month at 10am, to find out about joining.
Other playgroups are held at St Andrews Church on Mondays, Wednesdays and Thursdays from 9.30am to 11.30am. For 25 dihrams, your child can enjoy the toys, snack and drink while you mingle with the mummies and the maids! Or, on Tuesday and Sunday mornings at half nine, there is a 'Messy Monkeys' arts and crafts group for ages two plus.
Expat parents should keep in mind that most of these groups are run by volunteers, so chipping in with bits of your time and money is greatly appreciated.
Challenges
Abu Dhabi is a city in its infancy stage, so of course there are teething problems.
Playgrounds are a regular point of frustration and seem unlikely to have been designed by parents; there are often no toddler swings, and rarely shade or benches for parents to rest on.
Some parts of the city, especially on the outskirts, resemble building sites more than communities; and steering a pushchair over cracked and uneven, steep pavements can make any mother's blood boil. Furthermore, driving is hazardous and the Muslim call to prayer can be a formidable nemesis for parents with young children who are easily woken at night or during naps.
Expat parents may also find it especially strange that random passers-by are interested in photographing their kids. There's no need to be concerned by the request, it happens that people from other cultures have often been forced to leave their own children at home, and find themselves stung with a pain of nostalgia (thus the reason for wanting the picture). That said, how you respond is your personal choice.
Lastly, because of the stringent nature of the local laws and the lush financial packages most expats are privy to, life can often seem similar to a strange 1950s movie where everyone is happily ever after in their middle class world. Children are cushioned from the darker side of life, and living in an expat bubble means you get the village sensation of knowing or recognising those you rub shoulders with, while enjoying the amenities of a big city.