---
In a country with a population of only 20 percent locals, foreign pockets abound and the nightlife in Abu Dhabi reflects this. Expats will find that it's perfectly possible to reproduce Friday nights back in Munich or Manchester, but where's the fun in that?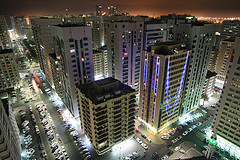 As most immediately realise, there are two centres to the Abu Dhabi social scene: the mall and the hotel. Malls are places to see and be seen, to go to the cinema, or to shop your heart out. Hotels have everything else, and under one roof: happy hour, dinner, drinks and the nightclub.
If you're worried about how the Islamic culture might affect your nights out, don't. Go listen to live Cuban music over shots of tequila (Trader Vic's) or have a Heineken while watching an eclectic metal band (PJ's). Do prepare for the month of Ramadan though, when the observant fast all day and take it easy at night. That said, even during this holy time malls still bustle until 3am, and the liquor stores still open their doors.
Keep in mind though, for every Abu Dhabi rule, there is an exception. For every expatriate enclave and Western hangout, there are local traditions hidden under the (expensive Persian) rug. In this city, where nearly everything can be delivered to your doorstep, it takes a little exploration to find the things that cannot be - but it's well worth taking the time to discover the capital's best kept secrets.
Drinking and Shisha in Abu Dhabi
When work lets out, you'll find various segments of the expat community gathered around the local hotel bars (liquor licences are a MUST, but for locals they are, apparently, prohibitively expensive). Whether it's the chic Le Royal Méridien, the old school Beach Rotana, or the 3 billion-dollar Emirates Palace, there are plenty of watering holes on offer.
For ladies, every evening of the week is an occasion to take advantage of an Abu Dhabi nightlife staple - "Ladies Nights". The art of the "sundowner" is a;sp one not lost on this city.
Or, maybe you're more the nargila type, and you're looking for a place to puff on a shisha pipe with a glass of sweet tea (for shisha and a beer, try the Novotel, or the Fairmont outside of town).
Long-time residents of Abu Dhabi drive out onto the breakwater past the shipyard to picnic in lawn chairs and light their own. Don't have one? Find the small cafés next to the fish market (fresh, cheap, catches of the day — grillable on the spot) and ask for "double apple with chai (tea)", and smoke until your heart's content while the sun sets over the city and the dhow fishing boats come into port.
Favourite shisha spots
The roof of the Central Souk
Le Boulanger on the Corniche
On the docks of Mina Harbour
Favourite bars
Trader Vic's in the Beach Rotana
Hemingway's in the Hilton Abu Dhabi
The Belgian Beer Café in the Intercontinental
For the adventurous: the many floors of the Emirates Plaza (not Emirates Palace) Hotel
For info about Ladies Nights, check out Time Out Abu Dhabi
Favourite clubs
Allure Nightclub by Cipriani, Yas Island
Étoiles, Emirates Palace Hotel
Sax, Le Royal Méridien
Eating out in Abu Dhabi
Abu Dhabi
restaurants
offer a range of cuisine and satisfy any number of budgets; from the extravagant (Hakasan inside the Emirates Palace) to the cheap and convenient (Canopy, the paragon of South Asian curry houses (they also have great
Chinese) in a lot behind Mariah Mall).
Many hotels will offer dinner buffets (the UAE loves buffets). That said, even expats with a somewhat adventurous palate may feel they're running out of new places to try. Keep your eyes open and your nose to the ground - new things tend to pop up.
Favourite restaurants
Lebanese Flower, Al Khalidiya and Tourist Club Area
Café Arabia, Al Mushrif
Hoi An, Bain al Jessrain
Nightlife in Dubai
For expats who are tired of the clubs and restaurants in Abu Dhabi,
Dubai
is only 90 minutes away. The nightlife scene is bigger and wilder in Dubai, and plenty of hotels offer weekend specials for those in need of an escape. Some say Abu Dhabi is more "family friendly", but you can find most things in both places; a trip to the glitzier and relatively more established Dubai just yields a lot more choice.
Favourite spots in Dubai
Armani Club at the Burj Khalifa
Sanctuary Nightclub or Nasimi Beach at the Atlantis on Palm Jumeirah
Sensation at the Crowne Plaza
Sports in Abu Dhabi
If dancing, drinking or Dubai don't add up to the ideal night out, expats can take some interest in the local soccer (football) clubs. Two Abu Dhabi teams, Al Wahda and Al Jazeera, play out the city's biggest rivalry annually, and national teams from the region play exhibition matches (for free) in Sheikh Zayed Stadium. Twenty minutes away down Old Airport Road, keep an ear out for Test or Twenty20 cricket matches.


The Armed Forces Officers' Club offers other thrills without a membership, like paintball (rather pricey) or even gunplay at the Caracal Shooting Club (even pricier). The Abu Dhabi Ice Rink at Zayed Sports City is a family-friendly place to cool off; next door, the Khalifa International Bowling Centre is open until 1am.


Performing arts, cinema, and intellectual pursuits

While hotel bar house bands tend to be the most consistent form of music and theatre in Abu Dhabi, there are some world-class acts that come and go with some regularity. Every April, WOMAD (World of Music, Arts, and Dance) organises a full weekend of international headliners. After the summer, the Abu Dhabi Classics season brings in orchestras from around the world, such as the Berlin Philharmonic and the BBC Symphony Orchestra, among others.

Every mall has a cinema playing box office favourites from Holly(and sometimes Bolly)wood, but only the El Dorado on Electra Street, with its glitzy neon façade and films in Tamil and Malayalam, can transport you back to the 1960s — with décor to match.

The New York University Abu Dhabi Institute also hosts occasional film screenings that would appeal to a more high-brow crowd. This is in addition to their extensive programme of public lectures given by visiting and local authors, politicians, musicians, and scholars from across the academic spectrum.