Expat Arrivals Abu Dhabi Guide
---
The ultimate tool for expats and business travellers
The newly released Expat Arrivals Abu Dhabi PDF Guide provides you with all the relocation information you need in an easy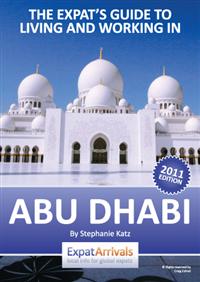 and convenient format.This fantastic new tool is filled with up-to-date, accurate and relevant content crucial to your move overseas, and is based on the real advice of real expats living and working in Abu Dhabi.
It's convenient, comprehensive, to the point
AND AFFORDABLE
!
Available in PFD Format - Perfect for Printing and Downloading
Designed and Optimised for Reading on iPads, Kindles and other Tablet Devices
BUY THE ABU DHABI GUIDE £9.95 (~16 USD)
►
Are you a relocation professional?
Contact us
to inquire about corporate subscriptions for multiple city guides.
►
Are you a blogger or site owner?
Contact us
to inquire about affiliate opportunities
What's included?
The basics: Info on tipping, vaccinations, calling codes, etc…
A crash course in what to expect from Muslim culture (language barrier, common law, weather, etc.)
Pros and cons of life in the emirate
Steps to organising an employment visa or visa for a dependant
The lowdown on expat housing, organising the right allowance, and costs
The best areas and suburbs in Abu Dhabi
A quick look at banking and taxes
An in-depth overview of the business climate, tips on doing business, business etiquette and how to find a job
Comprehensive cost of living section examining expenses and hidden costs
Insight into the school system and various practicalities surrounding enrolment and even riding the bus
List of international schools
AND MORE (shipping, healthcare, lifestyle, holidays, etc...)
BUY THE ABU DHABI GUIDE £9.95 (~16 USD)
Testimonials
"I am extremely pleased to be able to give a personal testimony about Expat Arrivals, an invaluable and comprehensive resource for anyone living abroad, thinking of relocating internationally or returning home. No web site is as useful, user friendly, all-inclusive, well organised, functional or relevant as I have found Expat Arrivals.com to be.
Their destination guides are reliable and valuable resources in
today's constantly changing world. In short, this is THE site I suggest for all my expat and future expat clients to for up-to-date information; it is the most thorough resource package
I've encountered anywhere."
~Tina Quick, Founder of International Family Transitions.
"Expat Arrivals offers real and up-to-date information from expatriates who are currently living in the country in question, and have been for a while. All the questions you normally have are answered in their content: like where to hire a car, where your kids can go to school, how much the cost of living is likely to be, and even where to get an ice cold beer at the end of the day. I have found the information to be the most current and up-to-date compared to any other product I have used. There may be similar books and websites, however, this is the only one I have found which offers consistent, high quality advice and information."
~Tracy Power, Wife of a Serial Expat