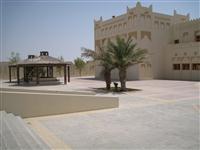 International School of London, Qatar
From the desert plains of Saudi Arabia to metropolis cities of the United Arab Emirates, the Middle East has a lot to offer to holiday makers. In recent years, however, it has also grown into the leading region in the world for international schools, meaning it is now attracting experienced teachers looking for a more permanent move. This chance to combine travel and adventure with professional development and career enhancement has become a reality for many teachers as international schools offer them the chance to teach in some of the most exotic and unique locations on Earth.
With unemployment in the education sector an issue in several English-speaking countries including New Zealand, Australia and Ireland, an increasing number of teachers are looking further afield for career opportunities and discovering the many possibilities available to them in the Middle East.

So what is an international school?
International schools are schools that teach expatriate and local children through the language of English. Many of these schools are highly respected and many lead the world in terms of learning and teaching. Most international schools only employ qualified and experienced English-speaking teachers, although some British international schools are now supporting new teachers through their NQT year too. Almost half of the 6,000 international schools follow, to some extent, the English national curriculum and many are now delivering such respected international curricula as the International Baccalaureate and the International Primary Curriculum.
So what's it like working in an international school and what opportunities really do exist?
A new life in Qatar
Teaching in an international school offers, not only a rewarding job with plenty of career potential, but also the chance to travel the globe. Clare Beatson is a teacher from England currently teaching at the International School London in Qatar, and is experiencing many of the benefits of being an expatriate teacher. "The reason I moved to an international school is that I was itching to travel," she says. "Once you leave your home country you realise that the world really is a very big place. Instead of shrinking, the list of places I want to travel grows!"
 Clare and Nicole support the Qatari soccer team
As with many expatriates, Clare found the move to a new country unlike anything she'd experienced before. "The first thing that struck me about Qatar when I arrived was the lack of grass – there isn't any! Also, in the summer months it becomes too hot to be outside, so the children play indoors," she says. By moving into a large expatriate community, Clare had help making the transition from home to Qatar an easy one. "Meeting new people and making friends has been a highlight of my time in Qatar. Because there is such a big community of expats living here in Qatar, there tends to be a lot of emphasis on creating a social calendar. We've had a lot of events I've enjoyed, such as dinners, dances and balls, sporting events, even an Oktoberfest and a car treasure hunt!"
Clare is one of 75,000 international school teachers working in the Middle East, most of whom are expatriates. She has become accustomed to the different way of life in Qatar. "There are many pros and cons of living and working in a small country in the Middle East," she explains. "It does take a long time to get things done here but after a while you realise that it's all part of the lifestyle. It's less stressful – it makes it so much better when things work out."
Clare hasn't just restricted her new friendships to the expatriate community, she's enjoying getting to know the locals, and as a result, joining in their traditions too. "I was privileged enough to be invited to a Qatari wedding," she says, explaining that she was "blown away by the experience; by the extravagance, the noise, the food and also by the hospitality. As it was a female-only event (the groom has his at another location), the ladies were able to remove their abayas and show off their beauty. The party continued into the small hours of the morning!"
Learning new skills in a new country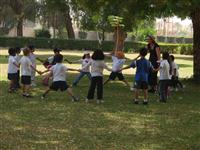 Clare and her pupils at school
Teaching in an international school doesn't just offer personal experiences; professional development is a key motive for those who choose to work abroad. Nicole Brand is a South African teacher working at the International Academy Amman in Jordan, and since moving there, she has been exposed to a completely different educational environment. Her class has 24 children, all of who are Jordanian. This is not unusual for international schools as high-quality learning and facilities have made them a first choice for many local families, although many expatriate children attend international schools too. By teaching children who speak English as their second language, Nicole is gaining valuable experience through learning to work with different cultures.
International schools also have a wide variety of curricula; from international choices like the International Primary Curriculum and the International Baccalaureate, to versions of respected national curricula like the English National Curriculum. This means that as expatriate teachers travel to different schools, they are exposed to a wide variety of teaching approaches and witness a huge range of teaching techniques from their international colleagues. "The staff comprise of a wide range of nationalities," Nicole explains, "including American, Australian, British, French, Russian, Dutch, South African, Canadian and local staff. The experience is making me more open to different ideas and ways of teaching. I really value learning different teaching skills and strategies from different cultures and countries. I've learned so much in a short time."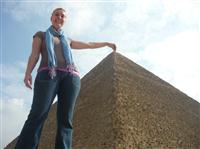 Nicole visits Cairo
As well as helping her professionally, Nicole has found that her colleagues have supported her as she's settled into life in Jordan. "I really value the support I'm getting from the staff," Nicole says. "There was a lot of pressure at first, but they are supportive and helped me to settle in. There are some really stunning people here. I think it is excellent for my professional and personal development, especially meeting people from all over the world and sharing traditions and culture."
For Clare Beatson, the experience of working overseas has been unforgettable and she offers some good advice for anyone who's considering doing the same. "Have an open mind and be willing to consider any opportunity you are given," she says. "If you are keen to teach internationally then don't let anything get in the way. Like everything, it takes a bit of planning but you can make it work for you whatever your situation is. I have friends with young families that have moved overseas and have loved the experience. Who knows what will happen, the opportunities in international education are endless, the world is my oyster!"
Teaching opportunities in the Middle East
International schools have seen a massive increase in numbers over the past 12 years. Countries like the United Arab Emirates have experienced particularly significant growth, expanding from 97 international schools in 2000, to over 370 by 2012. "The Middle East is the fastest developing region for international schools in the world," says Andrew Wigford, director of Teachers International Consultancy, an organisation that specialises in recruiting teachers for international schools. "Experienced, English-speaking teachers are always in demand," he says.
There is a huge variety of climate, culture and lifestyle within the Middle East; from the snow and architecture of Kazakhstan, to the sun and sport of Qatar. "It's important to think about the lifestyle that will be available to you in the country that you may be living in," advises Andrew. "Teachers considering the Middle East should consider the cultural restrictions that some countries demand as well as other obvious factors like the climate. It's important to find a destination that suits you and your family's needs."
You can find more information about teaching in international schools at Findteachingjobsoverseas.co.uk and look out for the free webinars which TIC hosts, all of which focus on planning and preparing to teach in an international school. Details of these are included on the TIC web site.