Education and Schools in Fiji
---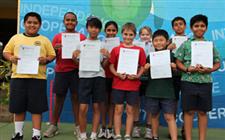 Fiji has over 700 primary schools and 150 secondary schools spread across both the public and private sectors.

The standard of public schools in Fiji vary quite dramatically. While expat students are eligble to enroll, most expat parents don't go for this option due to language and cultural barriers.

Expats in Fiji generally tend to send their children to a private school, with the majority selecting the international schools located in either Suva or Nadi.
Public schools in Fiji
Public schools in Fiji are open to expat enrolment, but are rarely used due to somewhat erratic educational standards. Furthermore, parents are often reluctant to send students to these schools as they find the curriculum one-sided, and children who regularly move in and out of school systems may find the experience limited. While public schools are theoretically mixed-race, socio-economic issues and the geographic distribution of ethnic groups mean that, in practice, the schools often comprise a single race.
In many villages there will be a small school with teachers doing their best to serve the students spread across a variety of educational levels. Funding from the cash-strapped Fijian government is often inadequate, and the resulting quality of government schools is not as high as that of private schools.
Private and international schools in Fiji

The most popular option for expats is to use the two "international" schools. One is located in Suva and one in Nadi. Both schools are tuition based, and offer the International Baccalaureate scheme as well as the ACT (Australian) curriculum (grades 11-12).

The fees are expensive by Fijian standards, and only wealthy Fijian nationals can afford them. Expats intending for their child to attend an international school should make provision for school fees as part of an expatriate salary package, if the opportunity exists to do so.
The Yat Sen private school in Suva is also popular with Fiji's Chinese community and with expats seeking a Chinese immersion education.
Other options for expat parents include Grammar and Marist Brothers schools, both of which have strong educational and sporting programmes.
List of international schools in Fiji

International School Suva
International School Nadi