Areas and Suburbs in Tokyo
---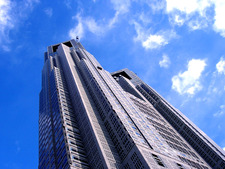 At first glance, it may seem impossible for an expat moving to Tokyo to consider where to live in a city that is one of the largest on earth and also one of the most expensive, but with a little inside information it boils down to a considerably smaller assignment.
Tokyo is a massive metropolis made up of small distinct neighbourhoods, several of which together form a ward or
ku
. Though there are 26 total wards within Tokyo, most expats tend to live in only three: Minato, Shibuya and Meguro.
These areas and suburbs in Tokyo tend to be ideal for expats who prefer a locale that can offer plenty of international interaction as well as supermarkets and
shopping
options that shelve those familiar items from home.
Most foreigners house hunt with the help of a real estate agent, individuals who can be a big help to expats needing to understand all there is to know before making a final decision about
accommodation
.
Choosing an area or suburb in Tokyo
There is a long list of factors to consider when choosing which house to make one's home in Tokyo and, in many cases, the variables that are most important may differ dramatically from what took priority in an expat's home country.
Some of the factors to consider when house-hunting in Tokyo include:
Distance to public transport
This bit of information is paramount to the selection process. A 15-minute walk to a train station may not seem like a big deal at first, but when doing it multiple times a day carrying shopping bags and dry cleaning it can make or break a good mood. Most people try to find a place to live within a 10-minute walk to the nearest station.
Commute times
One of the biggest benefits of living in Tokyo is the reasonable commute to
work
. As there are no real suburbs in Tokyo for expats to live in, almost everyone lives in the city and most expats live within the Yamanote Circle. The Yamanote Circle is a train line that circles the inner part of Tokyo, and living within this circle almost guarantees a fast and easy commute. Leaving the office and arriving home within 30 minutes for dinner is a very nice perk. If expats decide on accommodation outside the Yamanote Line, their commute will become much longer and more tedious.
Distance to school bus stop
For expats with children, this is another important factor. Most children attend
schools
outside of their particular neighbourhood (not withstanding pre-school age children). Tokyo is so safe that children almost always walk to and from their bus stops alone, or with other children starting from the first grade. It should, however, be kept in mind whether the walk is long and hilly, or if the children will be carrying heavy books while walking. Fifteen-minute walks in the torrential sideways rain that Tokyo tends to have can make for some very wet and miserable children – which can make for very irritable parents.
Proximity to good schools
Most large international schools are not located deep in the heart of Tokyo, as land is at a premium and space is needed for sports fields, auditoriums and parking. However, there are many international pre-schools located in each expat area so those who have pre-school age children will most likely want to live within walking distance of their child's school, as very little transport is provided for children of this age.
Proximity to international supermarket
This is very important if expats want to continue to eat at least some of the foods prepared in their home country. Japanese supermarkets are fantastic but none of the product names are in English and they are unlikely to carry one's favourite brands from home. It is nice to be able to shop at both international and Japanese stores, but if expats don't live near one it becomes more difficult to do so. That being said, all international supermarkets deliver their products.
Type of accommodation
It is possible to live in a house in Tokyo, but not all expat areas offer houses. Expats should ensure that when choosing an area that the type of housing they are looking for is available in that area. For instance, Akasaka is made up of mostly high-rise buildings, but it's possible to find some very nice homes in Shirokanedai, Hiroo and Moto Azabu.
Small new apartments versus older larger apartments
The word
homat
will be mentioned often while house-hunting in Tokyo. A
homat
is a type of apartment building that was built in Tokyo in the 70s and 80s to cater to foreigners' needs. They are usually quite large with nice outdoor space and foreign appliances. Many have been upgraded over the years; however; some still show their age. Expats will get a much better deal and more space if renting one of these older
homats
versus renting a brand new, state-of-the-art, smaller apartment in the same neighbourhood.
Bilingual concierge services
Assuming one doesn't speak Japanese, a bilingual concierge is a big bonus. The Japanese are known for service, and that is exactly what expats will get if they have one of these. Concierges can arrange everything from restaurant reservations to luggage shipment, and they can interpret Japanese mail and cancel newspapers when residents are on vacation.
Budget
Tokyo remains one of the world's most expensive cities for expat employees. Housing prices in the expat areas are the highest in all of Tokyo. Expats should ensure they are not searching in a neighbourhood that is completely out of their price range.
The three expat wards in Tokyo
Minato-ku
Minato-ku is the ward home to several high-end neighbourhoods where foreigners love to live, educate their children and visit bars, restaurants and nightclubs. The following are the smaller neighbourhoods that attract foreigners within Minato-ku:
Akasaka
Akasaka means "Red Hill" and is home to the US Embassy. Its location is in central Tokyo and it has the reputation of being a business centre during working hours and a nightlife destination after dark. There are even still a few geisha houses in this neighbourhood. Since it is a business area, the weekends are blissfully quiet and many families enjoy living here and having the place to themselves when the salary men disappear. Expats will find state-of-the-art high rises with fantastic views of the city.
Azabu
The quiet, ancient streets of the Azabu area twist and turn up hills and down alleys, winding around parks with all roads leading to National Azabu – the Mecca of all foods Western.
Expats will find many embassies tucked away within streets adjacent to large homes and small apartment buildings. This area is devoid of the massive high rises so commonplace in other expat areas.
If looking for a real prototypical neighbourhood, Azabu has it all, although Moto Azabu is also one of the most expensive areas to live in Tokyo.
Many expat bankers live here with their families. This neighbourhood is jam-packed with green space, international supermarkets, international pre-schools, shopping, cafés, bars, restaurants and foreigners.
One of the more popular international schools, Nishimachi, is in this high-end neighbourhood, and the American School in Japan bus stops located here are loaded with kids waiting to get on in the mornings.
There is a very exclusive tennis club here (Tokyo Lawn and Tennis) as well as Arisugawa Koen, a multi-level park complete with a pond and playground for small children. Residents of Moto Azabu love to shop in the quaint area of Azabu Juban, a five- or 10-minute walk downhill to small cobblestoned streets with "mom and pop" shops and great cafés.
On the other side of Gaien Nishi Dori is Nishi Azabu. Some expats call the road behind Gaein Nishi Dori, "Restaurant Row". The depth and breadth of restaurant choices is astounding. The small streets and cosy nooks make living in this area fun and exciting. Whichever Azabu expats choose, they won't be disappointed.
Hiroo
The area of Hiroo is often called the
gaijin
ghetto due to the inordinate amount of foreigners who live and play in this neighbourhood. There is a nice combination of homes, apartment buildings and
homats
for the expat to choose from, and English-speaking people are more likely to be found in shops and restaurants.
Unlike other areas in Tokyo, it is possible to do all one's shopping and errands without leaving. Another nice feature is that the Red Cross Hospital is in Hiroo – the hospital of choice amongst many foreigners. Hiroo is one of the areas that surround Arisugawa Koen and National Azabu; the international supermarket is ground zero in Hiroo.
Roppongi
Roppongi means "six trees" and expats will see the six tree icon all over the silver monolith of Roppongi Hills, the high-end office complex, high-rise apartments, shops, restaurants, movie theatre and outdoor entertainment centre.
The view from the top of the Mori building, the office complex portion of Roppongi Hills, will give visitors fantastic insight into how large and complex Tokyo actually is. If one happens to be lucky enough to work in the Mori tower, it's possible to rent an apartment in the high-rise building next door, shop at the 24-hour Food Magazine supermarket and dine in Roppongi Hills restaurants.
Roppongi has a reputation among Japanese and foreigners alike for being a place to party all night long. And while this is true – there are parts of Roppongi where one will see people stumbling home just before working hours – with the recent addition of Roppongi Hills, Izumi Garden Tower and Tokyo Midtown, many foreign families love living in this neighbourhood.
Shirokane/Shirokanedai
Shirokane and Shirokanedai (two areas divided by Meguro Dori) are neighbourhoods to consider if wanting to live in a home, rather than an apartment. This area is known to be largely residential and not as commercial as the other expat neighbourhoods surrounding it. That being said, it is home to "Platinum Dori", the main shopping street in the neighbourhood, which features high-end shops and cafés. To give a sense of where this neighbourhood is, one can walk to Hiroo in about 20 minutes, or take the subway one stop to Azabu Juban.
Meguro-ku
Expats can find more affordable living in the cities of Ebisu, Meguro and Gotanda. These areas are more on the edge of the Yamanote line, the inner circle of central Tokyo, yet close enough to still find foreigners living there. One can literally jump on a train and be in Hiroo in just a few stops. These areas have more of a residential feel and expats will find they get more living space for their yen. Here are some of the expat areas in Meguro-ku:
Nakameguro
Nakameguro has transformed in the last five years from a sleepy area just outside the Yamanote circle to a funky, artistic neighbourhood. Many shops and restaurants have opened alongside the cherry-blossomed Meguro River, making it a lovely area to live in. The back streets of Nakameguro are also known for antique shops and vintage wear.
Daikanyama
Walking in Daikanyama feels different than many other areas in Tokyo. The architecture is eclectic; the people who own the shops are eccentric and the shops and restaurants are funky. This area is bordered by Ebisu, Nakameguro and Shibuya and it is one of Tokyo's best-kept secrets. It's not the most convenient area to live in, but it is one of the most unique.

Shibuya-ku
Shibuya Station is the focal point of Shibuya-ku. This is one of the busiest train stations in the world and home to Shibuya Crossing – the crazy intersection that appears in almost all modern films about Tokyo. The tiny streets and alleyways lit up with neon can make one feel like they are living in a video game, but outside of this frenetic lively centre, there exist many lovely leafy areas in which expats live. Here are some of the neighbourhoods in Shibuya-ku:
Omotesando
Omotesando dori is akin to the Champs-Élysées in Paris or Fifth Avenue in New York City. It's a beautiful, tree-lined street – quite unique to Tokyo – filled with high-end designer shops and department stores. There are also many smaller boutiques that can be found in the back streets of Omotesando and the neighbouring area of Harajuku.
Although Omotesando is primarily a commercial area, there are residential pockets tucked away amongst the boutiques and cafés.
At one end of Omotesando Dori, located in a forest of 175 acres, sits Meiji Shrine, one of the most famous shrines in Japan, and Yoyogi Koen, one of the largest parks in Tokyo.
If looking for the perfect place to live, this might not be an expat's best bet; however; if someone is in love with the area and willing to settle on something older, smaller or more expensive, it may be a happy compromise. This is not the best area for families with small children, yet the British School is located nearby and many families that have children who attend the school find it to be a nice place to live.
Yoyogi Uehara
Foreign residents are mainly drawn to this neighbourhood of residential homes and apartment buildings because of the close proximity to Yoyogi Koen and because it's the last stop on the American School in Japan (ASIJ) bus route to the Chofu campus. Kids that attend ASIJ and live in this area get picked up last in the morning and dropped off first in the afternoon.
This can make a big difference, as the bus ride to school can be quite long – especially in Tokyo traffic. Expats will also find homes that are bigger than those in the Azabus and the prices are more reasonable. If looking for a more suburban feel, Yoyogi Uehara may a good option.
No matter where one decides to live, Tokyo is an unbelievably liveable city and a very safe and enjoyable place to raise a family.