Banking, Money and Taxes in Oman
---
A major attraction for expats living and working in Oman is the tax-free income, and foreigners will be happy to hear that opening and running a bank account that will keep their money safe and secure is easy and efficient.
Money in Oman
The currency used in Oman is the Rial (or Riyal), which is subdivided into 1,000 baisa. Expats should be aware that Oman is primarily a cash-based society, with a general distrust for cheques, and an aversion to using credit cards for anything but very large purchases.
Banking in Oman
Along with the Central Bank of Oman, trustworthy local banking establishments include Bank Dhofar al-Omani al-Fransi, Bank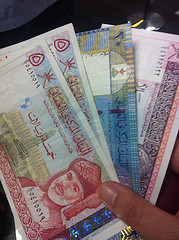 Muscat, National Bank of Oman, Oman Arab Bank and Oman International Bank. There are also a host of foreign banks with branches in Oman, including Barclays Bank, Citibank, HSBC, National Bank of Abu Dhabi and Standard Chartered. Many of these banks offer full multilingual services, and expats are advised to look to one of these institutions when opening an Omani bank account.
An alternative option for expats is to open an international (multi-currency) account for use in Oman through a bank in their country of origin. International accounts can be opened before you even leave home, and will provide access to a wide range of international banking services, such as high-interest savings account options and online money transfer services. Many expats report that they prefer the convenience and security of having their finances centralised in this way.
Opening hours for banks in Oman are 8am to 12pm and 2.30pm to 6pm from Sunday to Thursday; and from 8am to 11.30am on Fridays. During Ramadan, banks usually open an hour later in the mornings (at 9am).
ATMs are widespread in Oman, and most of them will accept international cards. You can use your Omani bank card at any ATM, but you may be subject to fees if using a machine operated by a different bank. Drawing cash using a credit card will also incur a fee. Visa and MasterCard credit cards are accepted everywhere; American Express and Diners Club cards less so.
Note that overdraft facilities are available in Oman, but that a general mood of distrust of foreign account holders prevails, and that you might be called in to explain large discrepancies. Whatever you do, do not bounce a cheque in Oman, even if it is an honest mistake, it could lead to dire consequences.
Opening a bank account in Oman
Opening a bank account in Oman is a straightforward exercise for expats, provided they are eligible to do so. The key issue is that you must be in possession of a residence visa, and a clearance letter or 'No Objection Certificate' (NOC) from your employer. The NOC must state your monthly salary, as this will indicate to the bank the figure that will regularly be paid into your Omani bank account. Note that it is sometimes easier to open a bank account in Oman with your employer's bank, as if there are any problems with the payment of your salary they can be sorted out with maximum efficiency.
In addition to copies of your residency visa and a 'No Objection Certificate' from your employer, to open a bank account in Oman expats must appear in person at the bank in possession of a number of documents.

Documents to open a bank account in Oman:
Passport, plus copies of information and visa pages
Account Opening Form – available from the bank
Know Your Customer (KYC) Form – available from the bank, requiring personal information
Signature Specimen (SS) Card – available from the bank
In addition, it is highly recommended (though not always essential) to take along a copy of your tenancy or lease agreement showing proof of your address in Oman, and to supply recent bank statements and a letter of reference from your bank back home
The three main types of bank account in Oman are:

►Current accounts: These are typically multi-currency accounts, with account tracking, debit card and cheque facilities. Current accounts are ideal for everyday use, providing easy access to funds, and with no monthly limits on banking transactions (except ATM withdrawals)
►Savings accounts: These are ideal for customers looking to save on a regular basis, as they offer decent interest rates. Some banks only offer limited access to funds and do not provide debit card facilities to savings account holders
►Deposit accounts: These accounts, available in a range of foreign currencies, are ideal for those who will be in Oman for a long period of time and who are intent on saving money. Typically, your money will be 'locked' into an account for a fixed period of time at a fixed rate of interest, with access to your funds only being granted upon completion of the investment period
Taxes in Oman
One of the great incentives for expats moving to Oman is that there is no personal or income tax levied against your salary each month. There are no tax forms to be completed, and no returns to file with the Ministry of Finance. The only possible deduction from your Omani salary will be a 6.5 percent contribution to a social security fund for welfare benefits and old age pensions; however, it is feasible that your employer will waive this obligation as well.
Before getting too excited, however, expats are strongly advised to research whether a double taxation avoidance agreement (DTAA) exists between Oman and their country of origin. If no such agreement exists they will have to pay tax in their country of origin on the money they earn in Oman.