Accommodation in Jeddah
---
As a Muslim country, Saudi Arabia has many rules that make it difficult for families, especially non-Muslims, to move freely in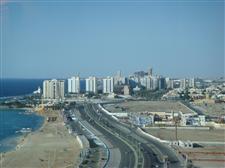 society. Additionally, as Arabic is the dominant language for legal and business purposes, finding and renting an independent house or apartment in Jeddah can quickly turn into a nightmare for non-Arab speaking expats.
As a result, special areas specifically designed for expat living have been developed in Jeddah. These compounds are walled enclaves of houses varying in size and number; some are made up of just a few houses and others are larger facilities that seem to impersonate small villages, made up of hundreds of homes.
Inside these compounds there tends to be more freedom, especially for women. Within the walls people are free to act and do very much as they please, within the laws of the country. Women do not need to cover up, people can socialise freely and the bigger compounds have many facilities, such as shops, sports grounds, swimming pools, children's playgrounds, parks, bowling alleys, function rooms, restaurants, playgroups, day care, satellite television, and limousine and laundry services.
Life in the better compounds can even be likened to living in a holiday complex.
Furnished versus unfurnished housing in Jeddah
Housing in compounds in Jeddah usually comes fully furnished, although in some cases it is possible to find unfurnished accommodation at around 10 percent less than the normal price. Furnishings tend to be of good quality, normally American in origin and essentially neutral in appearance.
For expats who prefer to travel light, it is also possible to arrange a 'soft package', which includes bedding, towels, cutlery and crockery at an extra cost.
Otherwise, there are a number of good quality shops selling normal household items, although there is a 'Saudi style' to many of them - just think 'bling'. Additionally, IKEA has a large outlet in Jeddah stocked with the same things one would find in IKEA worldwide.
Ultimately, it is possible for expats to ship their whole house of furnishings and create a home away from home, or to move nothing and live with the standard package provided from the compounds. Expats choose both routes fairly equally.
Choosing a compound in Jeddah
The compound market in Jeddah was depressed for some time and, as a result, many of the complexes are over 10 years old. These days though, a resurgence of people taking employment in the region has resulted in demand now outstripping supply by a considerable margin. This means that it may take some time to find a home in a suitable compound.
When choosing a compound think about location and general lifestyle, rather than just the perfect house. A fantastic property in the wrong location can lead to a miserable time, especially for a wife and children. Keep in mind that once in the right compound it becomes easier to move within the compound than it is to move from one compound to another.
Different compounds tend to be favoured by different nationalities, though demographics can change over time. Expats will need to decide whether they'd prefer to live with people from their own country/region, or if they'd rather mix with many nationalities, and choose a compound accordingly.
Information about compounds in Jeddah is readily available on the Internet, either through comprehensive listings or individual websites. That said, don't be surprised to find severely outdated images and information, as many companies fail to update their site regularly.
It follows that most people gather information once they arrive in Saudi Arabia from work colleagues and other like-minded expats they meet.
Security is tight in expat compounds in Saudi Arabia, especially following a terrorist attack on a compound popular with Western expats some years ago. In light of this situation, all compounds where Westerners live must have security provided by the Saudi National Guard.
Cost of compound housing in Jeddah
It is the norm in this region to have a housing allowance built into an employment contract. This could take the form of a specific sum of money, a percentage of one's salary or even the provision of a property, as some of the larger expat employers have long-standing housing contracts in place.
Generally, the preferred agreement is between the employer and the compound because both are local entities, and contracts tend to be on a rolling annual basis with rent paid at the start of each year.
Housing costs can be high. A recent increase in demand also means that prices are expected to continue to rise and availability is expected to remain tight.
Deposits are normally required and are around 10 percent of the annual rent. Electricity, water and Internet connection are normally extra, but minimal; service charges are normally included and full maintenance of the property is the responsibility of the compound.
Tips for compound living in Jeddah
A few last words of advice – get changes to the property done when negotiating the contract.
Most properties are painted when the occupier changes, but fixtures and fittings can be worse for wear, and the start of the contract is the best time to get any changes made.
It is difficult to think of this when all one wants is a house, this is the only one available and there is a list of 100 people also wanting the house, but expats need to be strong and objective. Once a expat has been offered housing, it's unlikely the offer will be reneged.