Buying a Car in South Africa
---
Buying a car in South Africa will not be the easiest item to check off your moving list, but it will be the most appreciated, as you will definitely need a car no matter where in the country you're living.
The task is best approached with the mindset that it will take several weeks, if not longer. There is some extra paperwork
required of foreigners in addition to that required by the notoriously slow South African bureaucracy, making this process, most likely, more time-consuming than in your home country.
The most important document, by far, that you will need in order to buy a car, is your passport with a permanent visa stamped into it. This can be in the form of a work permit, or a resident's visa. Your temporary visa you might have entered the country on will not be sufficient.
So before you do anything else, make sure your visa situation is in order, or negotiate with your employer for a long-term rental car.
On the bright side, the one thing you won't need to get is a driving licence. Your foreign licence is perfectly fine, as long as it is issued in one of South Africa's eleven official languages (most likely in English), has a picture of you attached to it, and has not expired.
Contrary to popular belief, you will not even need an International Driving Permit in addition to your licence, unless of course yours is not in English.
Choosing a car in South Africa
It's a good idea to get started on your car buying process while still in your home country by making a few decisions upfront. Are you going to buy a new or a used car? What size? What make? Diesel or petrol? To make this decision, there are a few things you should know about South Africa.
Car prices are about twice as high on average as in the United States, and still substantially higher than in Europe
Gasoline – petrol – is about twice as expensive as in the United States, but still well below European prices
Most roads are good, especially in metropolitan areas (although you should always beware of potholes), but you may venture into the bush during your stay, in which case a 4x4 will come in handy

New vs. used cars
Given the high cost of cars, many expats are tempted to buy a used car. The advantage of new cars, however, is that they typically include a motor-plan that allows you to get a free service for a number of years. Some used car dealerships will also offer a service plan of some type, but many do not. If a service plan is offered, find out how much mileage and for how long the plan is valid for.
Also, expats should be wary that used cars in South Africa sold by private sellers can often have questionable histories. If you decide to buy from a private seller, arrange for the car to be inspected at a dealership or by a mechanic of your choice, just to make sure there aren't any hidden problems. The dealership can also run the chassis number through their system to find out if the car in question has ever been in an accident. Also, make sure the car has a roadworthiness certificate before you make the purchase.
Size and make
Regarding size, consider how many family members you want to accommodate, and also keep in mind that sooner or later you may want to go on a safari or onto some of South Africa's more rugged dirt roads. So it may be good to own a car made for that purpose, i.e. one that has four-wheel drive, a trailer hitch, and perhaps a roof rack.
Additionally, many people seem to feel safer in bigger cars, and ones that are higher off the ground.
That said, while Land Rovers and Toyotas are popular cars in South Africa, many smaller, luxury vehicles are also all over the roads. The relatively high incidence of crime does not seem to deter people from buying expensive cars.
Do consider that purchasing a car make with little representation in South Africa will make it difficult to service, and will mean that spare parts are expensive and may need to be sourced from abroad. However, if you'll mostly stay in one of the metropolitan areas, access to spare parts for most cars, including the European luxury makes, will not be a problem.

If you are going to live in South Africa for a defined period of time then you should consider the re-sale value of the vehicle you buy. Cars that preserve their value the best, and are easy to sell when the time comes to do so, are the statistically most popular brands, including:
Toyota (particularly Corolla, Yaris, Fortuner and Hilux models)
VW (Polo, CitiGolf, Golf 4)
BMW (3-series only)
GM (Chev Spark)
Hyundai (Tuscon)
►Tip: Consider a diesel car, as they typically run much more efficiently and diesel is widely available throughout South Africa. Diesel fuel is also slightly cheaper than petrol.
Smash and grab protection
Unfortunately, given the high rates of theft from within cars in South Africa, one added amenity to look for when car-shopping is smash-and-grab protection. This film protects your windshield and windows against robbery, and is an easy way to feel safe and protect your belongings. Most higher-end cars will come already equipped with it, but if not, you can add it later.
Finding a car in South Africa
If you're buying a used car, check used car web sites and online classified portals to get a better idea of what's out there.
Used car web sites
Autotrader
Vehicle Trader
Car Find
Gumtree.co.za
Additionally, your neighbourhood association may put out a newsletter with classifieds you could scan for cars on sale.

Another option for the slightly more knowledgeable car buyer is auction houses. The most popular vehicle auctioneer is Burchmore's, which also allows one to buy directly from their showroom floor. Auctions are an opportunity to pick up a real bargain, with discounts on retail price ranging from 20 to 60 percent.

New cars, as is the case in all countries, are found at car dealerships.
Registering a car in South Africa
In South Africa, you gain possession of your car once you pay for it, but you still need to register the vehicle to formally gain title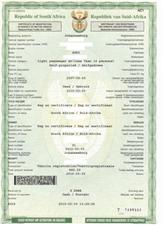 ownership. The place you do this is your nearest Licensing Office.
Documents needed to register a car in South Africa
Roadworthy Certificate
Current registration (if the car was previously owned)
Invoice/your proof of payment
Passport with valid work permit or permanent visa
Driving licence (your foreign one)
Proof of residence (copy of lease agreement)
Two passport pictures
Traffic Register Number
If buying a car from a dealership, the first three documents will be provided. If you're buying from a private person, you can obtain the roadworthy certificate from one of the licensing offices; it is strongly recommended to obtain it before actually buying the car.
The most difficult piece of documentation to obtain is the Traffic Register Number. This is a number given to foreigners in place of a South African ID for the sole purpose of purchasing a car, a fact that is unknown to many car dealers.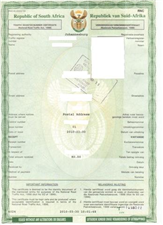 In order to get this number, take all listed documents to your local licensing office, fill out an application and pay the license fee (depends on the size of the car, most likely between R300 and R1000 per year).
You will then be asked to come back in a few days to pick up your traffic register number certificate. At this time you should also be given your certificate of registration for the car you purchased, as well as your motor vehicle licence, licence disk and licence plates.
The traffic register number certificate and certificate of registration can go into your files, although you might want to make copies of the traffic register number to keep in your car in case you might be pulled over. This is not actually required, but South African police officers are known to make up requirements on the spot, in hopes of a bribe, and having lots of paperwork with you usually shows that you are not to be messed with.
You will need to cut out the licence disk (which is renewable every year, you will be mailed a renewal notice) and affix it to your windshield from the inside, as well as taping the license plates to the front and back of the car.
Car Insurance in South Africa
Now that you have registered your car and affixed the licence plates, you are almost ready to go. You will still need two things: Insurance and a tracking service.
Most car insurance companies in South Africa will insure your vehicle over the phone, and then follow up with an at-home visit to make sure you actually own a car and aren't buying phantom insurance. Some might ask you to take the car to a registered dealership near you to be inspected.
Insurance companies in South Africa
Budget Insurance Brokers
DialDirect
Hollard
Outsurance
1st for Women
The price of car insurance in South Africa, as in most places, varies according to a number of factors, including the make of your car, your age, sex, whether you have off-street parking, etc.
When obtaining insurance quotes, make sure you enquire about roadside assistance. Most insurance companies do provide it, and it will take one more item off your moving checklist to have this already covered. It is also advised to ask your insurance company for guidelines on what to do in case of an accident. These will be very handy to keep in your car in the event you need them.
Some insurance companies will also give you a discount on your monthly premium if you have a tracking service, a service that electronically keeps tabs on the location of your car through a GPS system. This service has evolved due the high incidence of carjackings in South Africa. Most tracking companies offer various levels of support, like the addition of a panic button or more upgraded tracking services.
Tracking services in South Africa
Altech Netstar
Matrix
Tracker
If you are buying a new car and opt for this service, the dealership will fit your car with a tracking device. If you're buying a used car, you will need to find out which tracking device is already installed (if one is installed), and call the respective provider to set up your account and test the device to ensure it is working.
If no device is installed, take your car to one of the service centres to have one installed.