Hiring a maid in Dubai
---
Dubai offers its residence a wonderful lifestyle in so many ways, and one such luxury attached to working in the emirate is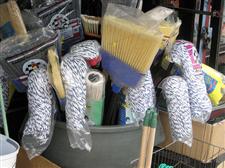 being able to afford a domestic helper. For some, this is nothing out of the norm, but for others, this is a new experience that can take some getting used to.
The UAE attracts people from all over the world who are willing to work as domestic helpers; these people have all come to Dubai to seek a better life for themselves and their families, sometimes under difficult conditions and for very little pay.
Although the market is full of just such people, finding trustworthy and hard-working domestic helpers is not always such an easy task. Not to mention, there's many legal implications attached to hiring
domestic help in Dubai
.
Finding a maid in Dubai
Expats can either use an agency to source a domestic helper, or they can look for an employee directly; in both cases though, it's best to proceed with caution and to carefully consider the salary you're willing to pay, and the working environment you will create.
Using an agency
The word "agency" in Dubai is an umbrella term, there are several companies that provide domestic services, but each organisation tends to do things differently.
There are agencies that offer cleaning and babysitting services. These companies directly employ maids and then hire them out at an hourly rate for part-time services, and in some cases, the company will also provide a full-time live-in maid for a monthly fee.
Hiring a full-time live-in maid from one of these agencies does not require any form of sponsorship, and the maid can be exchanged for another, if necessary. In this situation, payment for the full-time maid service is made directly to the agency.
The preferred route for a lot of families is sponsoring a full-time live-in maid. There are labour agencies that will bring these maids to Dubai, specifically for a client. Their fees will typically include an upfront agency fee and the costs of the maid's flight. The client will be responsible for all the fees associated with sponsoring the maid and for paying the maid a monthly salary.
In some cases, maids are readily available in Dubai, but more than often, there is a waiting period of a few weeks to bring a maid into the country.
There are also companies who act as domestic recruitment agencies for full-time live-in maids. These companies work along the lines of a typical recruitment company, and will assist clients in sourcing locally available candidates. They charge a once-off placement fee, and provide a guarantee to replace the domestic candidate, should this be necessary. The client is responsible for all the associated sponsorship fees, and for paying the maid's monthly salary.
Employing directly
Searching directly for domestic help is certainly doable, but can be a time consuming and frustrating process, and expats who post a listing for a position will undoubtedly be inundated with calls and CVs.
Alternatively, you can find domestic help by perusing numerous classified web sites that advertise maids looking for work. There is also the option of using word of mouth networks to source a trustworthy individual.
Salaries for domestic help
The old adage, "you get what you pay for", applies to finding good domestic help in Dubai.
Salaries and the required working conditions for domestic help vary considerably, and there are recommendations made by various embassies for minimum salaries according to nationality.
Expats are advised to take these recommendations with a pinch of salt, and consider the fact that you will be entrusting someone with your home and children, therefore providing a good salary and suitable working conditions will go a long way to ensure you find a domestic helper who is experienced, happy to work for you and committed to a long-term arrangement.
►Tip: A respectable salary would be AED 1500 to AED 2000 per month, with one day off a week.
Precautions and legal
Employing a maid is never a perfect science, things do go wrong and sometimes people just don't work out; though, ensuring you use a reputable source, such as an agency or good reference, will go a long way in minimising potential problems.
Beware of hiring part-time maids, this is tempting arrangement and common practice in Dubai, but it is illegal.
Maids advertising part-time services have their own accommodation and their own visa, and will work for you on a part-time basis (i.e. 8 to 5, or for a few hours a day). This is all very well, unless something goes wrong. If the police find out that you've been employing a part-time maid, you will be fined AED 50,000, and the maid will be deported.
Legal
Dubai has very specific laws with regards to employing domestic help. Only people from the following countries will be provided a maid visa: India, Sri Lanka, Philippines, Ethiopia, Bangladesh, and Indonesia.
Sponsoring a maid can be done with the help of a PRO service, which charges a fee to assist with the process. Alternatively, this can be done directly with the DRND (General Directorate of Residency and Foreigners Affairs).
Further reading
►
Accommodation in Dubai
►
Criteria for sponsoring a maid