---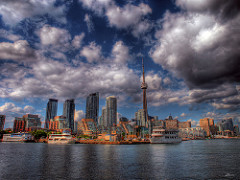 Expats relocating to Toronto will find this the most developed of Canadian cities. Its population, infrastructure, economic power, architectural sophistication and cosmopolitanism is unmatched elsewhere in the country.
This Ontario capital nestles between the two Great Lakes of Huron and Ontario, after which the region is named. The lakes are one of the continent's most distinctive features, and many tourists come to hike, swim and boat along their shores.
The arts are widely celebrated in Toronto, and with more than 50 ballet and dance companies, six opera companies, two symphony orchestras, a number of theatres, open-air Shakespeare, the Toronto International Film Festival, and one of the top European film schools in the Pinewood Studios Group, expats will quickly become arts appreciators if they weren't before.