---
Even though Kyrgyz people are generally welcoming toward foreigners, expats must still be vigilant about their personal safety in Kyrgyzstan. That said, most obvious dangers can be avoided with a bit of common sense and a heightened awareness of the surrounding environment. It should also be noted that political and ethnic unrest within the past decade has not directly affected expats, and daily routines have always resumed within a few days.
Petty crimes, such as pick-pocketing, are the most common safety threat to foreigners, especially on public transportation or in crowded public areas and markets. Foreigners can also be targets for muggings, so it is important not to walk alone at night. Common sense practices such as acting discrete (especially when speaking English), trying to blend in, and not carrying large sums of money can help expats avoid drawing unwanted attention.
During episodes of political and ethnic unrest such as those of June 2010, Western expats were not targeted or affected by violence (unless they put themselves directly in the protests) and the biggest concerns they faced were that major businesses closed for a few days. It is advisable to avoid joining protests and to lay low if a tense situation arises. Ethnic unrest has been limited to parts of southern Kyrgyzstan.
Anybody with dark skin, such as those of Indian or African descent, will draw attention in Kyrgyzstan, including unsolicited physical contact. Usually it is harmless and fueled more by curiosity, but dark-skinned women should be more aware of their surroundings and be cautious if walking alone. In general, foreign women are rarely targeted more than foreign men. In Kyrgyzstan, women are mostly ignored by men and are not harassed or catcalled.
Driving safety in Kyrgyzstan
There is an organised chaos to driving in Kyrgyzstan. The default speed is fast and drivers are willing to swerve around anything in their way to get to their destination. Traffic laws are rarely enforced and the main job of traffic cops appears to focus on pulling over random vehicles to collect a small "tax".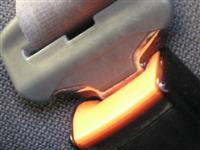 It follows that expats should drive defensively, should be aware at all times and should carry their passport to avoid having to make bribes.
The condition of the main road network throughout Kyrgyzstan is not perfect but has improved dramatically over the past few years due to investment projects from China or the US. Outside of cities the roads become more speckled with pot-holes and are poorly lit, which is especially dangerous when traveling over mountain passes.
One source of concern on the road is that although Kyrgyz cars drive on the right side of the road, some locals and expats may drive British-style vehicles with the steering wheel situated on the right, making some drivers more unaware of their surroundings.
Emergency services in Kyrgyzstan
There are emergency services in Kyrgyzstan's larger cities and resort towns, but the employees do not speak English. Medical service is inexpensive, though Kyrgyz hospitals are best avoided if possible. There are private hospitals and clinics in Bishkek with better trained staff and newer equipment, though their services cost more. For simple treatments, some Kyrgyz doctors make house calls.
Expats should keep in mind that the police department is chronically underpaid and often uncooperative without a bribe.
Fire 101
Police 102
Hospital 103