Moving to Stockholm
---
Expats moving to Stockholm will find a stunning capital city that is sophisticated and funky, traditional and modern, global yet undeniably Scandinavian. From the enchanting medieval streets of Gamla Stan, the old town that dates back to at least 1250, to the sleek and bright elements of Swedish design that characterises so many apartments, stores and museums, the charm of the city has no end.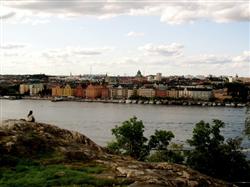 Stockholm is a draw for expats in
Sweden
, serving as the cultural, media, political and economic hub of the country, with 22 percent of the population residing within its districts.
The city rests upon fourteen islands that connect with the Stockholm archipelago and reach into the Baltic Sea. This unique geographical location was not only historically important as a measure of defending the city but lends itself to the shimmering watery beauty found in this 'Venice of the North,' as the city is often referred to. Expats and locals delight in and take full advantage of a city that is made up of 30 percent waterways and 30 percent green spaces.

Those
working
in Stockholm will find a flourishing economy in relation to much of the rest of Europe. The last decade has seen significant growth in many areas, including high technology, finance and entrepreneurship, and many international companies have offices here. Stockholm consistently finds itself high on the lists of global and European rankings of innovation and competitiveness, while also coming in near the top for the greenest and most liveable cities.
The cost of living in Stockholm is generally considered to be high. The relatively high cost of housing matched with the very tricky rental market in the city can make finding a place to live a headache even for those born and raised here. Finding a home in the leafy suburbs is much easier and cheaper, and with a well-planned and generally reliable transportation network, the inner city is quite accessible for those living in and around it.

While long and cold winters, with around just six hours of daylight in December, can be a hard adjustment for those unaccustomed to such a climate, many remark that Stockholm adapts well to this time of year with decidedly cosy cafes and restaurants that invite you in with candles and lanterns placed by the door frames in the snow. The summer will more than make up for winter's difficulties, with an abundance of daylight, music festivals, the glorious midsummer holiday, and a population that revels in every chance there is to stay outdoors.

Some, including many Swedes, say that Stockholm is an overly proud city in the context of the prevailing modesty of Scandinavia. But with a city so abundant in culture, that keeps a well-preserved sense of history, but takes innovative strides forward in technology, fashion and design, one cannot help but see the attraction for expats from all over the globe.