The best places to live in New Orleans
New arrivals to the Crescent City will soon learn that New Orleans is an eclectic mix of neighbourhoods. From bohemian Bywater, full of art galleries and live music venues popular with a creative crowd, to the oak-lined Garden District, which is perfect for couples and active retirees, there really is a place for everyone in this culturally rich and vibrant city.
---
City living in New Orleans
As a city rich in culture and history that is also renowned for its nightlife offerings, it is understandable that new residents may want to be close to the action. There are a number of great neighbourhoods located close to downtown New Orleans that allow residents to make the most of the city and truly immerse themselves in the vibrancy of it all.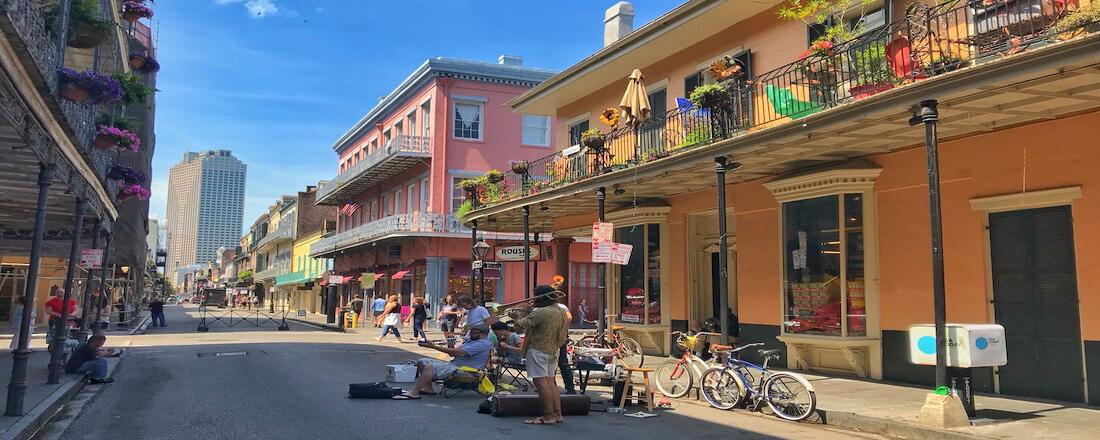 Marigny/Bywater
These adjacent neighbourhoods are famous for their vibrant art scene. Full of local art galleries, relaxed live music venues and craft markets galore, Marigny and Bywater embody the creative spirit of New Orleans. Residents will also be spoilt for choice when it comes to eating out. From trendy local eateries to humble soul-food spots, foodies really can take their pick. Distinctive Creole cottages, a type of residential architecture quite unique to New Orleans, line the streets. The community is relatively young with most people in the area renting properties.
Uptown/Garden District
The leafy Garden District with its ancient magnolia trees and scents of Jasmine transports visitors and residents to a grander, more opulent era. It's no wonder this is one of the most popular places to live in New Orleans. With loads of sophisticated bars, smart restaurants and trendy coffee shops there is rarely any reason for residents to want to leave the Uptown area. Home to a diverse community ranging from young professionals to retirees, the area has a liberal and welcoming spirit, and is a great place for new arrivals to start their New Orleans experience.
Gentilly/New Orleans East
A lesser-known part of the city, Gentilly and New Orleans East are hidden gems that are just waiting to be discovered. Shotgun homes were once a common architectural feature of the area, but since the destruction caused by Hurricane Katrina, the neighbourhood has seen the rise of more modern houses. The communities in this part of New Orleans are ethnically diverse and well established. Historically home to large African-American and Vietnamese populations, new arrivals will find themselves surrounded by a real depth of culture in everything from the festivals to the food. Gentilly and New Orleans East are particularly popular with families as well as young couples looking to get their foot on the property ladder.
---
Family-friendly areas of New Orleans
New arrivals relocating to New Orleans with a family, or those looking for a slightly slower pace of life, will find that living in one of the many outlying areas of New Orleans might just be perfect for them. Properties in the suburbs tend to be larger and, in many cases, more modern. Each area has its own unique vibe with a range of restaurants, bars and other lifestyle offerings to keep residents suitably entertained. 

Algiers Point
Located on the other side of the Mississippi River, Algiers Point allows residents to see a different side of New Orleans. A historic neighbourhood where jazz once flourished, the pace of life is a little slower here but the sense of community is strong, with Confetti Park being a popular gathering spot among the locals. The suburb is full of architectural gems with beautiful Victorian touches. Living in Algiers Point will allow new arrivals to take a step back and embrace a more relaxed way of doing things.
Audubon
Home to one of the city's largest parks, after which it is named, Audubon is one of the most popular residential neighbourhoods in New Orleans. Also known as the 'University District' thanks to its proximity to Tulane and Loyola Universities, the area is home to a large student population. The presence of several good public schools makes this a great suburb for those looking to raise a family in New Orleans. Properties are spacious and comfortable, and house prices are reasonable. New arrivals will also benefit from the strong sense of community here. 
Lakeview
This family-friendly suburb of New Orleans is home to a small population of around 1,500 residents. Located on the lakefront, Lakewood offers residents a sparse urban feel which combines the best of city living with the benefits of being part of a tight-knit community. Nestled by City Park, Lakeview residents enjoy having the Besthoff Sculpture Garden on their doorstep. Being close to the StoryLand amusement park is a bonus for those with children. Harrison Avenue is the place to be when it comes to shopping, restaurants, bars and coffee shops.
---
Further reading
►Get some useful insights into the NOLA housing market by reading our page on Accommodation in New Orleans
Photo credit: French Quarter by Joao Francisco (Unsplash). Garden District by Dirk Splijkers (Unsplash).
Are you an expat living in New Orleans?
Expat Arrivals is looking for locals to contribute to this guide, and answer forum questions from others planning their move to New Orleans. Please contact us if you'd like to contribute.
Expat Health Insurance
Cigna Global Health Insurance - 10% off any plans bought in November and December 2023

With Cigna, you won't have to rely on foreign public health care systems, which may not meet your needs. Cigna allows you to speak to a doctor on demand, for consultations or instant advice, wherever you are in the world. They also offer full cancer care across all levels of cover, and settle the cost of treatments directly with the provider. Cigna is currently offering a 10% discount for seniors (over 60) on their Silver package.
Moving Internationally?
International Movers. Get Quotes. Compare Prices.

Sirelo has a network of more than 500 international removal companies that can move your furniture and possessions to your new home. By filling in a form, you'll get up to 5 quotes from recommended movers. This service is free of charge and will help you select an international moving company that suits your needs and budget.

Get your free no-obligation quotes from select removal companies now!