Apart from being a popular tourist destination, Busan is also home to a large expat community, and as such, the city has a welcoming rental market. While the city's rental market may be welcoming to foreign residents, expats may struggle to find suitable rentals and have to scour the different areas and suburbs in Busan before finally finding a home. 
Busan is divided into districts (gu), further separated into neighbourhoods (dong). If an area has the suffix '-gu', it's a larger area made up of various dong. If the name has '-dong' at the end of it, then it refers to a specific neighbourhood.
While the choice of which neighbourhood to live in will depend largely upon where new arrivals are working, below are some of the most popular expat areas and suburbs in Busan. 
---
Areas popular with young expats in Busan

Centum City and Marine City
Just down the coast from Haeundae Beach, these two areas have become two of the most prestigious areas to live and work in the entire city. Both are located just two metro stops away from each other.
Centum City has become a hub of both commerce and entertainment. While living in high-rise apartments, residents can take a short walk to the Shinsegae Department Store, the Busan Museum of Art, the Busan Exhibition and Convention Center, the Busan Cinema Center, and other attractions.  
Marine City is a collection of high-rise luxury apartments on the coast near the mouth of the Suyeong River with its set of shops, parks, and restaurants. It's a small community unto itself.
Gwangan-dong
Gwangan-dong has become one of the most popular gathering spots for foreigners and locals alike, while nearby Gwangalli Beach offers iconic views of the Diamond Bridge. 
The beach features many seaside cafés and restaurants for residents to enjoy. The number of affordable housing options has increased considerably as more apartment buildings are constructed and renovated. While not as trendy as the more upscale areas of the city, there are several expat bars in the area. Cheaper accommodation and many entertainment options make this a sought-after area for younger expats.
Pusan National University
Pusan National University is one of ten national universities in Korea. Its main campus is conveniently located in the north-central part of the city. One of the original hubs of Busan expat social life, the area remains a destination for music, art, food, and culture. People living in this area can easily get to other areas in the northern part of the city, such as Oncheonjang Hot Springs, Geumjeong Fortress, and Sajik Baseball Stadium.
Seomyeon
The downtown area of Busan is a convenient central area with access to any part of the city. Located at the junction of Metro Lines 1 and 2, people living in Seomyeon will find the commute around Busan simple.  
While businesses in this area don't specifically cater to foreign patrons as much as more tourist-friendly parts of the city, the area still offers plenty of options for food and shopping. In particular, Jeonpo Café Street has plenty of food and drink options and has become a trendy gathering spot.  
There are also many affordable apartment options. Residents living in this area would be just one metro stop away from the Busan Citizens Park, the Dream Theater, and the Busan International Finance Center. 
---
Family-friendly areas in Busan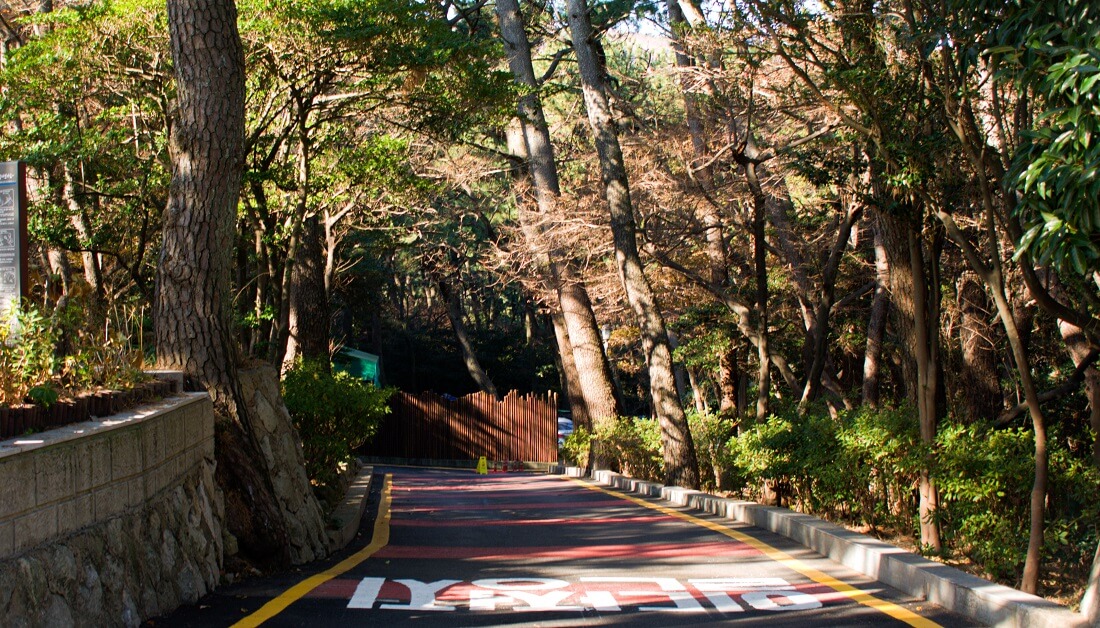 Haeundae-gu
Haeundae District (Haeundae-gu) contains some of the more foreigner-friendly neighbourhoods in the city. There's a large variety of shops and restaurants catering to both Korean and foreign tastes. Residents can also enjoy being adjacent to the beaches and coastal parks of the area, while nearby Jangsan Mountain is a well-liked hiking destination. 
Haeundae-gu is also one of the more family-friendly areas of Busan and is home to the Busan Foreign School. While affordable housing can be found here, the general cost of living is slightly higher than in other parts of the city. The area can also become congested with tourists, especially in the summer.
Yeongdo-gu
Largely considered a country town, Yeongdo-gu is an ideal area to raise a family while maintaining proximity to a big city. As is the case in most of South Korea's major cities, the accommodation here is largely apartments. Expats will discover magnificent views and green spaces at the nearby Taejongdae Resort Park while plugging into a tight-knit local community. 
---
Further reading
►For more information on finding housing in the city, read Accommodation in Busan
►Education and Schools in Busan provides an overview of schooling in the city
Expat Experiences

"As an expat the places that are most expat friendly are near the beaches on the east part of town, namely the neighbourhoods of Haeundae and Gwangan. The Kyungsung University is a very popular hangout for younger expats." Read more about Jenna, an American expat, and her experience moving to Busan in her interview.
Photo credits: Residences of Busan by Sam Balye and Taejongdae Resort Park by Luke Ow. Both sourced from Unsplash.
Are you an expat living in Busan?
Expat Arrivals is looking for locals to contribute to this guide, and answer forum questions from others planning their move to Busan. Please contact us if you'd like to contribute.
Expat Health Insurance
Cigna Global Health Insurance - 10% off any plans bought in November and December 2023

With Cigna, you won't have to rely on foreign public health care systems, which may not meet your needs. Cigna allows you to speak to a doctor on demand, for consultations or instant advice, wherever you are in the world. They also offer full cancer care across all levels of cover, and settle the cost of treatments directly with the provider. Cigna is currently offering a 10% discount for seniors (over 60) on their Silver package.
Moving Internationally?
International Movers. Get Quotes. Compare Prices.

Sirelo has a network of more than 500 international removal companies that can move your furniture and possessions to your new home. By filling in a form, you'll get up to 5 quotes from recommended movers. This service is free of charge and will help you select an international moving company that suits your needs and budget.

Get your free no-obligation quotes from select removal companies now!