Culture Shock in India
---
India, with its unmatched diversity of appearance and contrasts of character, can be enthralling and mystifying at the same time. Upon first impression, expats may find the country and culture shocking; its hot and humid climate, muddled traffic blocks and hodgepodge of overexcited hawkers and guides are a lot to handle initially.

That said, if expats can muster some patience and give themselves some time to adapt, it's likely they'll be looking at the country in an entirely different light as time passes.

India presents immense opportunities to open up socially, as hospitality is the foremost cultural ethic taught from childhood. Expats are often surprised to see the extent to which Indians are helpful and always ready to mingle with people of different origins.

In a nutshell, the country welcomes all with warmth, it just takes a bit of effort and understanding to overcome culture shock and become comfortable with the attitude and approach of the locals. The differences and varied outlooks are, after all, one of India's most attractive qualities.

Culture shock in the workplace

India has successfully created an atmosphere for the coexistence of traditionalism and modernism by accepting many Western ways of living and working.

It follows that the corporate culture is similar to the West in its work process and creativity. Office attire varies, though most workplaces accept either formal or semi-formal dress; certain organisations even allow casual wear subject to occasions. Formal business attire is, however, preferred for important meetings with clients.

To make expats feel welcomes and to help them settle into life in India, many companies provide new arrivals with cross-cultural training to help them understand the nuances of Indian culture, advise them on the best way to deal with Indians and get to grips with the language barrier.

Women and culture shock in India
Women are treated equally in the office, and instances of the 'glass ceiling' are rare, but still present in case-specific scenarios, as is the case all over the world
Women should be cautious about their dress, and consider their destination and the occasion when choosing their attire. On one hand, people living in cosmopolitan cities such as Delhi or Mumbai are more open to Western-style dress. However, if expat women visit crowded places, local markets or smaller towns, they will want to dress more conservatively to avoid offending anyone or attracting any unwanted attention.
Furthermore, instances of "Eve-teasing" occur more frequently when women (especially of foreign origin) are found alone late at night. Therefore, it is advisable to travel in a group after dark, particularly in unknown places.
Language barrier in India

Overcoming a language barrier is not a major challenge in India, as English is widely spoken in large cities and in the workplace.

That said, it is advised expats plan their route well before they go anywhere, as local vendors might not be able to effectively help with directions and guidance. Additionally, it is always best to choose one's day-to-day vendors carefully, and provide them with instructions in a precise and expressive fashion.

Meeting and greeting in India

There are no strict ways to greet in India, and as a matter of fact, Indian ways of greeting vary with geography as well as according to religion. Given the exposure to worldwide media and the history of colonial rule in the country, people are accustomed to normal English ways of greeting; such as "Hi", "Hello" and "How are you?". Don't be surprised if a youngster greets with "Howdy" or "Wassup" as American movies are popular and are constantly influencing the way Indians behave.

Food and drink in India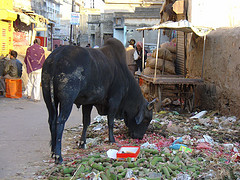 An assortment of eateries offer a wide variety of cuisine, ranging from continental to oriental. Expats should pick where they intend to dine and drink carefully because hygiene can be an issue at local restaurants. In most cities, however, plenty of hotels, restaurants, discos, pubs and bars are available that cater to the expectations of a global clientele.
Expats should certainly try Indian delicacies during their stay. Each part of India offers its own exotic tastes; each claiming its own superiority in the epicurean collage of Indian food. In the North, the spicy cuisines of Punjab and Rajasthan can be found, and in the South, Dosa, Utthapam and Idli feature milder, but more complex offerings. In the middle of the country, innumerable opportunities to sample different tastes exist.
While accepted behaviour within a club, restaurant or the confines of home, drinking and smoking should not be done in public places, such as parks and in the streets, and is considered an offence. Expats should note that in Gujarat liquor is available only at licensed hotels and has to be consumed within the confines of hotel rooms.
Tips to overcoming culture shock in India
Shoes should be taken off before entering mosques, temples and other places of worship (in churches it is fine), put a cloth on your head before entering a mosque or gurudwara (place of worship for Sikhs)
Women can be very sensitive towards slang and casual gestures, be mindful of your spoken language and your body language
One should avoid being too friendly with local guides, autorickshaw drivers etc. - just to avoid cases of fraud and theft
Only purified or mineral bottled water should be consumed in day-to-day life, as most of the water supply is contaminated