Visas for India
---
which
visa to apply for can be a bit of a challenge.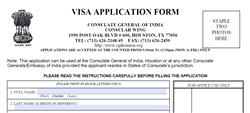 India visa rules are not as clear and concise as many other countries, so if you are visiting India your first task must be to identify the visa that you require.
Expats should keep in mind that, according to immigration rules, a work permit for India is synonymous with an employment/business visa. Expats wishing to work legally in India first need to obtain this valid Indian visa before beginning their job: no separate work permit is needed.
Tourist visas for India
Foreigners can apply for a tourist visa if they are coming to visit friends or for sightseeing. Tourist visas are generally granted for six months at a time. Before 2009, tourist visa holders could travel in and out of India within the six month period. However, to curb the misuse of tourist visas, the Indian government introduced new rules whereby anyone who has an Indian tourist visa must have a two-month gap between visits to India. So a tourist visa holder can return to India only after two months of leaving the country. Foreigners are not allowed to work in India while holding a tourist visa.
Work visas for India
To work in India, an expat can apply for one of two visas:
Business visa
Employment visa
Business visas in India
Business visas are available for people who wish to explore business opportunities or conduct business in India. This type of visa differs from an employment visa, in that the applicant will not be working for, and earning an income from, an organisation in India. Instead they will be working on behalf of a company outside of India. Business visas are generally issued with six month validity or more, and provide for multiple entries. However, holders of a Business visa are not allowed to remain in India for longer than six months at a time.
Employment visas in India
An employment visa, on the other hand, is issued to a foreigner who will be working in India for an organisation registered in India. Foreigners wishing to do volunteer work in India also require this category of visa. An employment visa is valid for one year, irrespective of the duration of the contract. A further extension of up to five years can be obtained from the Ministry of Home Affairs or the Foreign Regional Registration Office in the concerned state in India, but this is generally granted only after you have worked in India for a period of between three and five years.
Some other visas issued for specific purposes include journalist visas, conference visas, research visas and sports visas.
Applying for a visa for India
All foreigners coming to India for employment should apply for a valid Indian visa before they arrive. You can obtain a visa application form from the Indian Embassy in your country, or you can also approach several private processing agencies, like VFS Global, who have been appointed by the Indian Embassy to process Indian visa applications.
Documents required for visa applications
►Employment Visa
Proof of employment with a company/organisation in India, such as a contract that states the terms and conditions of appointment.
In 2010, the Indian Government included a new requirement - visa applicants must be earning 25,000 USD a year or more. Exceptions are made for ethnic cooks, translators, non-English language teachers, and members of foreign high commissions and embassies.
►Business Visa
A letter from the organisation they intend to do business with, stating the nature of business, duration of stay, places to be visited and the employer's intention to meet expenses.
►Tourist Visa
Passport with a minimum six-month validity
Recent passport-size photographs
Details of your itinerary
You can expect to get your Indian visa in between five and seven working days.
Applying for a residence permit for India
Foreign nationals who intend to stay in India for a period longer than 182 days, or who have a visa for more than 182 days, will need to obtain a residence permit. To do this, register with the Foreigners' Regional Registration Office (FRRO) within two weeks of arrival in India. In case of late registration, a fine of 30 USD is applicable.
The FRRO has branches in Mumbai, Delhi, Kolkata and Amritsar. If you are staying in any other city, you would need to visit the Superintendent of Police (SP) of the district. In Mumbai, it is also possible to register at the Chief Immigration Office.
Documents to be submitted for registration and residence permit
Prescribed registration form to be filled out on computer terminals at the FRRO office
Four passport-size photographs (4cmx4cm with white background, ears distinctly visible without spectacle or cap)
Registration booklet, available at the FRRO office for 25 INR
Passport copy (information page with photograph, expiry date, etc. and page bearing arrival stamp of Indian Immigration)
Copy of Indian visa
Proof of residence (copy of leave and license agreement / electricity bill / telephone bill)
Letter of undertaking from an Indian resident taking responsibility for you during your stay in India, and confirming to repatriate you at their cost if any situation arose. The undertaking needs to be duly signed by the authorised signatory of your company or guarantor, mentioning his name and contact number. A prescribed format for the undertaking is available on the Mumbai Police website. Copy of Indian passport or election card of the person standing guarantee should be included as proof of identity along with the undertaking.
Registration fee of 100 INR
As is evident, you can only apply for your residence permit in India once you have secured an apartment and applied for your PAN card. Therefore, it is important for you to start apartment-hunting and registering for your PAN card as soon as you arrive in the country. Without this, besides the FRRO registration, you cannot proceed to open a bank account or get a phone connection.
In addition to the above, each category of visa requires additional documents.
►Employment Visa
Company contract specifying salary, position and tenure of employment, in addition to other terms and conditions
Copy of PAN card and income tax papers for current assessment year. A PAN card is issued to all tax-payers in India and serves as a way for the Income Tax Department to track your income tax payments. It also serves as a valid Proof of Identity.
►Business Visa
Letter from the person or firm in India with whom you intend to do business with, indicating type of business, volume of business in the current year, etc.
Contract or assignment letter from the company
Bank statements showing assured financial standing
Copy of Bill of Lading or invoices
Depending on the type of visa, the letter of intent or contract will change accordingly.
It is important to note that your experience of applying for your residence permit is entirely dependent on the person handling your registration process.
If the person is vigilant, you will be asked for every document possible and it is advisable to carry multiple sets of all your documents. At least three sets are recommended - you never know what will be required!
If, on the other hand, the person is lackadaisical, the process may hardly take any time and there will be no problems at all. However, irrespective of this, ensure to mention all dates correctly in your documents and bring any additional documents you may think to be necessary in addition to the ones already mentioned above. The process does involve a lot of sitting and waiting, so high levels of patience are required.
The FRRO is open from Monday to Friday between 10am and 2pm. Ensure to arrive before 10am so that you will be able to finish the registration that day. Otherwise, a second trip will likely be required.
Visa extensions for Indian permits
Ideally, it's thought that it's easier to renew your Indian visa in your home country, rather than in India. However, many expats now get their Indian visas registered and renewed within the country. You need to apply for an extension at least 15 days prior to the expiry of your visa.
Officially, visas can be extended only by the Ministry of Home Affairs (MHA), located in New Delhi. However, for the convenience of foreigners, the FRROs/District Superintendents of Police (ex-officio FROs) are empowered to make some conversions/extensions for certain types of visas without referring to the MHA.
Expats can get only a three-month extension from the FRRO, while simultaneously processing their request through the MHA. Once the FRRO receives an approval from the MHA, the balance of 9 months extension is confirmed. This is the official process.
In the case of Employment Visas, the Mumbai FRRO, in particular, is known to issue one-year visa extensions without much fuss, provided of course that all your documents are in order. Documents required are the same as what was required for registration. The FRRO registration will be done simultaneously.
Expats should note that if they are not able to renew their visa before its expiration, it's considered a serious offense and they should visit the FRRO as quickly as possible to avoid any serious penalty. If you state medical reasons for not renewing your visa before the expiry date, ensure you carry a medical certificate along. A letter of apology stating the reason for the delayed submission is also required. There is a penalty of 30 USD for a delayed submission, in addition to the visa fee.
That said, it's known for penalties to vary for each particular delayed submission case. Therefore, it's important to speak to the FRRO Office before going to explain your case, and they will advise you appropriately.
*Visa regulations are subject to change at short notice and expats should contact their respective embassy or consulate for the latest details.