Banking, Money and Taxes in Nigeria
---
Banking in Nigeria - a phrase, that many expats may rightly suspect, seems more akin to an oxymoron than a system. Storied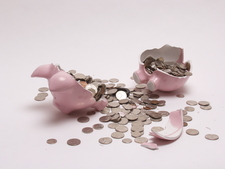 419 scams and comical chain emails asking for personal banking details certainly don't beget the greatest sense of confidence in the country's money management, but nonetheless, an overshadowed inadequate Nigerian banking system does still exist.
It follows that most expats prefer to keep an offshore bank account in a country they are comfortable with; opening a local account primarily for day-to-day living. Some companies will advance local currency upon arrival, so that no money exchanges need to be made.
Either way, when it comes to banking in this West Africa hub, expats should prepare themselves for the worst.
Banking in Nigeria
Nigeria's currency is the Nigerian Naira (NGN) and is broken up into 100 kobo, where 100 kobo = 1 Naira. It is not recommend that expats carry any substantial amount of cash; rather carry only the necessary amount that may be required for a daily basis.
That said, Nigeria is still, unfortunately, largely a cash-based society, so cash will still be necessary for many purchases. More establishments are starting to accept debit/credit cards as standard forms of payment for goods and services, but be sure to be extra wary when paying with a card, as fraud is a major concern.
Expats are able to operate both foreign and local accounts from Nigeria. As previously mentioned, foreigners generally prefer to maintain their foreign accounts, and to open a local one for small amounts of cash. Salaries are paid into foreign accounts, and then changed over into the currency of choice by the employee, usually from the US dollar.
It's important to note that the costs involved in managing a foreign account are huge. Transaction fees are astronomical and then you haven't even added VAT yet. Still, these accounts tend to be simpler and more secure, and accepting the extra charges as necessary evils is unfortunately a reality.
Alternatively, operating a local account will require you to have the patience of a saint, and you will need to know all the risks involved before choosing this route.
Systems, such as Internet banking, do exist and do offer standard services, but are often down, and during these times you will only be able to access your balance. Not to mention, your personal information is not guaranteed to be safe, and the perception is that the system itself is pretty unreliable and way behind the times.
The CBN, or Central Bank of Nigeria, is the main bank in Nigeria.
ATMs in Nigeria

ATM machines are available at some banks, but not all of them accept foreign cards.

The ATMs that do accept foreign cards have a daily withdrawal limit of 100 NGN; however, ATM fraud is prevalent, so vigilance and communication with your bank will be essential.

419 scams in Nigeria

419 is the section of the Nigerian Criminal Code that deals with financial fraud, and due to the countless related scams and fraudulent activities in the country, it's become somewhat of an international household name for any dodgy or illegal monetary activity. As part of the Nigerian experience, fully expect to be 419ed at least once.

Credit cards in Nigeria

You could also get an international credit card issued by your bank, but it is not recommended, as you would have very few places to use it. If you do use a credit card for any transactions, be studious when studying your statements to ensure you have not been a victim of credit car fraud. It is advisable to check with your own bank first, before coming into the country and using the card, as most banks will automatically cancel your card after just one Nigerian transaction.

Domiciliary account in Nigeria

A domiciliary account is a local, foreign currency denominated account. This means it accepts and moves other currencies, not just the Naira. Many expats recommend GTB (Guaranty Trust Bank) as the best and safest option to receive salaries in locally and move money out to the country of their choice.

Opening an account is quite simple. As an expat, you will need to provide two letters of reference from existing GTB account holders, a copy of your driver's license, National ID Card, proof of residence and 100 USD.

You can do online transfers with them, but you need to contact them for their code. Be patient and be ready to answer a plethora of questions before they release the code to you. All money wired into Nigeria attracts transaction fees both locally and from the bank abroad, and levies an additional one percent withdrawal fee locally.