Cost of Living in Qatar
---
the nation's wealth is, nonetheless, on par with these Gulf region power players.
In 2010, both the International Monetary Fund and the World Bank listed Qatar as having the highest GDP per capita in the world, and with statistics like this, many people are under the impression that everyone in the country benefits from a high standard of living.
In reality though, there are huge divisions of wealth in Qatar, with the highest echelons being almost exclusively occupied by Qataris. Directly under them will be the wealthier expats, followed by middle management and finally the lower level unskilled workers.
Employment packages for expats in Qatar are usually quite lucrative, and along with the lure of a tax-free salary, are the main draw for those who choose to relocate to the nation.
However, as with most of the Gulf region, salaries in Qatar have decreased over recent years, and many expats find that working here may not have as much appeal as it used to.
Nonetheless, the population of Qatar is booming, and many expats find that a move here not only provides them with career opportunities, but also presents opportunities to make and save a fair amount of money.
Just like any other location, items and services in Doha and the rest of Qatar can range from very cheap to very expensive, but on the whole, most items do tend to fall into the more expensive category. That is not to say, however, that you can't cut a few corners and find some good deals.
Cost of accommodation in Qatar
Accommodation
costs will form the bulk of an expat's expenditure, roughly 30 to 40 percent of a monthly salary. Rent for expat-standard accommodation is ridiculously high, but you can take small comfort in the fact that it has decreased considerably over the past few years.
Like in any other country, the price of rent will be dictated by the type of property and its location. Most expats moving to Qatar will be based in its largest city, Doha, and people tend to choose which area they live in according to availability and proximity to work or their children's school. All areas of Doha have their pros and cons according to personal tastes, but there are no 'bad' sections of town.
Price of housing in Qatar
Two-bedroom apartment in Al Saad – 7,000 to 9,000 QAR/month
Two-bedroom apartment in West Bay – 14,000 to 17,000 QAR/month
Two-bedroom apartment in the Pearl – 13,000 to 15,000 QAR/month
Semi-detached 4-bedroom villa Al Rayyan- 18,000 QAR/month
Two-bedroom apartment Al Khor- 5,000 to 6,000 QAR/month
A housing allowance will most likely be part of your salary, and is usually paid in either monthly installments or in one lump sum when you move in; it is good to double check this. Prices will also vary slightly if the place is furnished or unfurnished, and it never hurts to try and negotiate a lower price.
Some employment packages may include a substantial allowance for shipping personal items over from your home country. Depending on the length of stay anticipated, it may be wise to take advantage of this for larger/ comfort items; furniture, home accessories and electronics are expensive in Qatar and not of the best quality. It is often hard to find items that appeal to expat tastes as well; IKEA has not yet staked its claim in Qatar.
Utilities are reasonably priced, but it is good to be aware of small extra accommodation costs that may add up. Some apartments have yearly maintenance/service fees attached, and you'll need to know if payment is the responsibility of the tenant or the landlord.
Cost of transportation in Qatar
The cost of petrol in Qatar is cheap – 1 QAR/litre – which adds to the intense love affair people have with their cars. It may also explain the country's nearly non-existent public transport system.
Both renting and
buying a car
are viable options in Qatar, as is opting out of both and hiring a driver. Although a lot less hassle, a driver does not allow as much freedom, but may work out to be more economical if you don't have children that need ferrying around, and you only really plan on travelling to/ from work or the grocery store.
There are plenty of car rental companies in Qatar, many of which offer better rates the longer the lease period. A small car (i.e. Nissan Sunny) will set you back about 2000 QAR/month, while a larger 4WD vehicle will cost at least 5000 QAR/month.
If purchasing a car, buying new is not a problem; however, because of the high turnover rate of expats, very good deals on used vehicles can be found. The same Nissan Sunny (2009) is currently listed for 32,000 QAR, while the larger Pathfinder (2009) would come in at about 85,000 QAR, depending on mileage. And when deciding on the make or model of your choice, it is important to note that most European and American car parts will be more expensive and harder to source if something should go wrong with the car.
For now, and bar a few rare exceptions, free parking in Qatar is readily available in public places (Corniche, Rumaila Park) and shopping centres. If you should be unlucky enough to get a parking ticket though, you could be looking at paying up to 500 QAR. Traffic violations such as speeding and going through a red light are a bit more severe and cost 600 to 1000 QAR.
The public transport system of Qatar consists of buses and taxis, and is run by a single company, Karwa. Both modes of transit are good value, taxi fares start at 4 QAR and increase 1.20 QAR/km (1.80 QAR in the evening), and bus fares are 2 QAR. However buses only run the very main routes of Doha, and taxis can only usually be found in a handful of ranks around the city or in shopping centre car parks.
It is also important to take into consideration that Qatar is not oriented as the cheapest travel destination. Most employment packages offer a travel allowance and/or annual flights back to your home country, but getting there is often expensive during the low season and even more so during the high season (Qatari summer, Christmas/New Year). A return, direct flight with Qatar Airways to London averages 3,500 QAR and the same type of flight to JFK/New York 5,500 QAR.
Cost of schooling in Qatar
A free public
school
system exists in Qatar, but this is reserved almost exclusively for locals. Foreigners will have to pay for their children's education and, although the level is good, it can be very expensive.
Most employers offer an education allowance, but again, it is good to double check this. School fees vary depending on the school and the grade level of the child. Nursery and pre-Kindergarten tuitions start at about 15,000 QAR/year, while sixth form/high school fees range from 35,000 to 50,000 QAR/year. There will most certainly be a few extra fees on top of this, such as the application and registration fee (500 to 3600 QAR) plus any uniform and/or transport fees.
Cost of health insurance in Qatar
Health insurance is normally organised by employers, and the standard of care in Qatar is good. If health insurance is not included in your payment package, highly subsidised health and dental care with Hamad Medical Corporation can be accessed with the purchase of a Hamad Card (100 QAR).
Cost of food and clothing in Qatar
Qatar imports over 90 percent of its food products, so although you will be able to find familiar brands, they will be far more expensive than their local equivalents. Imported produce, meat and dairy products are readily available, as are organic counterparts, but you will pay for the privilege. A small variety of local fruit, vegetables and fish can be quite reasonable, and fresh Qatari-baked flat breads are downright cheap. Depending on the size of your family, your food bill will probably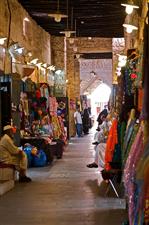 constitute at least 10 percent of your monthly salary.
There is something for everyone and every budget when it comes to eating out in Qatar. Small, independent restaurants will be cheaper, of course, and will offer a far better value for money than the many chains eateries and the posher establishments found in hotels.
Alcohol bought for personal use is expensive, can only be purchased from one warehouse and requires a permit that necessitates a deposit of 1,000 QAR. The cheapest bottles of wine are 37 QAR, while many perfectly decent vintages can be found for around the 60 to 70 QAR mark. A six pack of beer is about 50 QAR, while a bottle of spirits (1.5 litre) will start at about 100 QAR. Drinking out is more expensive, with a glass/bottle of wine costing approx. 60/250 QAR respectively, a bottle of beer 40 QAR and an average cocktail at 60 QAR.
As with food, many familiar clothing shop brands and department stores can be found in the seemingly unending array of malls in Qatar, but high-profile brands and labels will be more expensive. You will also be able to find the latest model electronics, digital cameras, laptops or phones, but most expats tend to buy these overseas or on a visit to their home country as they will work out to be much cheaper. These items (roughly) work out to be 10 to 20 percent more expensive.