Women in Qatar
---
Expat women living in kidney-shaped Qatar will find that the government policies of the Arabian Peninsula make for a unique life that usually calls for certain initial adjustments.

Rights of women in Qatar
Unlike nearby Saudi Arabia, women DO drive in Qatar, vote and run for municipal elections, participate freely in all parts of public and social life and maintain a high profile in professional and educational settings.
Furthermore, following the lead of Her Highness Sheikha Moza bint Nasser (the chairperson of Qatar Foundation for
Education, Science and Community Development and also one of the wives of the ruling Emir) women are employed and educated at all levels of society.
These familiar rights will make most newcomers comfortable in their surroundings. Qatar practices religious tolerance, as well, and there are several Christian facilities, including an official Catholic church, in addition to the mosques around the country. Those who practice are free to do so, but proselytising is illegal.
Those things taken into account, both men and women should realise that Qatari society is engaged in a constant balancing act between the traditional and modern.
This means old-world values, such as gender segregated schooling environments, are still upheld and considered core to national identity. Similarly, males are considered the natural head of the family; thus be prepared for a typically patriarchal society.
Dress
While non-Qatari women are NOT expected to wear the Abaya, a black robe-like covering, expat women should dress appropriately for shopping malls, the souqs, the Corniche and other public areas. This means covering the arms, at least with short sleeves, and wearing dresses, skirts and shorts that come past the knee.
Dressing appropriately in Qatar will also ensure also that you avoid being stared at, or attracting other unwelcome attention from men while out in the city (men, often far from their wives and families, greatly outnumber women in Doha).
Hotels are generally more permissive when it comes to dress, as they can be an enclave for expats, but keeping the culture in mind while getting there and away is important – if your car breaks down, for example. A good principle is to always have a shawl in your handbag or car to use for covering up if you need to get out the car in public unexpectedly, or for unexpectedly chilly air-conditioned interiors.
Making friends in Qatar
Many of the expat women in Qatar are homemakers who have travelled for the sake of their husband's jobs who have suddenly found they don't have to "make home" in Qatar. House help is widely available at a reasonable price – one of the great benefits of living here, particularly for those with young children. As a result, expat women may find infinitely more hours to spend with their family and friends or on hobbies.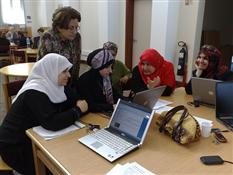 The transition can be challenging at first when women left at home alone must find ways to fill the time. Those living on compounds are lucky; the compound can act as a safety net when you first move. These instant communities come with built-in neighbours and playmates, and often a central swimming pool or clubhouse.
Another pre-made circle of friends is the network of spouses and children who are the wives and kids of your husband's colleagues. Keep in mind that these relationships can often be like your first friends at university: initially they're necessary and welcome, but you may eventually want to branch out, as expat communities can feel claustrophobic with people living and working very closely together.
But as there are many, many others in this situation, there is a varied social scene with potluck, writing, book, and other interest groups which are generally open to all women. Notices of their meetings are posted regularly in the local magazines as well as online using social media, such as Twitter and Facebook.
Due to the somewhat transient nature of expat life in Qatar, many people stay an average of only three years. Most of the groups (and people in general) are used to welcoming new arrivals and are very good at making fresh assignees feel welcome. If you don't find a group for your particular interest, it is fairly easy to start one. Activities such as salsa and creative writing have sprung up in recent years.
Work-life balance
Those who move to Qatar as single working women will find the elusive work/life balance all the more important to establish. Start-up companies that demand long hours, and companies that uphold the working days and times of Western countries (and not Qatar) often monopolise a large commitment from their employees.
Only those who deliberately limit the amount of time they spend at work and on email will find opportunities to explore the city and establish relationships outside of work. It's important to make this effort, and there are networks related to professional working women that could be useful in helping to meet other women who aren't able to develop friendships over coffee mornings.
For those looking to make connections in the local community or outside the bubble of their living/working conditions, this takes a fair amount of determination, but it can be done. The transient nature of the expat community means those who stay longer than three years – Qatari and non-Qatari – can be weary of the steady stream of inquiries by newcomers, and may be reluctant to make new friends. The best way to break into these communities is get involved in meaningful activities, like volunteering and participating in charity work, and to give friendships time to develop.