---
Hong Kong is a vibrant and complicated city with energy like no other place in the world. It is constantly changing, and the growing influence of Mainland China on this former British colony makes it a particularly fascinating place to live. Every day new restaurants, bars and shops open to add to a long list of already established attractions. Expats often find that there is too much to see and do in Hong Kong, rather than too little.
Eat in Hong Kong
Hong Kong is renowned for its cuisine, and eating is certainly one activity that provides endless ways to occupy time. Not to mention, the city's melting pot of cultures guarantees that expatriates will be able to find dining options from every part of the world.
That said, every expat should take the opportunity to try at least some of the local specialties. Indulge in diverse Chinese food options from the Sichuan to the Canton province; sample everything from the Beijing noodles to Cantonese pigeon. Gather a group for dim sum on a Sunday or take the ferry to Lamma Island for a fresh seafood experience.
For a glimpse of culinary colonialism, take a traditional high tea at one of the hotels, cafés or
restaurants in Hong Kong
.
►Tip:
Elgin Street in Soho is a popular dining destination for expats. For high-end dining, the luxury hotels feature world-class chefs and fusion cuisine.
Shop in Hong Kong
The shopping in Hong Kong is legendary, and it's easy for high-income earning expats to quickly become aisle-cruising addicts in an Asian hub with non-existent sales tax and an impressive inventory of designer boutiques.

Although, even if haute couture and label mongering aren't of interest, hitting the local markets in the alleys of Central, the back streets of Wanchai and the frenetic corridors of Mongkok is still recommended.

Shoppers can find clothes, faux designer bags, watches and all sorts of cheap Chinese gifts at the Mongkok Ladies Market. Visit the Temple Street Night Market for kitschy souvenirs, miscellaneous sundry items, fake antiques and street food. Look no further than Cat Street near Central for a high concentration of Chinese antiques, both real and fake.

►Tip: Don't be afraid to bargain in the markets. Shops typically have set prices.
Junk boat trips in Hong Kong
Junk (a type of boat) boat trips are arguably the most popular summer pastime for expats.
The boats no longer have the red ribbed sails famous in the old pictures of the Orient, but they can still take passengers on a refreshing journey through Victoria Harbour and along the edge of the South China Sea.
Expats can rent a catered junk, or you bring their own picnic to eat on one of the many little island beaches around Hong Kong. Join a group of friends, colleagues or fellow newcomers for a day of swimming and drinking in the sunshine. It is guaranteed to have new arrivals hooked on Hong Kong forever.
Hike in Hong Kong
This ultra-modern metropolis boasts surprising areas of natural beauty and, as a result, hiking has become an activity popular with both locals and foreigners.

Numerous well-maintained trails allow hikers to escape the city and enjoy the sub-tropical vegetation with relative ease. Many of the hikes include dramatic vistas and sea views that will keep even the most inexperienced hikers occupied as they climb the steep hills.

►Tip: The best time to hike is October through May, before the heat and humidity of the summer drives people indoors.
Festivals in Hong Kong

Though not exactly an activity that can be expected every weekend, festival-going is well-worth experiencing when the time is right. The traditional Chinese festivals take on a glitzy, commercial feel in Hong Kong; and the Mid-Autumn Festival and the Chinese New Year are particularly entertaining.
Expats can go to Tai Hang to see the fire dragon and Victoria Park in Causeway Bay for the Mid-Autumn Lantern Festival. They can also watch the Chinese New Year fireworks and parade in busy Tsim Sha Tsui.
Additionally, Hong Kong hosts numerous international film, arts, design and literary festivals. Keep an eye out for these
annual events
to get a cultural fix at celebrations featuring creative work from around the world.
Amusement parks in Hong Kong
Those moving to Hong Kong with kids could visit Hong Kong's Disneyland. However, for the true Hong Kong experience, the kids must be taken to Ocean Park. This is the favourite destination for local children, and features rides, carnival games and a huge collection of sea creatures in several large aquariums. Visitors are rewarded with breath-taking views of the sea as they wait in line, ride the roller coasters and take the cable car up the hill.

►Tip: If possible, try to go during the week when most of the crowds will be at school.
Sightseeing in Hong Kong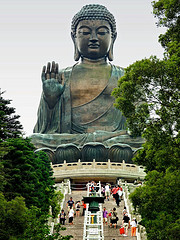 There are plenty of sightseeing opportunities in Hong Kong, and if they get lost, it's easy for exploring expats to find English speakers who can help them on their way.

Don't miss a ride on the iconic Star Ferry between Central and Tsim Sha Tsui. The fifteen-minute journey is less practical than taking the MTR, which tunnels beneath Victoria Harbour, but it is the best way to see the entire Hong Kongskyline.

For those who like city views, their next stop should be Victoria Peak. The Peak Tram can be taken up the steep hill to the Peak Galleria for truly unrivalled vistas. They'll be able to see the entire city, and will have a great view of the brand new ICC Tower, now the fifth tallest building in the world. Speaking of which, if expats head over to Kowloon side and take the high-speed lift to the ICC's 118th floor, they'll get a slightly different perspective (and even the Peak will look short).

Take the ferry, or the MTR, to Lantau Island to visit the Big Buddha at Ngong Ping. It is the largest outdoor, seated Buddha in the world. The best part, however, is the cable car ride that takes visitors by little fishing villages and over verdant hills. The shiny new airport can be seen on one side and the Buddha rising from the mists on the other.

Finally, take the ferry to Lamma, Cheung Chau and Peng Chau islands for a stroll through little village paradises. New residents will feel a million miles away from the heady energy of Central, but after a relaxing afternoon will want to take a deep breath and dive right back into the city.
Recommended attractions in Hong Kong

Victoria Peak
Expats should take a trip on the funicular to the summit of Victoria Peak where breathtaking views across the cityscape and Kowloon Bay unfold before their eyes. They can discover their new home and take in the chaotic beauty of it all. While up there, visit Ripley's Believe it or not 'Odditorium', browse in some of the summit shops, or enjoy a bite to eat at one of the restaurants overlooking the city.

Aberdeen
Located on the southern shore of Hong Kong, Aberdeen was a haven for pirates a couple of centuries ago, but these days it's a popular tourist attraction and upmarket expat neighbourhood. The suburb seduces expats and locals alike with its culture of traditional boat dwellers and the allure of fresh seafood just off its friendly shores.

Wong Tai Sin Temple
This Taoist Temple is one of Hong Kong's most frequented temples and is dedicated to Wong Tai Sin, a legendary hermit who supposedly possessed healing powers and was a soothsayer of some renown. This temple usually sees people making ornate offerings or coming to see the local fortune tellers who practise their trade from within.

Western Market
Expats will love exploring this indoor four-storey market which houses a variety of shops and stalls. Vendors sell everything from curios to fabrics, and much more. Shoppers come here for a day of retail therapy, or to kit out their new Hong Kong home.

Police Museum
Many expats do not know that Hong Kong was founded on the narcotics trade, so it's quite fitting that the development and history of the Royal Hong Kong Police Force be showcased. Exhibits include a number of artefacts relating to the Hong Kong Police Force such as weapons and uniforms, as well as historical archives and photographs.

Statue Square
This pedestrian square was built at the end of the 19th century, and contains the statues of chief manager of Hong Kong and Shanghai Banking Corporation, Sir Thomas Jackson, two bronze lions, Prince Albert, Queen Victoria and Edward VII.

Hong Kong Museum of History
The Hong Kong Museum of History showcases the city's cultural, natural and archaeological history. Expats can enjoy viewing the exhibitions of photographs, artefacts, traditional costumes and objects that will teach them more about their new home.