---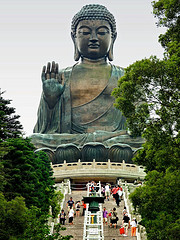 Hong Kong is a vibrant and complicated city with energy like no other place in the world. It is constantly changing, and the growing influence of mainland China on this former British colony makes it a particularly fascinating place to live. New restaurants, bars and shops are almost constantly added to a long list of already established attractions.
There are also plenty of sightseeing opportunities in Hong Kong, and it's easy for exploring expats to find English speakers who can help them on their way.
Not-to-be-missed attractions include a ride on the iconic Star Ferry between Central and Tsim Sha Tsui. The 15-minute journey is less practical than taking the MTR, which tunnels beneath Victoria Harbour, but it is the best way to see the entire Hong Kong skyline.
For those who like city views, their next stop should be Victoria Peak. The Peak Tram can be taken up the steep hill to the Peak Galleria for truly unrivalled vistas. It's possible to see the entire city, and have a great view of the brand new ICC Tower, now the fourth tallest building in the world. Speaking of which, if expats head over to Kowloon side and take the high-speed lift to the ICC's 118th floor, they'll get a slightly different perspective (and even the Peak will look short).
Take the ferry, or the MTR, to Lantau Island to visit the Big Buddha at Ngong Ping. It is the largest outdoor, seated Buddha in the world. The best part, however, is the cable car ride that takes visitors by little fishing villages and over verdant hills.