---
Pros and Cons of Moving to Indonesia
Indonesia's 17,500 islands make it the world's largest archipelago. This culturally diverse corner of Southeast Asia maintains a rich tradition of music, art, dance, story telling and craft, and offers a rich and varied lifestyle for expats. Nevertheless, as exciting and exotic as the country is, there are still pros and cons to living in Indonesia. Depending on where you are moving from, these things may be of little or no concern but they are worth considering if you are thinking of making Indonesia your new home.
Lifestyle in Indonesia
PRO: Vibrant nightlife and entertainment
The nightlife in Indonesian cities is vibrant and modern and there is a thriving music scene with bands playing almost every night of the week, so it's not difficult to have a good time if you know where to look for it. In Jakarta, you are never lost for something to do as the cultural side of life is very rich with regular art shows, music and film festivals. International rock bands and famous singers regularly perform gigs hosted in Jakarta.
Despite alcohol being very expensive, it's not prohibited and there are lots of good bars and clubs to choose from. There are plenty of excellent places to eat and drink, or relax with a coffee. Indonesian food, though typically spicy, is excellent and varied enough to cater for everyone's dietary needs, be it vegan, vegetarian or full-blown carnivore. If you crave Western fast food, there are the usual American fast food joints like Burger King, McDonald's, KFC and Pizza Hut. International food is available in all the major tourist spots and cities.
CON: Conservative culture
Expats in Idonesia will find themselves having to adjust to and respect the local customs, whether cultural or religious. Indonesian society is largely Muslim and conservative. This may take some readjustment, particularly for Western expats. The dress code is more modest and conservative to what some expats may be used to. Skirts above the knee are considered pornographic and new laws are currently being brought out to enforce tighter controls on what women wear. Women do not have the same status as men, unless they have worked very hard for it and earned it.
Another thing worth bearing in mind is that Indonesia does not have the drinking culture that is found in Europe, for example. Alcohol prices are inflated compared to most other places. Bribery and corruption are rife, so be prepared to carry your papers at all times. It is not uncommon to be stopped by police at random.

PRO: Expat organisations
For expats, especially women who feel isolated from their compatriots, there are a number of well-run and established organisations like the British Women's Association in Jakarta which host weekly meetings, various events and fundraisers, as well as giving informative talks about the realities of life as an expat woman in Indonesia. They offer support through their meetings and network, and can give help and advice on any number of issues that may arise. This may be especially helpful for women who are new to Indonesia and are trying to get established and settled in a country far away from their friends and family.
There are various organisations that you can join to volunteer if you would like to support one of the myriad charities that work in Indonesia to help those that really need it. The very young, the elderly and the sick are particularly vulnerable.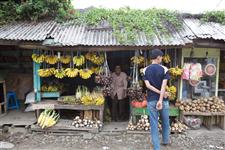 CON: Social inequalities and poverty
Poverty and the disparity between the rich and the poor is something that some expats might find quite shocking. Nothing can prepare expats for this, especially those coming from developed and richer nations. It's not uncommon to see small children with babies tied to their fronts, ducking and diving through the heavy, polluted traffic, and begging in Indonesian cities. For many Indonesians, living in poverty is all that they have ever known, and there are few support systems to change this situation.
Accommodation in Indonesia
CON: Overcrowding
Space is at a premium in Jakarta so expect to pay a lot more if you want a house with a garden in an expat area. Most people opt to live in apartments. Expats can be expected to pay up to two years cash in advance for rental property so they should choose wisely and do their research on where they would like to live. If choosing to live in an expat area be prepared to pay a lot more than if you live amongst the indigenous population. In major Indonesian cities, traffic can be horrific, so ideally, expats should try to live somewhere that is as close to work as possible.
Healthcare in Indonesia
PRO: Healthcare
Most medical emergencies can be dealt with in Indonesia. However, for any serious emergencies, Singapore, which has world-class medical facilities, is just a two-hour flight away. Good private dentists are available and the dental costs are relatively cheaper than what one would expect to pay in the West.
CON: Poor sanitation
Upset tummies are a part of life in Indonesia and something that expats can easily contract. Dengue fever is another serious problem, especially in the rainy season, and internal parasites are not uncommon. Only bottled water should be consumed, and if possible try not to eat the street food however tempting it may smell or look. Fresh juices are sold widely from carts on the roadside in Indonesia; they are often diluted with water of dubious origin and can make you seriously ill.
Getting around in Indonesia
PRO: Taxis
Taxis are abundant and ridiculously cheap compared to the West, and if you tip well they will wait for you while you do your shopping. It is very uncommon for expats to drive in Jakarta and most people employ a driver. A good driver is worth his weight in gold and will know all the side streets to make travelling around more bearable. Having a driver in the West would be considered a luxury; here in Indonesia it is a part of life for most people with a stable income. For once in your life, enjoy being driven around and not having to worry about parking.
However, it's not uncommon for the taxi driver to get lost so it's vital that you have some knowledge of where you are heading to, with an address and ideally a map as well. Getting around anywhere in Jakarta often takes hours. Be prepared for this and factor this in, especially if you have important meetings to attend or flights to catch. It helps to have the patience of a saint when travelling anywhere in Jakarta, and don't even think about using a bicycle.
CON: Traffic congestion
One of the greatest disadvantages of living in Jakarta is the traffic. With 12 million people using the city's roads daily, congestion is a nightmare and traffic jams are a normal part of life. The pollution generated by the exhaust fumes hangs like an umbrella over the city and the public transport system leaves very little to be desired. Overcrowded buses, which should have been sent to the great scrap heap in the sky years ago, regularly breakdown on the roadside, causing more jams, and there is no subway or monorail system in place to help transport the thousands of commuters to and from work daily.
Ojeks
, which are the motorcycles that you can catch a ride on for a small fee, are good, but not perfect if it's pouring with rain and you have lots of shopping bags to carry.
Climate in Indonesia
PRO: Tropical climate
The tropical climate, humidity aside, makes a refreshing change from the dull, cold, grey days that are experienced in Western winters. Daylight hours are roughly the same throughout the year with sunrise on average at 6am and sunset at 6pm. Even in the rainy season it is still very warm and showers don't tend to last long. Due to the high temperature, it's unheard of to ever feel cold.
CON: Humidity
Humidity ranges from 70 to 90 percent. Humidity can be very unpleasant and can take a while to get used to. There are only two seasons in Indonesia; the wet season, which runs from November to March, and the dry season, which runs from April to October. The temperatures range from 29 to 35 degrees Celsius all year round, which may make it uncomfortable for those that do not like heat.
Cost of living in Indonesia
PRO: Cheap food, communications and household help
Eating out is very cheap if you don't factor in alcohol. Shopping for local fresh produce in the markets and
warungs
is fun and there are great bargains to be found. If you buy locally and skip the supermarkets you can live very cheaply and well. If you have the constitution of an ox, eating off the
kaki limas
makes life even easier and cheaper.
Mobile phone tariffs are very good value and broadband and cable is easily installed and not expensive. To hire household help of any kind, be it household staff, a gardener, driver or nanny, is considerably cheaper than in the West and makes having domestic help easily affordable. Textiles are abundant in Indonesia and considered cheap. By finding the right tailor, made to measure clothes become a way of life.
CON: Expensive imported products
The cost of living really depends on where you have come from and price comparisons. In general, imported goods, whatever they are, are much more expensive than Indonesian products. Photographic equipment, clothing, art supplies and electrical goods can cost a small fortune compared with current European prices.
Shopping for food in the supermarkets, especially Western styled ones such as Hero or Ranch Markets, can set you back as much as shopping for similar products in the UK, or more. Electricity bills can be disproportionately high, and for people who are used to getting visits to the doctor and certain medicines for free, healthcare should be accounted for in the budget.