Cost of Living in Israel
---
The cost of living in Israel varies from high to mid-level, depending on where in the country an expat decides to settle and what lifestyle they aspire to. Urban centres are more expensive than desert outposts or mountain towns; with Tel Aviv, Israel's most cosmopolitan destination, claiming a cost of living nearly on par with New York City, Paris and Milan (Mercer Cost of Living Survey 2012).
Wages in Israel tend to be low, despite the fact that the government offers numerous incentives and salary subsidies to new immigrants in accordance with the process of
Aliyah
(the right of return).
Expats will also find that taxes in Israel are exorbitantly high, with both import taxes and excise taxes leaving buyers bearing the brunt of the cost burden. So much so, that it's often recommended expats moving to Israel bring certain products - like electronic goods - with them.
Locals who used to jest newly arrived expats - "How do you make a small fortune in Israel? Arrive with a big fortune!" - are finding less humour in the statement and more truth as time passes.
That said, many people relocating to the small Middle Eastern nation do so primarily to be involved in a Jewish environment; a positive benefit that remains priceless in the face of rising petrol costs and an increasingly expensive housing market.
In order to have a comfortable life in an Israeli city, single expats should aim to make at least 6000 NIS per month, those supporting a family will need considerably more depending on the needs of and the number of children also immigrating.
Cost of accommodation in Israel
The cost of accommodation varies depending on location, but this will certainly be an Israeli expat's largest expense.
Until very recently, the cost of buying property in Israel was much more reasonable than in Europe and the US. Over the course of the last few years though, house prices have increased at double digit rates. The average price of a home in Tel Aviv as of 2011 was approaching 450,000 USD and in Jerusalem 400,000 USD. Foreign interest in the market has played a role in lifting prices, and many young couples are relegated to a reality rooted in renting for longer than they had hoped for.
Rental prices in Israel have remained relatively stable despite the large increase in the sale price of properties. For the wallet wary, house-sharing is still a popular option and a great way to pinch a few pennies if you don't mind living with strangers.
Renting in Tel Aviv
A one-bedroom apartment (bedroom and salon area) costs around 4000 NIS/month.
A two-bedroom apartment costs around 5000 NIS/month.
A room in a share-house (multiple bedroom apartment) costs around 2500 NIS/month.
Utilities are affordable, not cheap and not expensive. An average monthly utility bill (including electricity, water, refuse collection, Internet and cable television) for a small apartment could add up to around 725 NIS/month; though it's also normal to only receive bills every two months.
Cost of food and entertainment in Israel
The cost of food in Israel is reasonable if eating-in, but expensive if dining-out. Fresh fruits and vegetables are cheap, and as Israeli culture supports a bit of
happy haggling, there's often a bargain to be won. Dry goods and meats can end up a bit more on the expensive side, however.
On the other hand, going out for dinner or even indulging in a drink or two after work can quickly burn a hole in your pocket. Designer cocktails are obscenely priced and even entrance into the dingiest of clubs can run you a sweet shekel or two. Regardless though, hefty costs don't discourage anyone from enjoying themselves.
Similarly, tickets for the cinema, music concerts or other avenues of entertainment are also expensive.
Cost of transport in Israel
Owning a car in Israel is extremely expensive. Government does offer new expats who choose to buy a car benefits, but then there are stipulations relating to the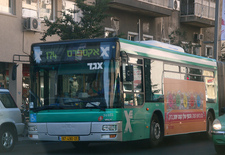 number of years the car must be owned and the number of people who can drive the car. Petrol is becoming prohibitively expensive, and it's necessary to pay approximately 90 percent tax on a vehicle.
Most locals and expats opt to use public transport, which primarily consists of reliable trains and comfortable buses. Fares vary depending on distance and the route travelled, but monthly passes can be purchased from around 220 NIS.
Taking individual inter-city taxis can be expensive. Fares begin at 11 NIS and usually average 3 NIS per kilometre. Rates increase in the evenings, starting at 9 pm. These are a good option if going from point A to point B in a large group.