The best places to live in Miami
The Magic City, as it's known to many, can be roughly divided into the North, West and South sections, as well as the eastern Downtown district that functions as the heart of the city, hugging the Atlantic Coast.
New arrivals will be able to choose from a diverse range of neighbourhoods in Miami. Whether they want to live in vibrant Latino communities or in the glitzy atmosphere of South Beach, there is bound to be something to suit their preferences.
Property in some of the most popular areas of Miami is, however, in such high demand that it can sometimes be challenging to find a home that meets all of a house hunter's needs at a decent price. As a result, when looking for housing in Miami, it may be necessary to be somewhat flexible in terms of size and budget. Enlisting the help of a real estate agent will also ease much of the stress of finding accommodation. 
---
Luxury living in Miami

New arrivals will have no shortage of luxury options in Miami. That said, demand for real estate in certain popular areas or complexes can be so high that prospective tenants may find themselves on a waiting list for their dream home, regardless of how big their budget is.
Brickell
A cosmopolitan neighbourhood close to Miami's financial and commercial district, those living in Brickell tend to be affluent business executives who enjoy the convenience of being close to the office. The area is enhanced by the natural beauty of Biscayne Bay, and also boasts some of Miami's best fine-dining spots and eclectic boutique shops. 
The area offers expats the best in city living and is well serviced by the city's public transport system. Accommodation options tend to be mostly high-rise condominiums or penthouses and, as can be expected, rent in Brickell doesn't come cheap. Apartments in some of the more sought-after complexes in Brickell are often hard to come by, so prospective tenants might need to put their name on a waiting list.
South Beach
South Beach used to be associated with retired citizens and starving artists, but in recent years this part of Miami has undergone a massive transformation. It's now not only a popular spot for holidaymakers but also home to some of the city's most affluent residents. Full of glamorous bars, clubs and shops, it would be difficult to get bored in this lively neighbourhood.
South Beach is one of the few areas of the city where most residents opt not to have a car. The neighbourhood is well served by the Miami public transport network and while there is no Metrorail service, there are frequent bus services and taxis are readily available.
Bal Harbour
Technically a standalone village on the northern tip of Miami Beach, Bal Harbour is the epitome of luxury living and provides a wide selection of ultramodern apartment complexes. Expats moving to Bal Harbour will find it easy to settle in as it's home to a large international community which provides a friendly atmosphere. It's also one of the safest areas in Miami.
Those living in Bal Harbour will find themselves close to some of the city's top designer boutiques, gourmet restaurants and trendy bars. The area is also close to the beach and, for those who don't want to walk, there are a good number of bus services operating in this part of Miami.
As one would expect, accommodation in Bal Harbour is expensive and often hard to come by.
---
Family-friendly neighbourhoods in Miami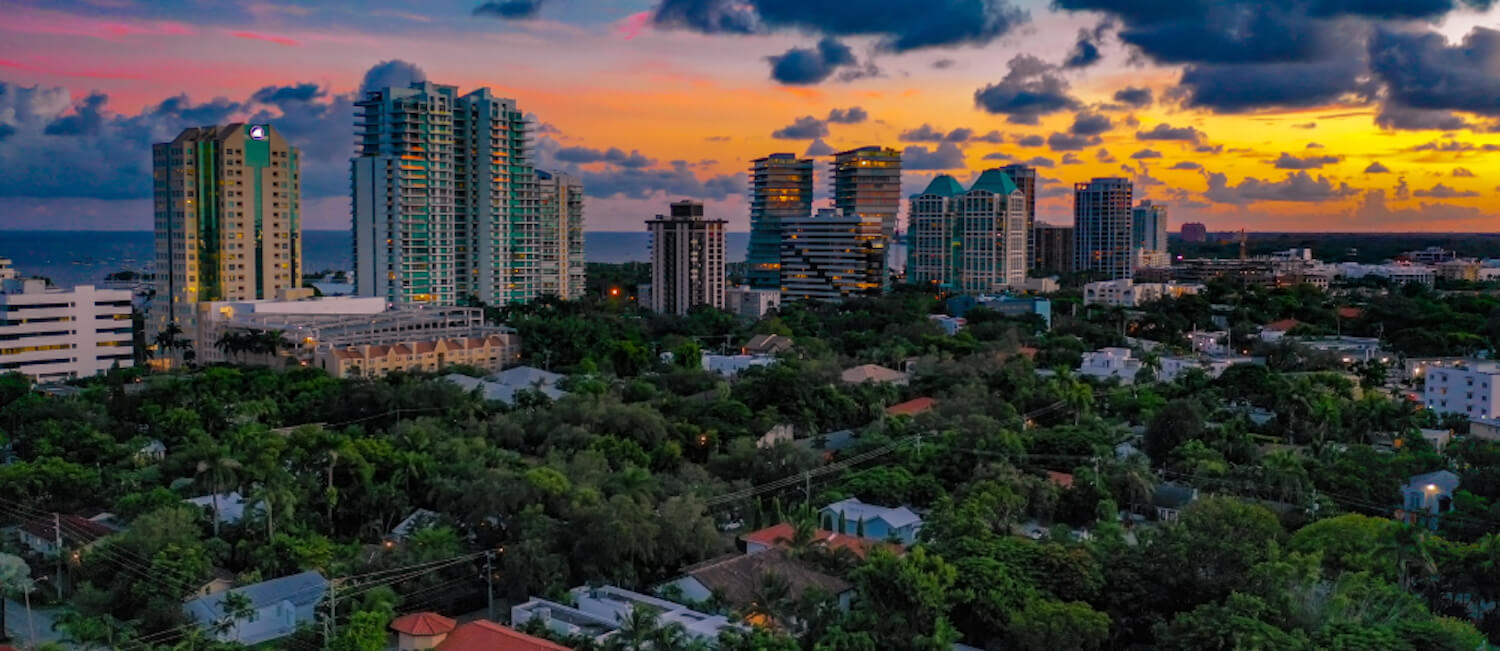 For newcomers with children, finding a home close to the best schools in Miami will be a priority, and those looking for a spacious family home will find better options further away from the city centre.
Coral Gables and Coconut Grove
Coconut Grove and Coral Gables are two of the most historic suburbs in Miami. These neighbouring areas are popular among families because they are located in close proximity to a number of good schools. They are also well served by Metrorail and bus services.
Coconut Grove has a strong community feel and is more residential and peaceful than areas such as South Beach. There is a bustling cultural scene in Coconut Grove, which is home to a wealth of artists and writers, as well as one of Miami's most famous theatres, the Coconut Grove Playhouse. 
Officially a city in its own right, Coral Gables has a number of gated complexes located in picturesque settings, surrounded by trees, open green spaces and canals. Known as the City Beautiful, there are lots of laid-back bars and good eateries in the area, and it is also home to the University of Miami.
---
Young and hip areas in Miami

Though much of the property market in Miami is geared to those with larger budgets looking for luxury accommodation, it's still possible to find apartments with rentals that won't break the bank in some of the city's up-and-coming districts.
Little Havana
Rental prices in Little Havana are far more reasonable than one might find elsewhere in the city. One of the best suburbs in Miami for those on a tight budget, or who just want something a little different, it's identified by many as the city's foremost up-and-coming area.
Traditionally home to immigrants from Cuba, the area has become somewhat more diverse in recent years and accommodates residents from Puerto Rico, Colombia and Guatemala, giving the area a truly Latin American atmosphere. Over the past few years, there has also been an influx of students and artists into the area, bringing with them a growing number of bohemian bars, cafés and restaurants. Comprehensive bus services connect Little Havana to Miami's city centre and neighbouring suburbs.
---
Further reading
►Accommodation in Miami provides a general overview for those looking to move to the city.
Photo credits: Brickell by Ryan Parker; Coconut Grove by Adrian Diaz-Sieckel; Little Havana by Kian Lem. All sourced from Unsplash.
Expat Interviews

"Choosing where you live should depend on where you are going to work and if you have children, where they will be going to school. Commute times can be long so it really all depends." Read more about Emmanuelle's thoughts on living in Miami.
Are you an expat living in Miami?
Expat Arrivals is looking for locals to contribute to this guide, and answer forum questions from others planning their move to Miami. Please contact us if you'd like to contribute.
Expat Health Insurance
Cigna Global Health Insurance

With Cigna, you won't have to rely on foreign public health care systems, which may not meet your needs. Cigna allows you to speak to a doctor on demand, for consultations or instant advice, wherever you are in the world. They also offer full cancer care across all levels of cover, and settle the cost of treatments directly with the provider. Cigna is currently offering a 10% discount for seniors (over 60) on their Silver package.
Moving Companies
Moving Internationally?

Sirelo has a network of more than 500 international removal companies that can move your furniture and possessions to your new home. By filling in a form, you'll get up to 5 quotes from recommended movers. This service is free of charge and will help you select an international moving company that suits your needs and budget.

Get your free no-obligation quotes from select removal companies now!