Accommodation in Singapore
---
area
in which one rents and the size of the rental. Additionally, proximity to schools and public transport can also affect costs.
Expats may be surprised to find that the housing market in Singapore can be divided into public and private sectors, and the majority of locals and Asian expats opt for the public (HDB) accommodation.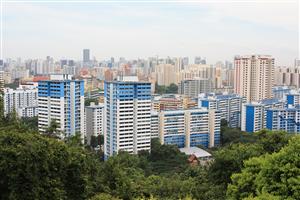 Contrary to the marred notions of government-owned housing in many countries, public units in Singapore are actually not associated with lower income groups and even provide luxury options. Most of the complexes are situated in self-contained neighbourhoods that afford easy access to public transit, shopping centres and other convenient amenities. Expats are eligible to rent HDB accommodation, but there are a limited number available and the ambience may fall below certain expectations.
Many foreigners, especially high-earning Westerners, often prefer to rent a private apartment, condominium or bungalow. While companies still offer lucrative employment packages that cover rental costs, some may not, and given the increasing price of Singapore accommodation, it's important to ensure one's salary is high enough to afford the preferred housing. Keep in mind that rental rates in the suburbs are considerably cheaper.
So, where to live in Singapore? Like every other city in the world, it's location, location, location, but in this city-state, new arrivals have plenty of options.
Types of accommodation in Singapore
Singapore has a reputation of replacing buildings around 10 years of age with newer, modern marble and glass facilities. If fancying an older unit with more character, expats will have to look far and wide.
Both furnished and unfurnished accommodation is available in Singapore, so decide whether it's truly necessary to ship goods from home.
Condominiums: The majority of expats call condominiums, or apartments, home. Most complexes offer basic facilities, while others offer the full suite: pool, gym, BBQ pits, tennis and squash courts, playground and 24-hour security (not essential given Singapore's emphasis on safety).
Semi-detached: Typically much larger than the apartments on offer and usually in a small residential cluster.
Bungalows: Hard to come by and pricey, but most come with grounds unrivalled by other residential space in Singapore. The Bukit Timah area is a good place to start the search.
Shophouse: Stunning historical homes, some of which have received multi-million dollar renovations. Shophouses are clustered around the city, and the Emerald Hill area near Orchard Road is a display of impressive proportions. If a shophouse has not undergone renovation, one can expect no air-conditioning and aged toilet facilities. Note that 'Peranakan-style' is code for unrenovated.
Black and whites: The ultimate in tropical living. These homes were traditionally built for the British officers and are now occupied by expats or wealthy Singaporeans that have made it through the secretive bidding process one must go through to secure a home.
Finding accommodation in Singapore
In Singapore, agents are an essential part of the property hunt. A good agent is a prized possession, and the best way to go about finding one upon arrival is to ask for recommendations from fellow expats.
For many, the search for a property comes every two years, as rents often increase at renewal. Most landlords are foreign owners from Indonesia or Malaysia, so expat tenants may never meet anyone other than their agent.
It's necessary to bargain hard. Those that have a corporate lease, where the company signs and pays for the rental, have more negotiating power than they may expect. Most landlords know expats get relocated in and out of Singapore with alarming regularity, so the guarantee of continued rental income with the company's name on the lease is a much sought-after deal. The agent will impress this fact whether the tenant is aware of it or not.
To secure accommodation in Singapore it may be necessary to make a good faith deposit, usually about one month's rent, while agreements are finalised. Make this payment in cheque form with a one-week expiration date, in case the agreement doesn't end successfully. This amount is later deducted from the security deposit, usually one month's rent, or the first month of advance rental payment. Leases are usually signed for one or two years in Singapore, and utilities are almost always for an expat's own account.
In Singapore, the hunt for a home will often define where the majority of one's time is spent, so it is important to get to know the local area before signing the papers to call it home.