Lifestyle in Singapore
---
While it's certainly possible to live a luxurious lifestyle in Singapore, especially if one has been lured abroad on a cushy expat package, many foreigners do not. And while the day-to-day costs of living in the Little Red Dot can get expensive, the lack of a top-tier
salary
doesn't mean one can't enjoy themselves or attain a high quality of life in Singapore.
There's something for everyone (and every budget) when it comes to having a good time in Singapore, and expats moving to the city-state will have no problem filling their schedules with things to do outside of school or work.
Conspicuous consumption, most obviously in the form of shopping and eating, is a Singapore norm, and features firmly in both local and expat lifestyles. Prepare to engage in both popular past times, and with plenty of places to partake in either activity, new arrivals won't fret for lack of choice.

Otherwise, much time is devoted to the pursuit of life outdoors, despite the heat; parks and trails are packed on weekends and afternoons with people riding bikes, jogging and enjoying the weather.

Do keep in mind though that Singapore is very much a "work hard, play hard" culture, in every sense of the expression. So while the lifestyle can feel indulgent at times, it's likely to be hard-earned.
Shopping in Singapore
Both locals and expats in Singapore love to shop, and there is no shortage of aisles to cruise in the city-state. Orchard Road
and The Shoppes at Marina Bay Sands are known for the more expensive designer stores, such as Chanel and Prada. On the opposite end of the spectrum, there's Bugis Street, an indoor street market full of affordable trinkets and clothing. Everything in between can be found inside one of Singapore's many malls.
It should be noted that most of the Western stores in Singapore have marked up prices to, sometimes, double what one would find in the US or the UK. Every year, stores take part in the Great Singapore Sale around May through July. The discounts offered aren't that impressive, but often this is the only time during the year that a store will slash its prices.
Aside from shopping options, malls in Singapore include arcades, movie theatres, restaurants, bars, salons, and even pet parks and an ice skating rink.
Nightlife in Singapore

Even with the high price of alcohol in Singapore, the bar and club scene here is impressive, and is often a stock standard part of the expat lifestyle. People sometimes start their night as early as directly after work, a prime time to take advantage of happy hour prices. Watering holes along Clarke Quay are often loud and popular with tourists, while bars in the city centre cater to the after-work crowd. Some of these bars will have live music for entertainment. For a more scenic night out, head to any of the bars sprinkled around the Marina or to one of Singapore's rooftop bars.

Eating out in Singapore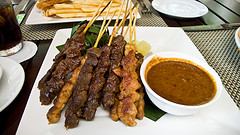 Food is a big part of Singaporean culture, and there is no shortage of restaurants and food stalls to choose from. From a bowl of noodles at a hawker centre to a tasting menu at a celebrity restaurant, diners can find just about every type of cuisine and eatery in Singapore.
Restaurant reviews and recommendations are easy to come by, and magazines, such as TimeOut SG and I-S, are good places to start when looking for the latest hotspots and trends within the culinary scene. Local food bloggers can be helpful resources too.

Regional travel from Singapore

Escaping Singapore for some rest and relaxation can be quick and affordable, and can be a lifestyle feature that most expats aren't used to integrating into their schedule so easily.

Opportunities to visit other destinations can become especially important in light of the "The Singapore Squeeze", a phenomenon where expat life on the small island can start to feel somewhat claustrophobic.

One way to find out about last-minute travel deals is by subscribing to local online deal sites, such as Groupon SG or Deal.com.sg. Singapore also hosts a few travel fairs each year which provide ideas for planning a trip. However, planning a weekend getaway just on recommendations from fellow expats and Singaporeans alone is also easy.

Family lifestyle in Singapore

Expat families living in Singapore will likely have a slightly different lifestyle than the care-free singles or career-driven couples. That said, there is no shortage of kid-friendly activities in Singapore to keep everyone occupied, and the overwhelming amount of greenery, such as playgrounds and parks, makes for easy and affordable entertainment.
There's the Singapore Zoo, Night Safari and Jurong Bird Park for starters. Universal Studios Sentosa is another great place to take the kids for the day. The Singapore Botanical Gardens are a great place for a picnic (pets are welcome, too). For some social interaction, sign the kids up with a playgroup or a sports team. Check the neighbourhood's community centre for activities in the local area.