The best places to live in Oslo
In Norway, where one lives is especially significant to other Norwegians. Although they won't judge a person by their income or profession, the area of Oslo where one lives is used as a kind of gauge to determine social status.
The Akerselva River splits Oslo into the western and eastern districts. Officially, the city is divided into 15 boroughs or municipalities, which are largely self governed. Each is responsible for its own clinics, kindergartens and other public services.
The west is where established Norwegian families, the wealthy and most expats live, especially diplomats. Neighbourhoods in the west include Marienlyst, Majorstuen, Frogner, Bygdøy, Torshov, Ullevål-Hageby, Sankt Hanshaugen, Vinderen and Kjelsås. In the east are trendy, colourful and diverse neighbourhoods such as Grønland, Grunerløkka, Tøyen, Tveita, Grorud, Stovner, Hellerud, Nordstrand, Sagene and Ekeberg.
An expat's lifestyle and status will influence their choice of accommodation in Oslo. For young and single expats, Majorstuen, Grønland or Grunerløkka might be good choices as they are all relatively central. For families, Frogner in the centre or the suburbs are suitable for accommodation with more space. Those moving to Oslo for work should find out where their colleagues live. The school an expat plans to send their children to will also determine their choices.
---
Suburbs in West Oslo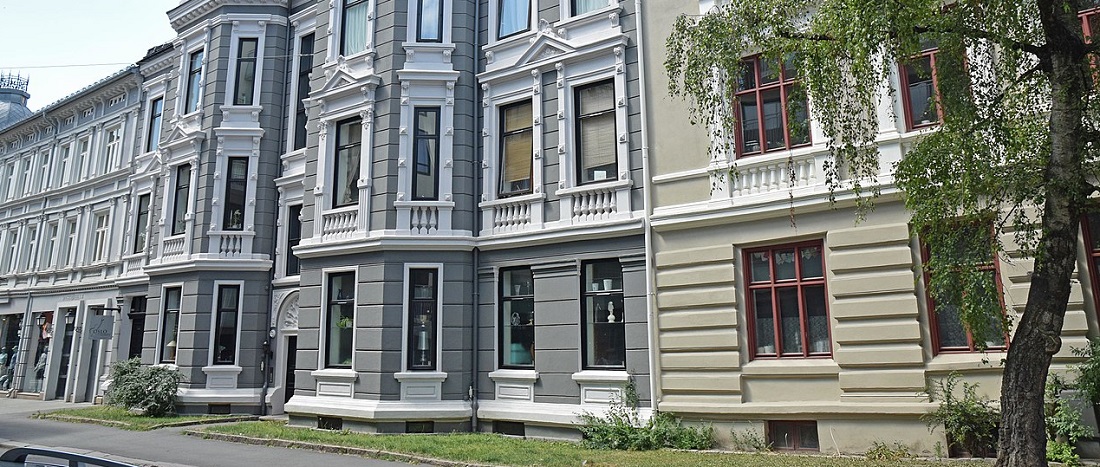 Majorstuen, behind the Royal Palace in the city centre, is an established neighbourhood with many brand-name stores and exclusive nightlife spots.
Frogner and Briskeby, further west of Majorstuen, are among the most affluent areas in the city and feature luxury apartment blocks, art galleries, interior design stores and several good restaurants. Nearby, Sankt Hanshaugen has a younger crowd as the College of Oslo is based there, with numerous small cafés and pubs.
Bygdøy is a peninsula to the southwest of the city centre with leafy, spacious properties. It is considered the most affluent area in Oslo. The area features good museums as well as beaches and parks for nature enthusiasts.
To the far north of the city and into the hills lies Holmenkollen, Oslo's famous ski jump and one of the city's most exclusive neighbourhoods with views of the fjord.
---
Suburbs in East Oslo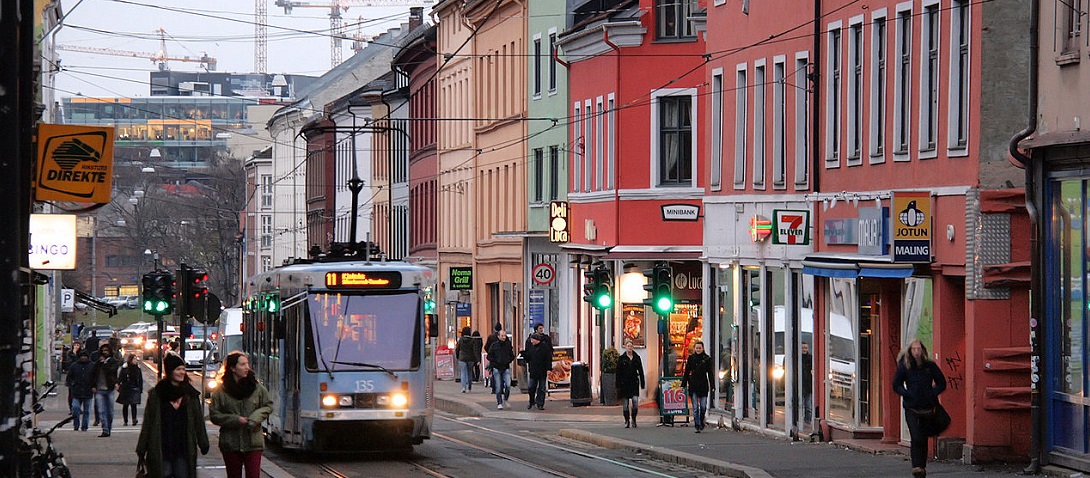 Grunerløkka, a former working-class suburb, lies to the east of the river, near the historical industrial district. It is a trendy area with numerous cafés, coffee shops and bars as well as small boutiques, independent design and jewellery stores, and vintage shops.
Torshov, just north of Grunerløkka, is close enough to the restaurants and bars in that area while remaining a quiet, leafy suburb with large parks. Soria Moria and Trikkestallen are also here, both considered cultural centres of Oslo.
Grønland, Tøyen and Kampen are historical areas full of traditional wooden houses, old pubs and medieval buildings next to cheap markets, textile stores and hole-in-the-wall eateries.
---
Areas and suburbs  on the outskirts of Oslo
Moving further afield, one finds areas such as Bærum, Lysaker, Snarøya, Høvik, Sandvika and Bekkestua, all of which are popular with expats. Expats might also consider living on one of the many islands in the Oslo fjord that is inhabitable all year. Another alternative is Nesodden, a large peninsula in the Oslo fjord that can be reached by a fast and convenient ferry.
---
Expat Experiences

"I think I'm biased, but I love Kolbotn for families with kids. I also have friends in Lier, on the other side of the Oslo fjord, and they seem to have a wonderful area for families with kids, too.  I can say that I'm partial to big cities, so I have always dreamed of living in Oslo.  We have friends in Pilestredet Park, Frogner, and Bislett, all of whom have young kids and seem very happy." 

Find out more about the expat experience in Oslo in our interview with American expat Laura. 
Further reading
►Accommodation in Oslo provides a general overview of the city's property market
Image credits: Majorstuen - Helge Høifødt; Grünerløkka - Jorge Franganillo
Are you an expat living in Oslo?
Expat Arrivals is looking for locals to contribute to this guide, and answer forum questions from others planning their move to Oslo. Please contact us if you'd like to contribute.
Expat Health Insurance
Cigna Global Health Insurance - 10% off any plans bought in November and December 2023

With Cigna, you won't have to rely on foreign public health care systems, which may not meet your needs. Cigna allows you to speak to a doctor on demand, for consultations or instant advice, wherever you are in the world. They also offer full cancer care across all levels of cover, and settle the cost of treatments directly with the provider. Cigna is currently offering a 10% discount for seniors (over 60) on their Silver package.
Moving Internationally?
International Movers. Get Quotes. Compare Prices.

Sirelo has a network of more than 500 international removal companies that can move your furniture and possessions to your new home. By filling in a form, you'll get up to 5 quotes from recommended movers. This service is free of charge and will help you select an international moving company that suits your needs and budget.

Get your free no-obligation quotes from select removal companies now!