Getting around in Philadelphia is usually straightforward, as most of the city adheres to a grid plan. Philadelphia has one of the best public transport networks in the USA, and even on the busiest commutes, the city's historic, leafy atmosphere provides a beautifully distracting backdrop. New arrivals can look forward to a comprehensive railway system, inner-city subways and buses administered by the Southeastern Pennsylvania Transportation Authority (SEPTA).
---
Public transport in Philadelphia
Philadelphia's public transport, mainly operated by SEPTA, has garnered multiple awards for its efficiency and environmental efforts. The network is integrated, using a smart fare system called the SEPTA Key.
This can be loaded with credit online and can be used across most forms of transport in the city. While weekly or monthly passes can be loaded onto the Key, one can also pay fares with cash. New arrivals should note that this method requires exact change and tends to be costlier.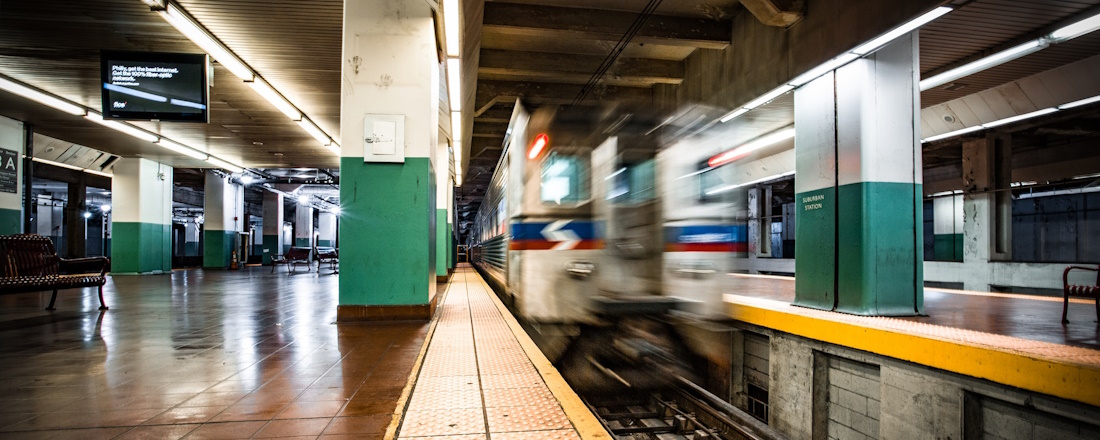 Trains
Philadelphia's rail network is of a high standard and is a part of the Northeast Corridor, one of the busiest rail corridors in the USA, connecting major cities in the Northeast. The city's primary train station, the 30th Street Station in Center City, links to all significant SEPTA rail, subway, and trolley (tram) routes, operating mainly from 5.30am to midnight daily.
Additionally, it acts as a crucial hub for Amtrak, facilitating travel to cities like Boston, New York and Washington, DC. Train routes and rates are available at stations and on the SEPTA website. The Port Authority Transit Corporation (PATCO) also operates a line between New Jersey and Center City.
Subway
Philadelphia's subway system consists of two main lines. The Broad Street Line, also known as the Orange Line, operates entirely underground, running north-south. In contrast, the partly elevated Market–Frankford Line, referred to as the Blue Line or 'the El', runs east-west. This line, especially, serves the Philadelphia Sports Complex area, becoming a popular route for sports enthusiasts. While the subway operates from 5am to 1am daily, some routes function 24 hours on Fridays and Saturdays.
Buses
Buses in Philadelphia are convenient, with more than 120 routes spanning city neighbourhoods and southeastern Pennsylvania. SEPTA buses even offer free Wi-Fi for passengers. Some buses run 24 hours a day along SEPTA's Night Owl bus routes.
Trolleys
Philadelphia's trolley system has historical roots dating back to 1923 but is also equipped with modern amenities. While trams used to be a predominant mode of transport, eight lines remain, mainly servicing the city centre and its primary attractions and popular neighbourhoods.
Useful links
---
Taxis in Philadelphia
Hailing a cab in Philadelphia is straightforward. While classic yellow cabs exist, others are branded according to their company. Some merely feature a light on the roof.
Taxis can be hailed from various locations, but booking online or via phone tends to be the most reliable method. Moreover, ride-hailing apps such as Uber and Lyft operate extensively in Philadelphia.
Useful links
---
Driving in Philadelphia
Owning a car in Philadelphia isn't essential. Those residing closer to Center City are less likely to have one due to efficient public transport and scarce, expensive parking. Philadelphia's streets experience notable traffic during rush hours.
Under Pennsylvania state law, newcomers with a valid foreign driving licence are permitted to drive for up to one year, provided their licence remains current. After this period, they'll need to obtain a Pennsylvania driving licence.
Certain countries have reciprocity agreements with Pennsylvania, allowing expats to exchange their foreign licences without undergoing a local driving test. Those from non-reciprocal nations will likely need to take both written and practical examinations to secure their Pennsylvania driving licence. It's worth noting that if a foreign driving licence isn't in English, having an International Driving Permit (IDP) is highly recommended to accompany the original when driving.
See Transport and Driving in the USA for more information.
---
Cycling in Philadelphia
Philadelphia is a remarkably bike-friendly city. Hundreds of miles of dedicated bike lanes exist, complemented by a bike-sharing system, Indego. This programme is still expanding and will soon feature 350 stations around the city with over 3,500 bikes.
Cycling is prevalent as both a pastime and a commuting mode in the city, supported by Philadelphia's 'Complete Streets' policy, ensuring roads are safe and convenient for all travel methods.
Useful links
---
Walking in Philadelphia
Philadelphia ranks among the USA's most walkable cities, this is especially true for Center City, owing to its grid layout. Those exploring this area will encounter numerous quirky 'Walk! Philadelphia' signs guiding their way. The city's abundance of parks also offers ample leafy spots for relaxation.
---
Further reading
►Learn more about travelling around the country in Transport and Driving in the USA
Photo credits: Train entering station by Chris Henry (chrishenryphoto). Sourced from Unsplash.
Are you an expat living in Philadelphia?
Expat Arrivals is looking for locals to contribute to this guide, and answer forum questions from others planning their move to Philadelphia. Please contact us if you'd like to contribute.
Expat Health Insurance
Cigna Global Health Insurance

With Cigna, you won't have to rely on foreign public health care systems, which may not meet your needs. Cigna allows you to speak to a doctor on demand, for consultations or instant advice, wherever you are in the world. They also offer full cancer care across all levels of cover, and settle the cost of treatments directly with the provider. Cigna is currently offering a 10% discount for seniors (over 60) on their Silver package.
Moving Companies
Moving Internationally?

Sirelo has a network of more than 500 international removal companies that can move your furniture and possessions to your new home. By filling in a form, you'll get up to 5 quotes from recommended movers. This service is free of charge and will help you select an international moving company that suits your needs and budget.

Get your free no-obligation quotes from select removal companies now!