This guide was written prior to Russia's 2022 invasion of Ukraine and is therefore not reflective of the current situation. Travel to Russia is currently not advisable due to the area's volatile political situation.
---
The best places to live in Moscow
Moscow has neighbourhoods to suit all lifestyles and preferences, each with its own quirks and conveniences. From outlying areas filled with quiet gated communities perfect for raising a family to trendy city-centre spots for young professionals with busy social schedules, there's something for everyone. 
The Russian capital is arranged around the Kremlin, with four major roads that encircling it. The different areas and suburbs of Moscow are distinguished according to their relative location to the major ring roads.
These four ring roads are the Boulevard Ring, the Garden Ring, the Third Ring, and the Moscow Automobile Ring Road. All areas between the Kremlin and the Garden Ring Road are deemed to be in 'the centre' of Moscow. Accommodation prices in these areas tend to be higher than anywhere else. Beyond the Garden Ring are the outer areas of Moscow.
Here are some worthwhile neighbourhoods for expats to consider. 
---
Boulevard Ring

Patriarshiye Prudy
Patriarshiye Prudy is a calm and quiet residential neighbourhood close to the centre of Moscow. It's expensive but popular with both expats and locals. It's conveniently located close to metro stations and offers direct access to the main city traffic routes. A beautiful city park with a pond is the focal point. Plenty of restaurants, theatres, embassies and museums are in the vicinity.
Tverskoy District
The most central and lively of Moscow's expat residential areas, Tverskoy District is centred around Tverskaya Street, which connects the Red Square and the Kremlin to the far north of the city. This area is convenient as it's close to all transport routes and attractions, but it can get noisy. Some of its sidestreets, such as Kamergersky Lane, boast beautiful housing in quieter, more charming areas.
---
Garden Ring
Arbat District
Arbat is centrally located and is widely considered to be the most attractive and architecturally beautiful area of Moscow. There is a lot to see and do in Arbat. The area is located next to the golden dome of the Christ the Saviour Cathedral and is dotted with Art Nouveau buildings and trendy modern residences. This is a premium area popular among expat executives and is consequently extremely expensive.
Zamoskvorechye District
Zamoskvorechye, home of the Tretyakov Gallery, is an area known for its central location and attractive two- and three-storey buildings. The main roads of Pyatnitskaya and Ordynka are busy, but the quieter offshoots are more congenial. The area has a lively nightlife with plenty of cafés, cinemas, boutique bars and coffee shops.
---
Third Ring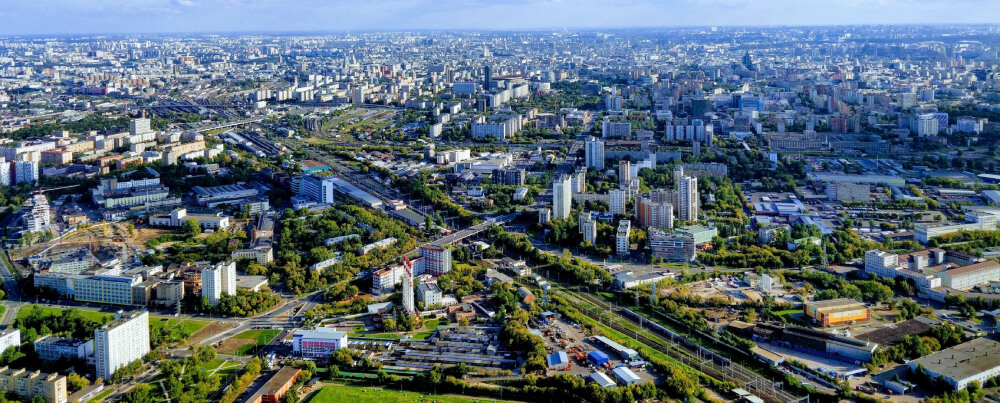 Presnensky District
Situated just outside of the Garden Ring in the northwest of the city, is the Presnensky District. Accommodation here is good value for money and, as a result, has become home to many expats. The Moscow Zoo and the Embassy of the United States are also located here, and access to public transport is nearby.  
Khamovniki District
Centered around the Frunzenskaya Embankment, the Khamovniki District has lots of greenery and a park-like feel to it. The area is hemmed in by the Moscow River and overlooks Gorky Park. It is most popular among families with children, but apartments in the area tend to be small and are expensive.
Tagansky District
Positioned to the east of the Garden Ring, this old Moscow area was originally encircled by monasteries. Today the area is home to many businesses and a lively nightlife district. The accommodation in Tagansky Area is good value for money, but it can be noisy in the evenings.
---
Beyond the Third Ring

Leningradsky Prospekt
Leningradsky Prospekt is a busy avenue that runs up from Tverskaya Street. Parts of it have long been associated with artists and bohemians. The 'Artist's Village' still exists, and is a popular choice for expats who prefer a quirky, eccentric neighbourhood feel. The only drawback is the relatively long commute to the city centre during rush hour.
Pokrovsky Hills
Here in Pokrovsky Hills, expats will find one of the well-known gated communities and secure compounds in Moscow. This type of accommodation is popular among expat families in Moscow. It is situated northwest of the city and is conveniently located near the Anglo-American School of Moscow for expats with school-aged children.
---
Further reading
►For more on finding the perfect home in Moscow, see Accommodation in Moscow.
Expat Interviews

"If you want to be inside the hustle and the bustle of the city, experiencing the best it can offer, then I recommend staying somewhere around the metro ring, inside or close outside. This way you'll enjoy the best of what Moscow has to offer in terms of entertainment." Read some tips on areas and suburbs in Moscow in Yulia's interview, where she shares a global nomad from Russia's perspective of life in the city.

"Anywhere within the Garden Ring is generally fine. Frunzenskaya, Chistye Prudy, Patriach's Ponds are the favourites." Read more on recommendations for accommodation and where to live in Moscow in British expat Stephen's interview.
Photo credits: The Boulevard Ring by Michael Parulav. The Garden Ring by Artem Beliaikin. The Third Ring Road by Michael Green. Beyond the Third Ring Road by Alexander Smagin. All sourced from Unsplash. 
Are you an expat living in Moscow?
Expat Arrivals is looking for locals to contribute to this guide, and answer forum questions from others planning their move to Moscow. Please contact us if you'd like to contribute.
Expat Health Insurance
Cigna Global Health Insurance - 10% off any plans bought in November and December 2023

With Cigna, you won't have to rely on foreign public health care systems, which may not meet your needs. Cigna allows you to speak to a doctor on demand, for consultations or instant advice, wherever you are in the world. They also offer full cancer care across all levels of cover, and settle the cost of treatments directly with the provider. Cigna is currently offering a 10% discount for seniors (over 60) on their Silver package.
Moving Internationally?
International Movers. Get Quotes. Compare Prices.

Sirelo has a network of more than 500 international removal companies that can move your furniture and possessions to your new home. By filling in a form, you'll get up to 5 quotes from recommended movers. This service is free of charge and will help you select an international moving company that suits your needs and budget.

Get your free no-obligation quotes from select removal companies now!