After some time in a long-distance relationship with a Russian woman, Briton Stephen Matthews made the move to Moscow to be with his wife.

A few years down the line, he has settled into his job at an international law firm and has two children. Stephen shares a few insights into expat life in Moscow.
About Stephen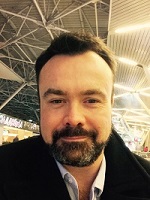 Q: Where are you originally from?
A:  The United Kingdom
 
Q: Where are you living now?
A:  Moscow, Russia
 
Q: When did you move here?
A:  2005 (I also lived here in 2000/01)
 
Q: Did you move here alone or with family?
A:  I was in a long-distance relationship with my now wife. We have two young children
 
Q: Why did you move?
A:  The honey and the money. I am a partner at an international law firm.
Living in Russia
Q: What do you enjoy most about Moscow?
A:  There is a newness to everything, both work and play.
 
Q: What do you miss most about home?
A:  Roast dinners (although I taught my Russian wife's grandmother to cook perfect roast potatoes).
 
Q: What are the biggest adjustments you had to make when settling into expat life in Russia?
A: That the western media's depiction of Moscow and Russia bore almost no relation to reality.  Situations are more often lacking in common sense than in the UK, but there is always a way through and you learn to go with the flow.
 
Q: What's the cost of living compared to home?
A:  Much higher but you take home more if you are in a parallel position to what you were in in UK, for example.  For those in professions, a career track can be accelerated which is the main compensation. Income tax is low (13% flat).
 
Q: How would you rate the public transport?
A: Very good.  The Metro is faultless − you rarely wait more than two minutes for a train.  Buses and trams are ok but less frequent. Ideally, you should have a car if you have a family. 
 
Q: How would you rate the healthcare in Moscow?
A: The standard is high, but health insurance is essential − both international and local cover tend to be adequate and similar for routine things.  There is a tendency for Russian doctors to be pessimistic when giving a diagnosis, so for anything serious, we always get a second opinion in UK.
 
Q: What are the biggest safety issues facing expats living in Russia?
A:  Roads if you drive. Think India crossed with Nigeria and a dash of Italy (supercars and other vehicles parked untidily on the pavement). Central Moscow roads are tightly policed (in a unique Russian way). Petty crime in downtown Moscow is low, but it's best to be a little vigilant about con tricks, though these are very rare too. Society can be uncomfortable for people who are not white, but overall Moscow is a distinctly multicultural and multi-ethnic place.
 
Q: How do you rate the standard of housing in Moscow?
A: Good but expensive. Compounds are an option but with some you'll spend your life commuting and will miss much of the Russian experience.  It is not remotely necessary to live in a compound for safety reasons. The rental market for flats is extortionate from the off and the market is brutal (basically be ready to pay your deposit on the spot if you find somewhere you like as it will be gone 30 minutes later). 
Real-estate agents will charge you one or two months' rent basically for nothing (they will say they are protecting you by checking title of the landlord and sorting out the contract but a Russian lawyer will do that for you at a fraction of the cost).  Websites like cian.ru are good bet if you speak Russian or you have a Russian-speaking friend to help you, ideally where you deal direct with landlords. Lots of Russians in Moscow own second apartments as rental properties.
 
Q: Any areas you'd recommend to expats?
A:  Anywhere within the Garden Ring is generally fine. Frunzenskaya, Chistye Prudy, Patriach's Ponds are the favourites.
Meeting people in Moscow
Q: How tolerant are the locals of foreigners?
A:  Generally so, particularly in the downtown area. There's some racism and a lot of homophobia. Russia has quite a sexist society but paradoxically professional Russian women advance well and have a lot of influence in Moscow. All main faiths generally welcomed or are at least treated in a benign way.

Q: Was it easy meeting people and making friends?
A: I met people through work, the expat community and friends of friends. Russians are very social.
 
Q: Have you made friends with locals or do you mix mainly with other expats?
A: 50/50 these days. The Facebook Moscow expat groups are good.
Working in Russia
Q: Did you have a problem getting a visa or work permit?
A:  No, my firm handles it. We have two people that do this stuff full time, which gives you a sense of the rigmarole involved. 
 
Q: What's the economic climate like in Moscow?
A: Currently the market is down because of the Ukraine crisis and general economic cycle. But we've been here before and always bounced back strong.
 
Q: How does the work culture differ from home?
A:  It's great if you are a linguist. If you aren't, just learn enough Russian to navigate the supermarket and you'll be fine. Simply learning the Cyrillic alphabet is a very useful start. Do your job quickly, effectively and reliably and your business partners will reward you. Russian business dealings can be quite emotional, so don't take that too seriously.
Family and children
 Q: Did your spouse have problems adjusting to their new home?
A:  No, she is Russian. But I wouldn't recommend trailing spouse to come here if they are a professional with any ambition and want career advancement. For a spouse who is just at leisure, it's fantastic.
 
Q: Did your children settle in easily?
A:  They are dual nationals, so the question doesn't really apply.
 
Q: What are the schools like?
A: For Russian speakers, Russian schools in Moscow are good but rigid in their approach (discourage creativity and encourage learning by rote). Expat schools vary.  The best is International School of Moscow and the Anglo American School (in that order).
The French school is also highly recommended. Some of the other expat focused schools allow the percentage of Russian children to be too high and this affects the rate of development of classes and also the quality of the teachers that teach there. For young ones, some of the small Montessori groups are excellent. Generally this stuff costs a lot of money and supply is constrained.
And finally…
Q: Is there any other advice you would like to offer new expat arrivals?
A:  Believe almost nothing you hear on the BBC about Russia. Truth is somewhere between that and Russia Today. Avoid expat compounds if you want to get the best out of Moscow. Keep eating Russian food till you like it (it comes).

~ Interviewed in November 2014