Polly Barks is an American expat living in Russia. She moved to Moscow in 2010 to work as an English teacher. Despite the traffic jams, cold weather and uninteresting food choices, she loves the experience of living in one of the world's largest cities and enjoys writing about her experiences.
Read more about expat life in Russia in the Expat Arrivals Russia country guide or read more expat experiences in Russia.
About you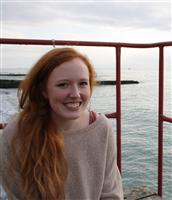 Q: Where are you originally from? 
A: A very small town in Virginia, USA.
Q: Where are you living now? 
A:  Moscow, Russia.
Q: When did you move to Russia? 
A:  August 2010.
Q: Did you move with a spouse/children? 
A:  No, I came all alone!
Q: Why did you move; what do you do? 
A:  I studied Russian and international relations in university so I knew I wanted my career focus to be on Russia/Eastern Europe. Not finding any relevant work in the US, I took a job teaching ESL in Moscow. I've been working as an English teacher at different private schools ever since. 
About Moscow
Q: What do you enjoy most about Moscow, how's the quality of life? 
A:  I love the experience of living in a big city. Growing up in a town of about 4,000 residents and attending a college with less than 1,500 students, it's wonderful to live somewhere where life goes on after 9pm. Your own personal excitement about that may vary. The quality of life in Moscow is not on par with similar cities in Europe or America, but expats can expect to earn (relative to Muscovites) a decent salary that will allow for a decent lifestyle.
Q: Any negatives? What do you miss most about home? 
A:  The big negative is, of course, the weather. It's cold. Be prepared for that. Other negatives for me are the general lack of customer service, traffic jams, and pretty unimaginative food choices. I miss having a more varied diet!
Q: Is Moscow safe? Are there any areas expats should avoid?
A: There is a stereotype that Moscow is quite unsafe – I disagree. As a young woman, I've felt comfortable walking home alone quite late at night; of course this may vary from area to area, but overall I think that Moscow is a lot safer than you might imagine.
Q: How would you rate the public transport in Moscow? What are the different options? Do you need to own a car? 
A: The public transport is excellent! The Moscow metro is efficient and cheap, and the bus/shared taxi/trolley systems are extensive. I would never encourage anyone to own a car in Moscow and in fact don't know of any expats who do. The excellent public transport, coupled with Moscow's notorious traffic jams, make owning a car totally unnecessary. 
Q: How would you rate the healthcare in Russia?
A:  Russian doctors are cheap, but can be unreliable. For any major health issues, I'd encourage people to go to private European clinics – much more expensive, but much more reliable.
About living in Moscow
Q: Which are the best places/suburbs in Moscow to live as an expat?
A:  I'd recommend, of course, living as close to the centre as possible! However, living anywhere on the metro line basically ensures that you can get anywhere in the city in about an hour. 
Q: How do you rate the standard of housing in Moscow?
A:  Unfortunately, the Moscow housing market is both expensive and underwhelming. The minimum price for a one-bedroom apartment runs at about 30,000 rubles/month (USD 1,000). Most apartments available for that price are old, Soviet-style. Expect cramped kitchens, ugly wallpaper, and a general run-down appearance. Remodelled apartments ("Evrostil") are less common and, of course, more expensive.
Q: What's the cost of living in Russia compared to home? What is cheap or expensive in particular?
A:  The cost of living compared to home varies. The expensive: housing, restaurants, clothing, and electronics. The cheap: transport and basic food items.
Q: What are the locals like; do you mix mainly with other expats?
A:  This really depends on the person, but I think most groups tend to be a mixed a lot with both Russians and expats. There are plenty of Russians who speak excellent English and will delight in having a new expat friend; conversely, most Russians are always excited to hear a foreigner speak Russian, no matter how bad your accent!
Q: Was it easy meeting people and making friends in Moscow?
A:  The expat community in Moscow, particularly of teachers and younger people, is quite close-knit. It seems everyone knows someone through a friend-of-a-friend. I found it quite easy to meet a lot of people very quickly. My advice? Go to a British pub on a Friday night – you'll very quickly find some English speakers.
About working in Moscow
Q: Did you have a problem getting a work visa/permit for Russia?
A:  No, aside from the tedious application process, it was easy to get a work visa. As long as you have a job pre-arranged, it should be no problem.
Q: What's the economic climate like in Moscow, is there plenty of work?
A: For expats, the market is definitely in your favour. Companies are always looking for English speakers, whether in a teaching capacity or otherwise.
Q: How does the work culture differ from home?
A:  I don't think it's significantly different, as many of the companies I work for are European. 
Q: Did a relocation company help you with your move? 
A:  No.
And finally…
Q: Is there any other advice you would like to offer new expat arrivals?
A:  You will never be prepared for your first winter. I came from Wisconsin, thinking I would have no problems. You will not be prepared. Expect for everyone to ask if you're a spy (particularly if you're an American!). And of course, always hold onto your sense of humour – it might be what keeps you sane.

~ Interviewed May 2013