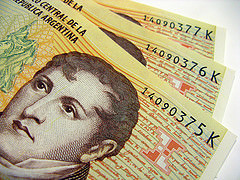 The cost of living in Buenos Aires is above average compared to most large cities. However, the Argentinian economy does have a tendency to fluctuate and inflation is very unstable.
 
Buenos Aires ranked 41st out of 207 cities in the 2016 Mercer Cost of Living Survey, placing it as more expensive than Sydney and Paris, but cheaper than London and New York City.
 
Cost of accommodation and utilities in Buenos Aires
Accommodation in Buenos Aires can be very expensive when compared to other cities. 
 
Expats should be aware that if they choose to rent in Argentina they will pay much more than what a local would. Expats will be required to provide a few months' rent in advance and will also need a guarantor. New arrivals can expect to budget about 20 percent of their income for accommodation. 
Electricity is relatively inexpensive and the government subsidises it by 40 percent. 
Transport costs in Buenos Aires
Argentina no longer has its own automobile industry, making cars very expensive in the country as import tax is 50 percent. Expats, however, will find that there are good quality second-hand cars available. 
 
Buenos Aires also has an extensive and affordable public transport system that offers a good way to travel around the city.
Cost of schooling in Buenos Aires
Public education in Buenos Aires is inexpensive compared to other large cities. However, international schools, the option most expats choose, can be very expensive.
Cost of food and clothing in Buenos Aires
The price of supermarket food in Buenos Aires is comparable to the UK, although many items (for example, meat) are less expensive. The one thing expats won't find in Buenos Aires is many 'two for one' deals or specials in the supermarkets. 
Clothing is very expensive in Buenos Aires, as are electronics, appliances and furniture. 
 
Cost of health insurance in Buenos Aires
Many expats find health insurance in Argentina to be inexpensive. General healthcare costs for things like visits to the doctor, hospital stays and non-prescription medicines are very low. 
Food and clothing costs in Argentina
Supermarket prices for certain items are the same as in the UK and in many cases higher, as it is rare to find the sort of economy of scale deals that one would get in Europe and the States – the 'two for the price of one' type offers. If you have the time to shop around, particularly for fruit and vegetables, which are much cheaper from the roadside stalls, you can bring your grocery bill down; but this can be time-consuming and expats tend to follow the 'one shop a week' pattern rather than the daily food shop that the locals are used to.
Clothes are cheaper in Buenos Aires, but note that there is much more of a variety in the city than in the rural areas to the west of the capital.
Cost of living in Buenos Aires chart
Prices may vary depending on location and service provider. The table below is based on average prices for September 2016.  
Accommodation
Furnished two-bedroom house
ARS 45,000
Unfurnished two-bedroom house
ARS 25,000
Furnished two-bedroom apartment
ARS 15,000
Unfurnished two-bedroom apartment
ARS 9,500

Shopping

Milk (1 litre)
ARS 16
Dozen eggs
ARS 29
Loaf of white bread
ARS 26
Chicken breasts (1kg)
ARS 94
Pack of cigarettes (Marlboro)
ARS 31
Eating out
Big Mac Meal
ARS 110
Coca-Cola (500ml)
ARS 21
Cappuccino
ARS 40
Bottle of local beer 
ARS 38
Three-course meal at mid-range restaurant 
ARS 560
Utilities/Household
Mobile call rate (per minute – mobile to mobile)
ARS 5.11
Internet (Uncapped ADSL or Cable – average per month)
ARS 540
Utilities (water, elec, gas - average per month for standard household)
ARS 1,600
Hourly rate for a domestic cleaner
ARS 56
Transportation 
Taxi rate/km
ARS 20.92
City centre public transport fare
ARS 5.91
Petrol (per litre)
ARS 16.90
Are you an expat living in Buenos Aires?
Expat Arrivals is looking for locals to contribute to this guide, and answer forum questions from others planning their move to Buenos Aires. Please contact us if you'd like to contribute.
Expat Health Insurance
Cigna Global

If you're thinking about taking out private health insurance, our trusted partner Cigna Global is very aware of all the difficulties that expats can face when it comes to healthcare in a new location, so they have created a range of international health insurance plans specifically designed for expats, which you can tailor exactly to the needs and ensure access to quality care for you and your family.
Moving Companies
Moving Internationally?

Sirelo has a network of more than 500 international removal companies that can move your furniture and possessions to your new home. By filling in a form, you'll get up to 5 quotes from recommended movers. This service is free of charge and will help you select an international moving company that suits your needs and budget.