Taiwan is a compact island with first-rate transportation. Whether choosing to travel by bus, train, air or high-speed rail, expats can access the best that the island has to offer without much effort and in a short amount of time.
Taiwan's northeast coast is packed with cosy places to stay, dramatic ocean-side vistas and unique activities. Each town has something different to offer and a chance to soak up some local culture while trying out delicious food. All are accessible by train, bus, or car in just about an hour from Taipei. 
---
Villages close to Taipei
Pingxi
Home of the annual Sky Lantern Festival where thousands of paper lanterns float into the night sky. The Sky Lantern Festival occurs just after Chinese New Year for about two weeks. During the weekend evenings, this sleepy town turns into a thriving night market with one-of-a-kind handcrafts.
Yehliu
Located outside of Wanli, photographers will be delighted at the photo opportunities that await them in Yehliu. Curious geologic formations known as hoodoos can be viewed at Yehliu Geopark. A number of the formations have been given poetic names such as "Fairy's Shoe", "The Queen's Head" and "The Bee Hive". The cape provides a windy, cool place to visit in the summer months to beat the heat. The easiest means of getting there is to rent a car or to hire a taxi when in the vicinity.
Houtong
Taiwan's famous "cat village" is home to hundreds of stray tabbies, calicos, and many others. Felines of all shapes, sizes and colours can be seen walking on the roofs, playing in the alleys, or napping on warm paving stones. Houtong has become a weekend destination for cat lovers and couples looking for a fun day trip just outside of the capital.
Jiufen
This mountainside hamlet is home to a traditional old street market and is a favourite with locals and expats for a weekend excursion. Try some local delicacies or fresh seafood along the long row of shops. Hand-worked leather goods, original artwork, and countless other treasures are just waiting to be scooped up by savvy shoppers. Of course, Jiufen is most renowned as a tea-drinking destination and there are countless teahouses spread around the town's hills overlooking the Pacific.
---
Beaches and seaside getaways
Fulong Beach
About an hour away by train, Fulong is everything one could want in a weekend break and there is a great selection of small guesthouses and hotels. Fulong has a small downtown area with a couple of great restaurants and shops. In recent years, Fulong has become more popular with people trying to beat the heat during the summer months, so plan to leave early on a hot day because it can be crowded.
Tou Cheng Beach
A very relaxed surf atmosphere permeates this sleepy beach town. Tou Cheng is a place to surf, swim and generally relax. At night, there are usually a few beach parties that are held as well. Tou Cheng attracts a young crowd, so if looking for a lively beach atmosphere, expect to make some new friends with locals and expats alike.
Bai Sha Wan Beach
A well-developed family beach with a boardwalk, restaurants and other modern conventions. During July and August, the beach can be a little crowded, so be prepared. Year-round swimming is allowed and the water is still quite comfortable in late October.
Are you an expat living in Taipei?
Expat Arrivals is looking for locals to contribute to this guide, and answer forum questions from others planning their move to Taipei. Please contact us if you'd like to contribute.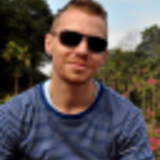 Neil Pretorius
Our Expat Expert
On a rare holiday, Neil came to Taiwan to visit a friend and got hooked on the expat lifestyle there. Now he's a kindergarten teacher in the morning and an elementary school teacher in the afternoon. He finds teaching to be very rewarding, even though he never thought he'd never want anything to do with kids. He also gets to travel a lot more in Asia and has ample time and energy to pursue the things that give his life meaning and fun. Read more on Neil's blog.
Expat Health Insurance
Cigna Global

With 86 million customer relationships in over 200 countries, Cigna Global has unrivalled experience in dealing with varied and unique medical situations and delivering high standards of service wherever you live in the world.
Moving Internationally?

Sirelo has a network of more than 500 international removal companies that can move your furniture and possessions to your new home. By filling in a form, you'll get up to 5 quotes from recommended movers. This service is free of charge and will help you select an international moving company that suits your needs and budget.