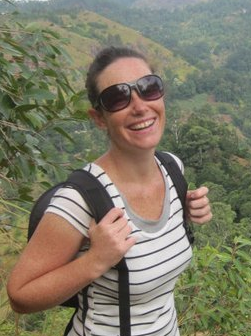 Jen and her fiancé, Andrew, spent a year teaching English in South Korea before heading off for a change of scenery teaching English in Taiwan. What with Taipei's excellent public transport and convenient weekend getaways, she's having a great time living in Taiwan.
Read more about Taipei in the Expat Arrivals Taipei city guide or read more expat experiences in Taiwan.
About Jen
Q: Where are you originally from?
A: I am from Kwa-Zulu Natal, South Africa.
Q: Where are you living now?
A: I live in the ShiDa area of Taipei, which is near two well-known universities and a bustling night market.
Q: How long have you lived here?
A: Two years
Q: Did you move with a spouse/children?
A: I came over with my fiancé, Andrew. Six months in, I convinced my sister to give it a try. We also have a couple of South African friends close by.
Q: Why did you move; what do you do?
A: Andrew and I had been teaching in South Korea for a year before we decided to try living in another country. Taiwan offered the opportunity to experience a different culture and to earn some money in the process. We are both English teachers in Taipei.
About Taipei
Q: What do you enjoy most about your host city? How's the quality of life in Taipei?
A: Taipei is really convenient. Public transport is efficient and affordable, and the city is small enough to navigate easily after just a few months. There is lots going on: live music, night markets, a diverse range of restaurants and bars, museums and galleries. It's easy to leave the city for day or weekend trips too. I love hiring a scooter and heading into the hills of Wulai for a day or taking the train to Fulong Beach. Beautiful Yilan County is close by, which means one can escape to rice paddies or mountain streams after a hectic week in the city.
Q: Any negatives? What do you miss most about home?
A: Working conditions in Taipei can be frustrating, particularly because the culture of education in Taiwan is very different to back home. Children are often put under a lot of pressure at school, and my co-workers' teaching and discipline methods sometimes differ from my own. Communication can be difficult too, although most people in Taipei can speak some English. I would recommend learning some basic Mandarin if only to feel more connected to the community.
Q: Is Taipei safe? Are there any areas expats should avoid?
A: I feel completely safe in Taipei. I often work late and have no problem taking the bus alone or walking home late at night. My fiancé's bicycle was stolen from outside our building which was disappointing, but that has been the worst crime we've experienced in two years!
Q: How would you rate the public transport in Taipei? What are the different options? Do you need to own a car?
Public transport in Taipei is excellent. I take the bus to work every day, and it is both regular and cheap. There is also a great train system which goes almost anywhere in the city. Taipei has bicycle tracks along the riverside which are another great way to get around.
Q: How would you rate the healthcare in Taipei?
A: Healthcare is excellent in Taiwan. Medicine is really cheap compared to South Africa, and a trip to the doctor or dentist costs next to nothing if you are covered by National Health Insurance.
About living in Taiwan
Q: Which are the best places/suburbs to live in Taipei as an expat?
A: It really depends on what you want. There are university areas that are young and fun, expensive areas in the city centre, or much cheaper places, outside in New Taipei City, which is really just the outskirts of Taipei.  
Q: How do you rate the standard of housing in Taipei?
A: If you're on a budget, you'll probably live in a pretty small place, but there are some lucky finds too which are bigger. These are usually older buildings. It's also possible to share apartments with other people, which makes rent cheaper.
Q: What's the cost of living in Taipei compared to home? What is cheap or expensive in particular?
A: It depends on how you live. Market food is very cheap, but meals at Western restaurants cost about the same as they would back home if not more. Rent can be expensive if you live in certain areas, but transport and medical costs are very low.
Q: What are the locals like; do you mix mainly with other expats?
A: Most of my co-workers are Taiwanese, and I socialise with them occasionally. Taiwanese people are generally very friendly and happy to help. Some of my friends are people I knew before coming to Taipei, and I do socialise with a lot of other expats.
Q: Was it easy meeting people and making friends in Taipei?
A: It's not always easy making friends, especially if you work a lot. It took a while to establish friendships, but after two years, I have met some great people, both local and foreign.
About working in Taipei
Q: Did you have a problem getting a work visa/permit for Taiwan?
A: No. It's pretty easy getting a visa as long as you have a degree. I came over with a tourist visa and converted it to a work visa after finding a job.
Q: What's the economic climate like in the city, is there plenty of work?
A: I found a job easily, but I think there has been an increase in foreign teachers, so it's become harder to find good jobs. It's best to look for work around Chinese New Year or in the summer when a lot of schools are hiring.
Q: How does the work culture in Taiwan differ from home?
A: Hours can be long. I often worked until 9:30 at night tutoring private students. It's not acceptable to disagree with your boss, which is a challenge for a lot of foreign teachers!
Q: Did a relocation company help you with your move to Taipei?
A: No. Andrew and I came over and stayed in a hostel until we found jobs. A friend helped us find an apartment on a Taiwanese website.
And finally…
Q: Is there any other advice you like to offer new expat arrivals in Taipei?
A: Don't be too fussy about your first job. Take what you can get when you arrive so that you can stay in the country legally. You can always move on to something better after a few months. Most schools pay per hour, so work as much as you can. It's worth it when you can afford a holiday abroad!
~ Interviewed September 2012