The best places to live in Johannesburg
Johannesburg is a large and sprawling city, and the accommodation options are endless. No matter where an expat ends up living, they will enjoy one of the greenest urban centres in the world, which combines the feel of being surrounded by nature with the convenience of a large metropolitan area and all of its modern comforts.
Given the size of the city, making the right decision regarding one's living arrangements is crucial. The two main commercial areas for expats are the city centre, which is a hub for mining, commerce and government, and Sandton, where many industries, including financial services and media, are located.
Public transport is often not a viable option, so getting from home to the office and back almost certainly entails driving on Johannesburg's congested roads. It is not uncommon for locals to spend up to three hours a day in rush hour traffic – so expats choosing a residential area are well advised to find somewhere close to their place of work and/or their children's school. Many expats choose to live in houses within secure cluster developments.
---
Recommended areas and suburbs in Johannesburg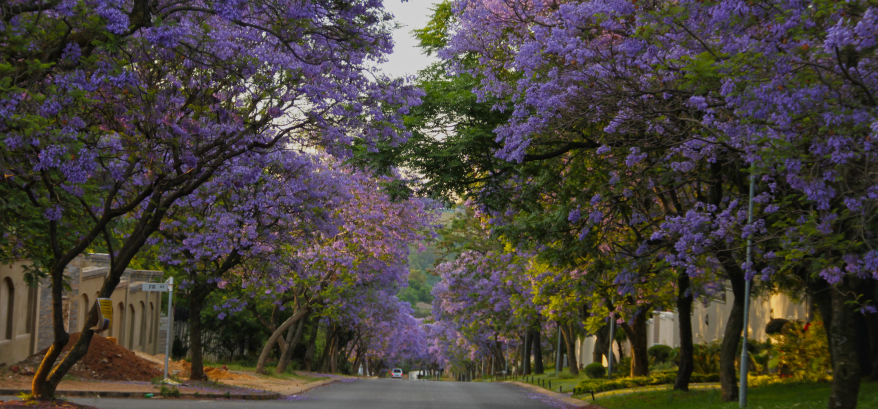 Sunninghill, Lonehill and Fourways
Characterised by large concentrations of security estates, these well-established neighbourhoods are popular with expats. There is a host of good private schools to pick from, and many options for shopping, entertainment, healthcare and recreation.
While the Sunninghill, Lonehill and Fourways areas are fairly close to Sandton, expats shouldn't be fooled – traffic going that way will be extremely congested with daily commuters.
Sandton and Bryanston
In the last few decades, Sandton has replaced central Johannesburg as the city's hub of business and commerce, which means that many corporate headquarters, banks and large hotels are located there. As a general rule, the closer one gets to Sandton, the more expensive housing becomes, so expect to pay a premium in this area.
Bryanston along the northern edge is slightly less expensive and is mostly known for its beautiful freestanding homes on tree-lined streets that explode in a purple sea of blooming jacarandas in late spring. Further to the south, one finds stately homes as well as apartment complexes in Morningside, Sandown and Hyde Park. This area also has a large concentration of well-respected private hospitals.
Randburg
Much quieter and less ritzy than Sandton, this area is nevertheless ideal in many ways: it's close to Sandton, the centre of Randburg has its own assortment of businesses, the nearby Cresta shopping centre is one of Joburg's largest, and expats will get much more bang for their buck when it comes to accommodation prices.
The leafy suburban streets of Randburg are filled with spacious homes and gardens in proximity to the Johannesburg Botanical Gardens and Emmarentia Dam (perfect for dog walking and summer picnics). Randburg is a large area with lots of variety, and housing here is significantly cheaper than in areas such as Sandton. Generally, it's good for families as well as apartment dwellers.
Northcliff and Melville
These are older and more established suburbs with some of Johannesburg's most beautiful scenery. Northcliff Hill with its winding roads and attractive homes nestled on the slopes is especially stunning, while Melville is trendier and has a Bohemian feel. It's definitely one of the most diverse neighbourhoods of Johannesburg, perhaps fuelled by the proximity to two universities. Here expats will encounter a lively nightlife scene, plenty of street cafés, antique shops and unique restaurants, as well as the Melville Koppies Nature Reserve with its beautiful walks and views.
Linden, Parkhurst and Greenside
Parkhurst and Greenside are some of the city's nightlife hotspots, while Emmarentia Dam and Zoo Lake offer beautiful scenery and recreation right within the city. Centrally located within easy reach of both central Johannesburg and Sandton, Parkhurst and Linden's comfortable family homes are set in well-established gardens surrounded by some of Joburg's most beautiful trees. Linden is also fast becoming a trendy nightlife spot, with more and more pubs and restaurants popping up.
Parkhurst, especially, is a trendy neighbourhood where one can find eclectic coffee shops, bakeries, interior design boutiques, antique dealers and some of the best restaurants in Johannesburg.
Rosebank and Parktown
Expats who find a home in Rosebank or Parktown will be living at some of the city's best addresses, in proximity to some of its oldest and best schools. The homes here are sizeable and dignified, set on large properties, and residents are close to the popular, sprawling Johannesburg Zoo.
Bedfordview
Located on the East Rand but still not far from the city centre, Bedfordview is ideally located for business travellers flying in and out of the nearby OR Tambo International Airport on a regular basis. It offers quiet, spacious and safe estate living in another one of Joburg's leafy tree-lined areas, and is also conveniently located close to multiple shopping centres.
Maboneng, Newtown and Braamfontein
Most expats wouldn't dream of moving into Joburg's city centre, given its bad reputation and the crime problems of areas such as Hillbrow, Berea and Yeoville. That said, just like in other big cities, this area has lately undergone some urban rejuvenation and many hail the Maboneng Precinct, Newtown and Braamfontein as the places to be, especially for single professionals and couples without children. There are plenty of renovated apartments and lofts available with good security, beautiful views, amazing nightlife and shopping within walking distance, and the campus of Wits University is just around the corner.
---
Further reading
►For info on the ins and outs of househunting in the city, see Accommodation in Johannesburg
Image credit: Bryanston Jacarandas by Martie Swart, via Flickr.
Expat Interviews

"I personally love Melville and the surrounding suburbs of Parkview, Emmarentia, Westdene and Auckland Park. But it really depends on personal preference and where you're working. It's pretty essential to live somewhere close to work, because of the traffic."

Read more of Clara's advice about expat life in Johannesburg.
Are you an expat living in Johannesburg?
Expat Arrivals is looking for locals to contribute to this guide, and answer forum questions from others planning their move to Johannesburg. Please contact us if you'd like to contribute.
Expat Health Insurance
Cigna Global Health Insurance - 10% off any plans bought in November and December 2023

With Cigna, you won't have to rely on foreign public health care systems, which may not meet your needs. Cigna allows you to speak to a doctor on demand, for consultations or instant advice, wherever you are in the world. They also offer full cancer care across all levels of cover, and settle the cost of treatments directly with the provider. Cigna is currently offering a 10% discount for seniors (over 60) on their Silver package.
Moving Internationally?
International Movers. Get Quotes. Compare Prices.

Sirelo has a network of more than 500 international removal companies that can move your furniture and possessions to your new home. By filling in a form, you'll get up to 5 quotes from recommended movers. This service is free of charge and will help you select an international moving company that suits your needs and budget.

Get your free no-obligation quotes from select removal companies now!