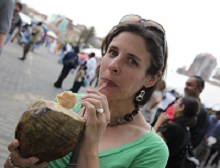 Heather Mason is a writer, photographer and the blogger behind 2Summers.net which chronicles her experiences in Johannesburg. Through her work and her adventurous spirit, she has come to know the City of Gold better than most. She also has a section of her blog dedicated to the Melville Cat, who decided to move in from next door.
Learn about living in the country in the Expat Arrivals South Africa guide and read about more expat experiences in South Africa. 
About Heather
Q: Where are you originally from?
A: The Baltimore/Washington, D.C. area (USA)
Q: Where do you live now? 
A: Johannesburg, South Africa
Q: When did you move to Johannesburg? 
A: August 2010
Q: Why did you move, and what do you do? 
A: I moved here to be with my boyfriend, who was South African and lived in Joburg. I am a writer, blogger and photographer.
Living in Johannesburg
Q: What do you enjoy most about Joburg? How would you rate the quality of life compared to the USA? 
A: I love the quirkiness of Johannesburg. It's a beautiful city in its own way, but you have to look beneath the surface to find the beauty. I have a hard time comparing quality of life here to quality of life in the U.S., as they are such different places and the life I lead here is completely different to the life I led back home. But life here is definitely more affordable and more adventurous than life in Washington, D.C., where I lived before coming to Johannesburg.
Q: Any negatives? What do you miss most about home? 
A: Every place and every lifestyle has negatives. For me, the biggest negatives to living in Johannesburg are the traffic and the lack of easy-to-use public transport. Also, there is more crime here than in Washington, D.C., so I do have to be a lot more careful than I used to. That said, I have never been a victim of crime here.
Other negatives include administrative and governmental inefficiency/corruption, especially with things to do with cars, banking, and visas.
Aside from all that, I really miss good tortilla chips, Peppermint Patties, and American football.
Q: What are the biggest adjustments you had to make when settling into expat life here? Did you experience any particular elements of culture shock?
A: I am a pretty adaptable person, so I wouldn't say that I experienced culture shock. But the biggest adjustment I had to make was learning how to drive on the other side of the road, in a manual transmission car, on the convoluted roads of Joburg. It's hard to find your way around in the city – the roads don't follow any kind of simple pattern, and the street names are often impossible to see.
Q: What's the cost of living compared to home? What is cheap or expensive in particular? 
A: Overall, the cost of living in Joburg is much lower than the cost of living in a comparably large city in the United States. Rent is much cheaper (except for "expat housing" in wealthy neighbourhoods, which can be outrageously expensive), eating out is much cheaper, hotels are much cheaper (except for super-high-end hotels), and healthcare/insurance is cheaper. Certain things are more expensive though like electronics, designer clothing, petrol, and cars.
Q: How would you rate the public transport? Do you need to own a car?
A: I touched upon this above, but public transport is not great. If you are brave enough to use minibus taxis, they can be a good option, but aren't necessarily that safe. There are buses, but the routes are confusing and unreliable. The Gautrain commuter train is also great, but only stops in a few places. Really, you need a car here.
Q: How would you rate the healthcare in Johannesburg? 
A: I find South African healthcare to be excellent, convenient, and affordable. You can walk into a private medical clinic and get an appointment quickly, for much less money than in the United States. I don't know enough about hospitals to recommend any one specifically.
Q: What are the biggest safety issues facing expats living in Johannesburg? Are there any areas expats should avoid?
A: Petty crime and traffic accidents are the biggest safety issues here. "Smash-and-grabs", where thieves steal cell phones and purses from cars stopped at traffic lights, car theft, and muggings are the most common crimes here. 
I personally don't think there are any specific areas that people should avoid in Joburg, as crime can happen anywhere. Many people will tell you not to go to the city centre, not to go to Hillbrow, not to go near Alexandra Township, etc. But as far as I'm concerned, that's all rubbish. I go to these places all the time and nothing has never happened. Most of the crimes that I know of, among my friends and acquaintances, have happened in middle class suburbs. 
The key to avoiding crime here is to simply be careful. Don't ever leave expensive things in view in your car. Put purses under the seat or in the trunk. Never talk on your cell phone while driving, or while walking around in public. Be aware of your surroundings and always lock your doors.
Q: How do you rate the standard of housing in the city? What different options are available for expats?
A: There are millions of housing options here – everything you would find in any major city around the world – and expats have all the same options as locals. Many expats are told when moving here that they have to live inside a gated complex for security reasons. In my opinion, this is completely untrue. Gated communities do not always correspond with safety.
Q: Any areas you'd recommend for expats to live in?
A: I personally love Melville and the surrounding suburbs of Parkview, Emmarentia, Westdene, and Auckland Park. But it really depends on personal preference and where you're working. It's pretty essential to live somewhere close to work, because of the traffic.
Meeting people and making friends in Johannesburg
Q: How tolerant are the locals of foreigners? Is there any obvious discrimination?
A: No. Locals are extremely friendly and tolerant to foreigners here.
Q: Was it easy meeting people and making friends? How did you go about it? 
A: Making friends here is easier than any other place I've lived. Meeting people happened naturally for me. Hobbies like photography or sports certainly help. It really depends on the person. But people are generally extremely open and friendly.
Q: Have you made friends with locals or do you mix mainly with other expats? What advice would you give to new expats looking to make friends? 
A: My friends are a total mix of locals and expats. The expat communities here tend to blend seamlessly with locals. I'm not part of any expat groups. I've made many of my friends through blogging, photography, and social media. I also meet lots of people by taking walking tours in the city. There are many local companies offering walking tours – do some internet research and find a tour that looks interesting to you. It's a great way to learn about the city and make friends at the same time.
About working in Johannesburg
Q: Did you have a problem getting a visa or work permit? Did you tackle the visa process yourself?
A: Getting a visa here can be difficult if you don't know the system. This is one of the aspects of life here that I've had the most difficulty with. I would recommend doing lots of research before moving here and taking care of things as much as possible before you leave, through your home embassy. I used an immigration consultant. I know people who have worked through the process themselves, but having a consultant really helps.
Q: What's the economic climate like in the city? Do you have any tips for expats looking to find a job there? 
A: The economic climate is difficult here, as it is in most places around the world. But if you have specific, marketable skills to offer, you won't have a problem finding work. I don't really have specific resources to recommend – it depends on the type of work you do.
Q: How does the work culture differ from home? Do you have any tips for expats doing business in Joburg?
A: I've never worked in an office here – I'm freelance and work on my own from home. So I can't comment on office/work culture. Just be prepared for some red tape, no matter what kind of work you do.
And finally…
Q: Is there any other advice you would like to offer new expat arrivals?
A: Don't pay attention to all the negative comments that you read about Joburg and the rest of South Africa on many expat websites. Most of those comments are made by people who no longer live here. Come with an open mind and an adventurous spirit, and you are almost guaranteed to love it here.
~Interviewed December 2013