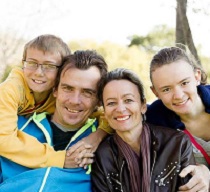 Arnd Herrmann worked for several blue-chip companies in Europe and decided to make South Africa his new home after his first business trip to the country in 1994. He and his family spent five years in the country before moving back to Europe, only to return to the 'World in a Country' in 2005. In the last few years, Arnd has grown and started two Internet companies in Johannesburg and is about to pack his suitcases to tackle a new venture in Abu Dhabi.
Learn about living in the country in the Expat Arrivals South Africa guide and read about more expat experiences in South Africa. 
About Arnd
Q: Where are you originally from? 
A: I was born in Germany, in the beautiful city of Cologne.
Q: Where do you live now? 
A: We live in Fourways, to the North of Johannesburg in South Africa.
Q: When did you move to Johannesburg? 
A: We moved to South Africa in 1995, left the country in 2000 and have been back since 2005.
Q: Did you move here alone or with family? 
A: I initially came here by myself while my fiancée was busy preparing our wedding in Germany. Six months after I had landed in SA for the first time, we got married, and I brought her back to South Africa. We have two kids; one was born in SA, the other one during our stay in Switzerland.
Q: Why did you move to South Africa? What do you do? 
A: I initially moved here on an expat contract for Siemens Telecom as a Project Manager. I am now running my own eCommerce company.
Living in Johannesburg
Q: What do you enjoy most about Johannesburg? How would you rate the quality of life compared to Germany? 
A: There are many things to list here: The weather, the friendliness and openness of the people; the space, the outdoor opportunities, lots of nature, lots of things to do and many, many places to explore. I would rate the quality of life as 8 out of 10.
Q: Any negatives? What do you miss most about home?
A: Not mentioning the crime situation would show pure ignorance, although we have not been directly affected in the 14 years we have been in South Africa, except for one car radio that got stolen out of a friend's car while they were visiting us. The political situation is also sometimes a bit worrying, since we can never be sure if those screaming the loudest might eventually gain power. What am I missing? My soccer club, 1.FC Köln, and being able to watch them live with my friends; everything else that you might miss from Germany, you can buy here.
Q: What are the biggest adjustments you had to make when settling into expat life in Johannesburg? Did you experience any particular elements of culture shock?
A: The culture shock for Germans is huge! South Africans hate direct speech and we, as Germans, want to get to the point immediately, which can have a very negative effect on our local counter-parts. On the other hand, South Africans are very social and open and we as Germans might think we have made a friend because that person tells us a lot about their private life when, in the meantime, he is just polite and normal. To make real friends here takes a very long time.
Q: What's the cost of living compared to home? What is cheap or expensive in particular? 
A: It all depends on the money you earn, doesn't it? As an expat, earning an "expat salary", everything is cheap compared to overseas.
Q: How would you rate the public transport in Johannesburg?
A: Public Transport? What public transport? Seriously though, we have the Gautrain now, which makes travelling to and from Pretoria or shuttling to the airport a bit easier, but otherwise I wouldn't suggest that expats use regular public transport like trains or the city's (in)famous minibus-taxis.
Q: How would you rate the healthcare in Johannesburg? Have you had any particularly good/bad experiences with doctors and hospitals? Are there any hospitals you would recommend?
A: Private hospitals are excellent and on or above European standards. I had to visit our local hospital a few times and the treatment was an extremely positive experience, and the friendliness and efficiency of all the staff was amazing. You have a problem if you have to use public healthcare, though.
Q: What are the biggest safety issues facing expats living in Johannesburg? Are there any areas expats should avoid?
A: Of course there are areas an expat should avoid, like everywhere else in the world. As much as I wouldn't walk around in my Armani Suit and Rolex watch in Prenzlauerberg in Berlin, I would not recommend doing the same in any of the local townships, or areas in downtown Johannesburg like Hillbrow. As an expat, one should try to rent a house in one of the many fancy housing estates which have very, very tight security. Otherwise, relax: The horror stories that one can hardly survive in Joburg are nonsense – quite the opposite. Especially for families with children, living in the Northern Suburbs of Johannesburg can be like paradise.
 Q: How do you rate the standard of housing in the city? What different options are available for expats?
A: The standard of housing is an estimated 1,000 percent higher than most expats going to be used to at home. While we used to live in a very spacious three-room apartment with a balcony and felt spoilt, we now live in a house that's 4,305 square feet (400m²) with a huge garden, a pool, four bedrooms, two lounges, a kitchen, separate home office and double garage… and our house is mid-market. Expats earning expat salaries should be able to afford a house in one of the estates which offer a lot more luxury.
Q: Any areas you'd recommend for expats to live in?
A: There are new estates being built all the time. What is "hip" and safe and a great area to live in today might change in a year due to a squatter camp being erected next door or roadworks starting for two years. The best option is contacting one of the established estate agents (Pam Golding, Seeff, Rawson and others) and to speak to your colleagues in the city.
Meeting people and making friends
Q: How tolerant are South Africans of foreigners? Is there any obvious discrimination against particular groups of people?
A: South Africa is a world in a country, and you will find any colour, race, height or size, and locals are used to and extremely friendly to foreigners. We've had many experiences where we were lost and had to ask for directions or needed something, and people went out of their way to help us. All religions are represented here, and there is certainly no discrimination against women; but one will find out that there is still some racism left between certain whites and blacks… history doesn't just disappear.
Q: Was it easy meeting people and making friends? How did you go about meeting new people? 
A: South Africans are very social, and it is very easy to meet and talk to people. Somebody showing you his family pictures and telling you stories about his kids doesn't mean that he's already your friend, though. We met people mainly through church but also sports, going out to pubs and restaurants. If you want to meet people in South Africa, you'll meet people.
Q: Have you made friends with locals or do you mix mainly with other expats? What advice would you give to new expats looking to make friends? 
A: I very specifically tried to avoid socialising too much with other expats and the vast majority of my friends, and by now I can call them friends, are locals. To make friends in South Africa, be yourself, be approachable, enjoy laughter and life. Get used to drinking beers and eating a lot of meat at braais (barbecues). Invite people around to your house. You can also join a sports club, take up golf, if appropriate find yourself a church community or visit your local pub regularly… there are lots of opportunities.
Working in Johannesburg
Q: Did you have a problem getting a visa for South Africa? Did you tackle the visa process yourself or did you enlist the services of an immigration consultant?
A: Receiving a visa for South Africa seems to become more and more difficult, especially if you do not belong to the "right" race. We had the privilege of getting full support from our HR department in getting visas sorted out for us.
Q: What's the economic climate like in Johannesburg? Do you have any tips for expats looking to find a job there? Which resources did you find most useful?
A: You have to have a job to get a visa, so there is no point in getting here first to look for one. Getting permanent residence which will allow you to change jobs has pretty much become impossible.
Q: How does the work culture differ from home? Do you have any tips for expats doing business in the South Africa?
A: If you come from an English-speaking country, you will adjust very quickly and enjoy it. If you have a Germanic background, leave your working culture at home and start fresh.
Family and children
Q: Do you think there are any specific challenges for a trailing spouse in South Africa?
A: Socialise and you will feel at home and most probably not wanting to leave any time soon.
Q: Did your children settle in easily? What were the biggest challenges for your children during the move?
A: There are no challenges for kids. South Africa is extremely children-friendly, and kids socialise even quicker than adults.
Q: What are the schools in Johannesburg like? 
A: The private schools are all very good, from what I have heard. To allow your kids to socialise with South Africans, I would recommend not doing the usual and send your kids to an American, British or German School but a South African one.
And finally…
Q: Is there any other advice you would like to offer new expat arrivals?
A: Enjoy it – South Africa is an awesome country to live in. Be careful but not petrified, and don't believe 10 percent of what you read and hear. If you were to decide about a move to Germany based on the news you get to read, you would never go because the country is so dangerous.
~ Interview February 2014