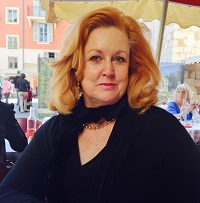 Christine is an Australian expat who moved to South Africa in 1993. Within a week of arriving, she joined a tour operator which launched her career in the tourism business.
From 2001 to 2012 she worked in Tanzania and started Zanzibar Unique, a tour operator that plans everything from short holidays to honeymoons and business conferences. She returned to Johannesburg because it is, in her opinion, the best place to live in the world.
About Christine
Q: Where are you originally from? 
A: Perth, Australia
Q: Where are do you live now?
A:  Johannesburg, South Africa
Q: When did you move here? 
A:  1993
Q: Did you move here alone or with family? 
A:  With a spouse
Q: Why did you move; what do you do? 
A:  I married a South African and joined an African tour operator to organise safaris.
Living abroad
Q: What do you enjoy most about your host city? How would you rate the quality of life in Johannesburg? 
A:  9/10 – the perfect lifestyle, with the only issue being the rate of (possible) crime.
Q: Any negatives? What do you miss most about home? 
A: The only negative is to be aware of the possibility of crime (I have never been affected by this). I miss nothing about Australia.
Q: What were the biggest adjustments you had to make when settling into expat life in Johannesburg?
A: I had no difficulties whatsoever. I felt that I belonged in this country from the time I set foot here. I think it's all about a positive attitude.
Q: What's the cost of living in Johannesburg compared to home?  
A:  Everything here is cheap in comparison.
Q: How would you rate the public transport? Do you need to own a car?
A: Having a car is imperative – public transport is non-existent and not suitable for an expat.
Q: How would you rate the healthcare in Johannesburg? Are there any hospitals you would recommend?
A:  I have had minor issues that over the years have been dealt with at Morningside Clinic, Sandton Clinic and Olivedale Clinic. All of them have been superb with the most caring, compassionate staff.
Q: What are the biggest safety issues facing expats living in Johannesburg? Are there any areas expats should avoid?
A: There are many areas to avoid, for example, townships located close to Sandton, parts of Randburg CBD and Braamfontein. This all comes with experience and guidance from a local resident.
Q: How do you rate the standard of housing in the city? What different options are available for expats?
A: There is a huge array of choices – from contemporary apartment living to living on large stands with sprawling lawns, a pool and a large house. There is every choice one could wish for.
Q: Any areas or suburbs in Johannesburg you'd recommend for expats to live in?
A: Most of the Sandton suburbs (with a few exceptions).
Meeting people and making friends
Q: How tolerant are the locals of foreigners? Is there any obvious discrimination against particular groups of people?
A: I have never had any issues in 21 years.
Q: Was it easy meeting people and making friends? How did you go about meeting new people? 
A: I met people through my work. People are friendly and open, and normally include newcomers in activities like braais.
Q: Have you made friends with locals or do you mix mainly with other expats? What advice would you give to new expats looking to make friends? 
A: I have only befriended local South African people; I have had no desire to look for the friendship of other expats.
Working in Johannesburg
Q: Did you have a problem getting a visa or work permit? Did you tackle the visa process yourself or did you enlist the services of an immigration consultant?
A: My (ex) husband handled this process. In 1993 it was quick and easy. These days I am not sure.
Q: What's the economic climate like? Do you have any tips for expats looking to find a job in Johannesburg?
A: There are jobs available, depending on qualifications and experience. Salaries, however, are normally quite low, at least for the industry I know, which is tourism.
Q: How does the work culture differ from home? Do you have any tips for expats doing business in Johannesburg?
A: I find the work culture the same as Australia.  
Family and children
Q: Did your spouse or partner have problems adjusting to their new home? Do you think there are any specific challenges for a trailing spouse?
A: I was the 'trailing' spouse, but I searched for a job within a week of arriving and landed the first job I applied for. I have never looked back and for many years have been self-employed.
And finally…
Q: Is there any other advice you would like to offer new expat arrivals?
A: Have an open mind – after all, this is still Africa. But the smiles are wide and friendly, and generally from the heart.